Listed below is the collection of education-related best WordPress themes for teachers and instructors.
Malcolm X, a famous African-American human rights activist, once said: "Education is our passport to the future". Nobody can object to the importance of education. Especially, in modern days when the speed of technology development keeps rocketing, expanding the horizon of knowledge is an essential need of any living standard. There is nothing wrong with making money from fundamental human needs and wants; therefore, education quickly becomes a potentially valued industry. There is a variety of forms of studying and teaching that come up to attract learners.
These days, due to massive benefits and convenience that outweigh the traditional teaching method, people invest million dollars on online education and courses. Owning a brilliant website is one of the wise choices for those who want to stand out in the market. Among several platforms, WordPress seems to be the most popular with different features which help you control your site easier.
Let's begin the tour!
WordPress Themes for Teachers and Instructors
Education WP by ThimPress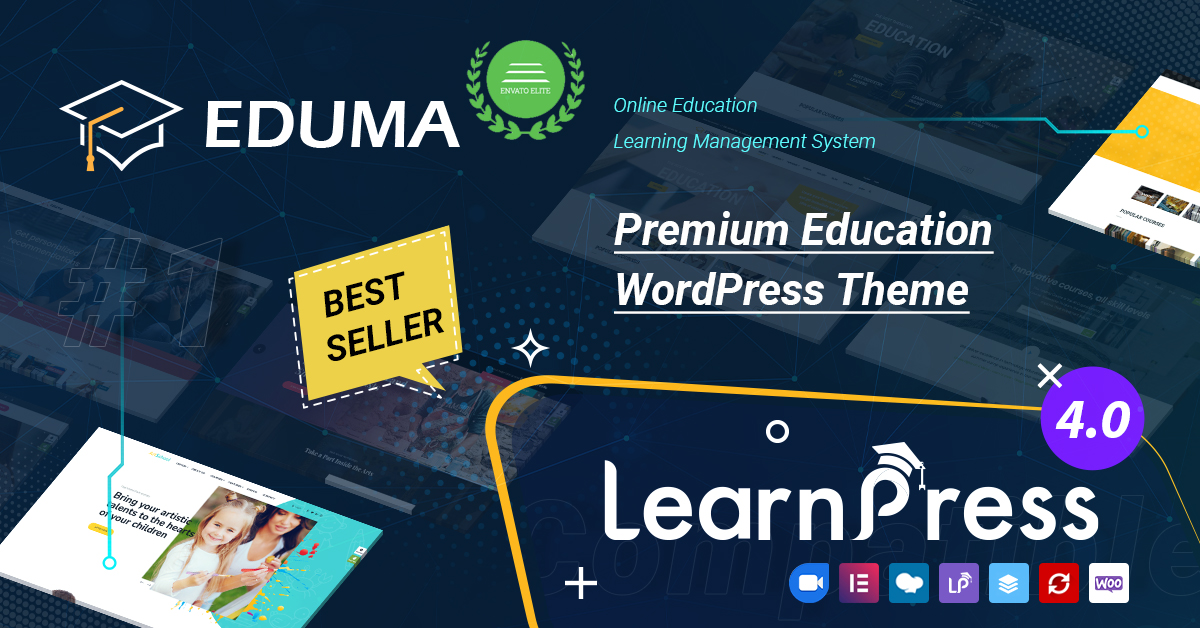 Getting the highest sales among ThimPress WP themes on themeforest.net. This is the strongest evidence to prove that Education WP is one of the greatest suits you can wear for your site. Once installing the theme in only one click. Your page immediately turns to a real Learning Management System with many convenient features for any educational projects or individuals.
This theme is considered an updated version of eLearning WP which is in the favourite list of numerous organizations with better UI and UX. It is not necessary to know any line of coding; you still feel it incredibly easy to get on well with Education WP. One of the most outstanding characteristics about this theme is the library of over ten demo layouts, different design for each. Visitors would love to see new things and always be curious to back to your site again to find "What's it like today?". Cool, huh?
Another amazing feature of Education WP is a $500+ pack of impressive add-ons. If you want to open a course at a particular time? Content Drip will help you. Don't want to introduce the same set of quizzes for different students? Let Random Quiz handle the matter for you. Amazingly, all these add-ons will cost you NO FEE when you choose Education WP.
As mentioned before, this theme is a real LMS; that's why it supports you in selling courses via various popular payment methods such as Paypal, Visa, Mastercard. Besides, the role of teachers and instructors here is the more important than ever with integrated bbPress to organize forums discussing every lesson's content with learners, improving the interaction between them.
It is worth taking a look and trying, isn't it?
KALLYAS by hogash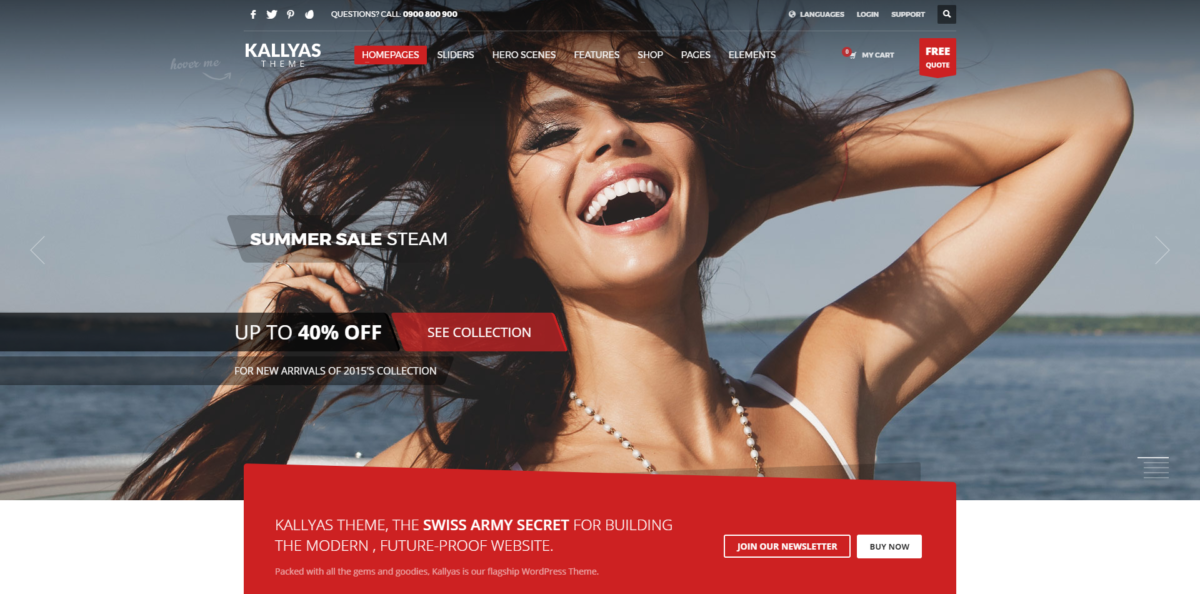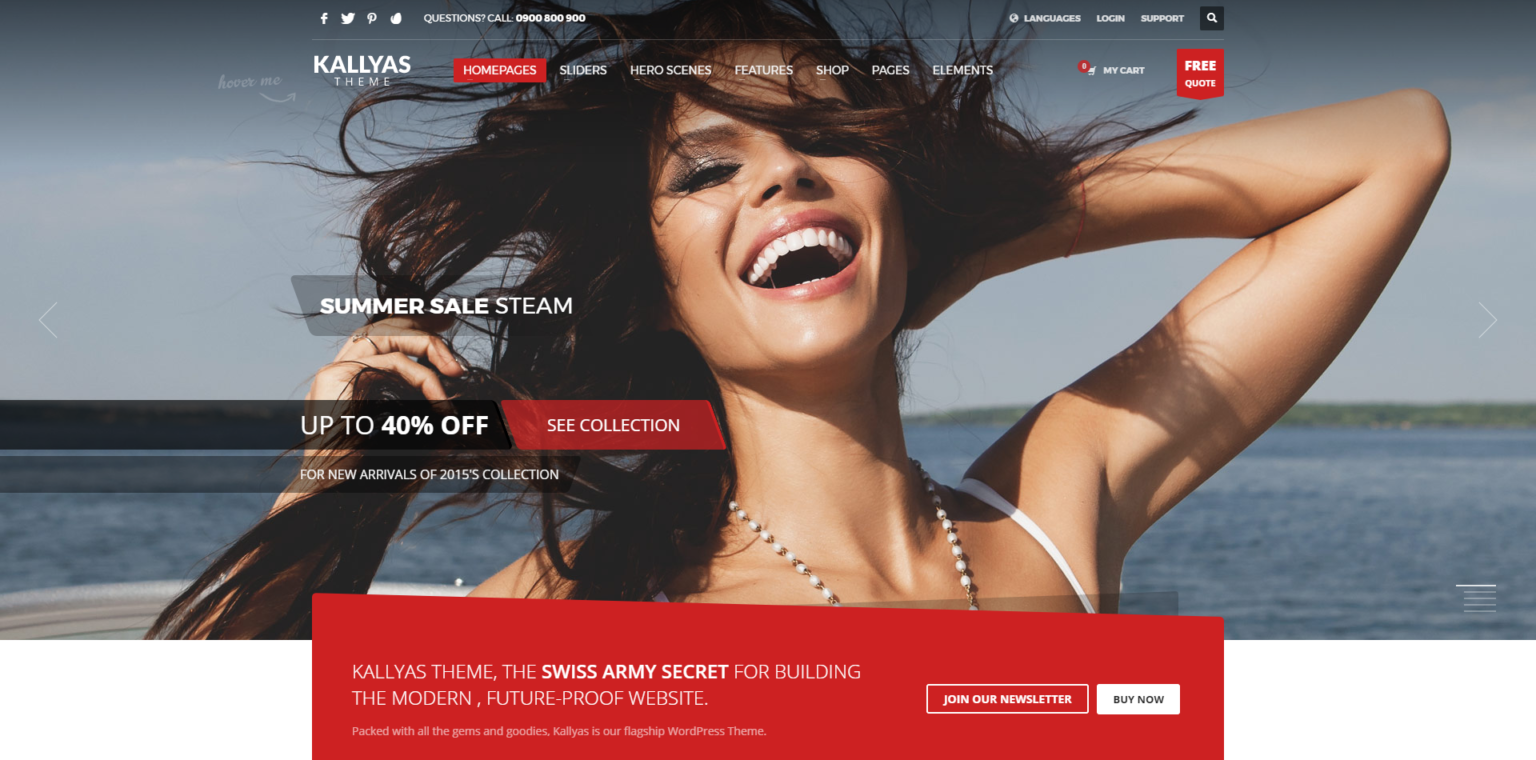 If you search the keyword "educational WordPress theme" on ThemeForest, filter with Bestseller, Kallyas would definitely show up in the very first row with nearly 22,000 sales. This is a multi-purpose theme with a huge demo collection to fit your every need. But hogash makes each of them with care and perfection, especially for the Education demo.
The theme colour tone cooperated with the effects on the photos and the animations on other items displays a professional outlook for the site. You can also customize your site following your own idea, from editing the text till deciding whether which block stays where with drag and drop builder and over 100 pre-build elements.
From the view of a visitor looking for a tutor or a course, Kallyas's educational layout would impress them with the overview of the course the provider supplies and the portfolio of teachers which are all shown fully and spectacularly on the home page. Apart from the basic information of the course, like instructor, time and fee, hogash also support a schedule for learners to pick the most suitable time and content for them to apply, which is easier for the page-owner to control their information as well.
You can experience on your own here.
Coaching WP by ThimPress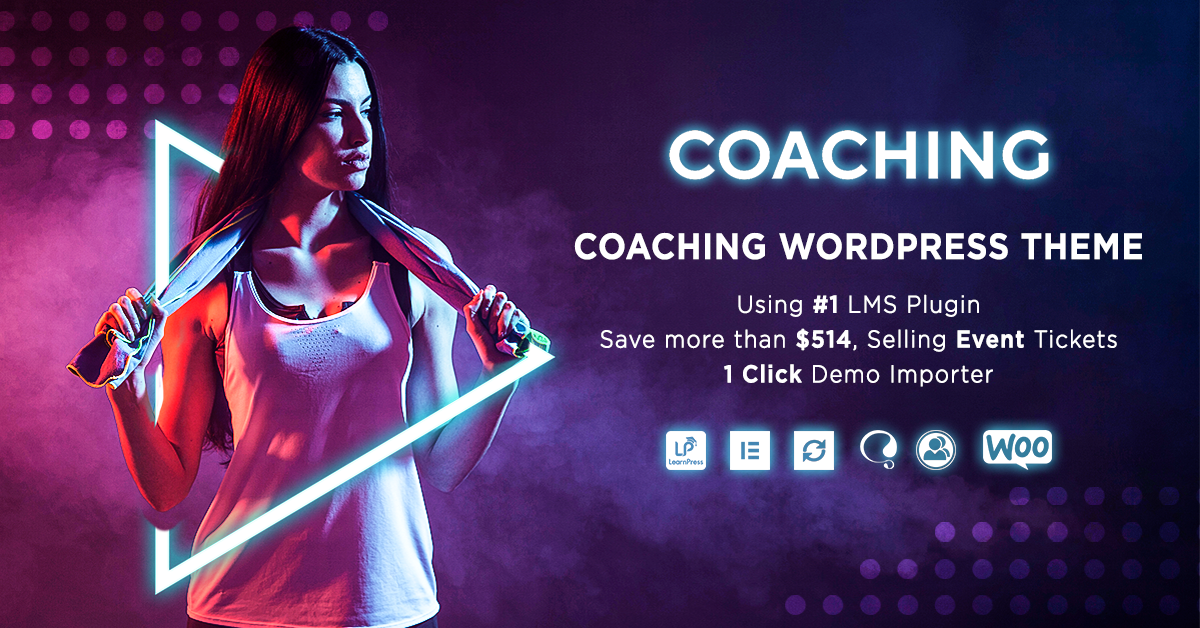 Another LMS WordPress theme from ThimPress. This theme meets the fundamental requirements of a perfect theme: 1-click installation in 10 minutes, responsive design, drag and drop page builder, parallax effect on picture items, etc. Yet Coaching WP equips for itself more "weapons" that surprises you.
Beside 4+ dissimilar demo, Coaching WP has multiple header layouts for you to choose which one will fit with your career theme. In case you have a featured course and want to make it stand out on your page, this theme supplies you an attractive countdown clock and helps your learners access simpler to reserve "a seat" in your class. WooCommerce is also integrated into this stunning theme to give you a hand on selling your other products like books or teaching DVD.
One of the most effective ways to make an impact on your demographics is to make them feel impressed about you. Splendid portfolio ThimPress made for this theme will accomplish the task. Elegance and professionalism in one – your image becomes trustworthy in your learners' eyes.
Approaching to knowledge has never been more straightforward than this!
Kidzy by Themeum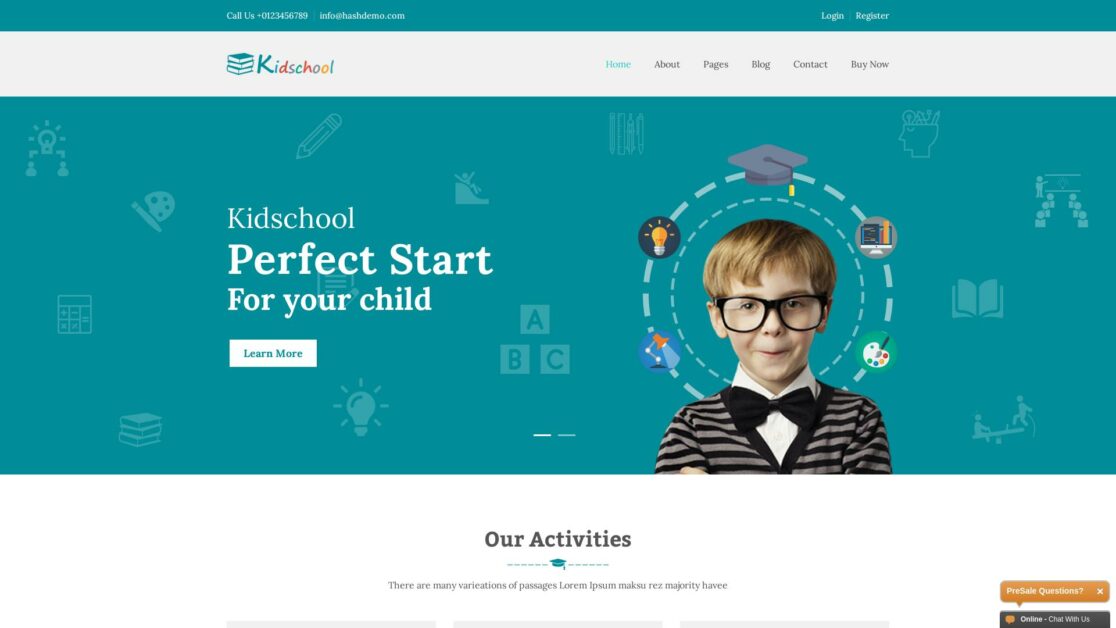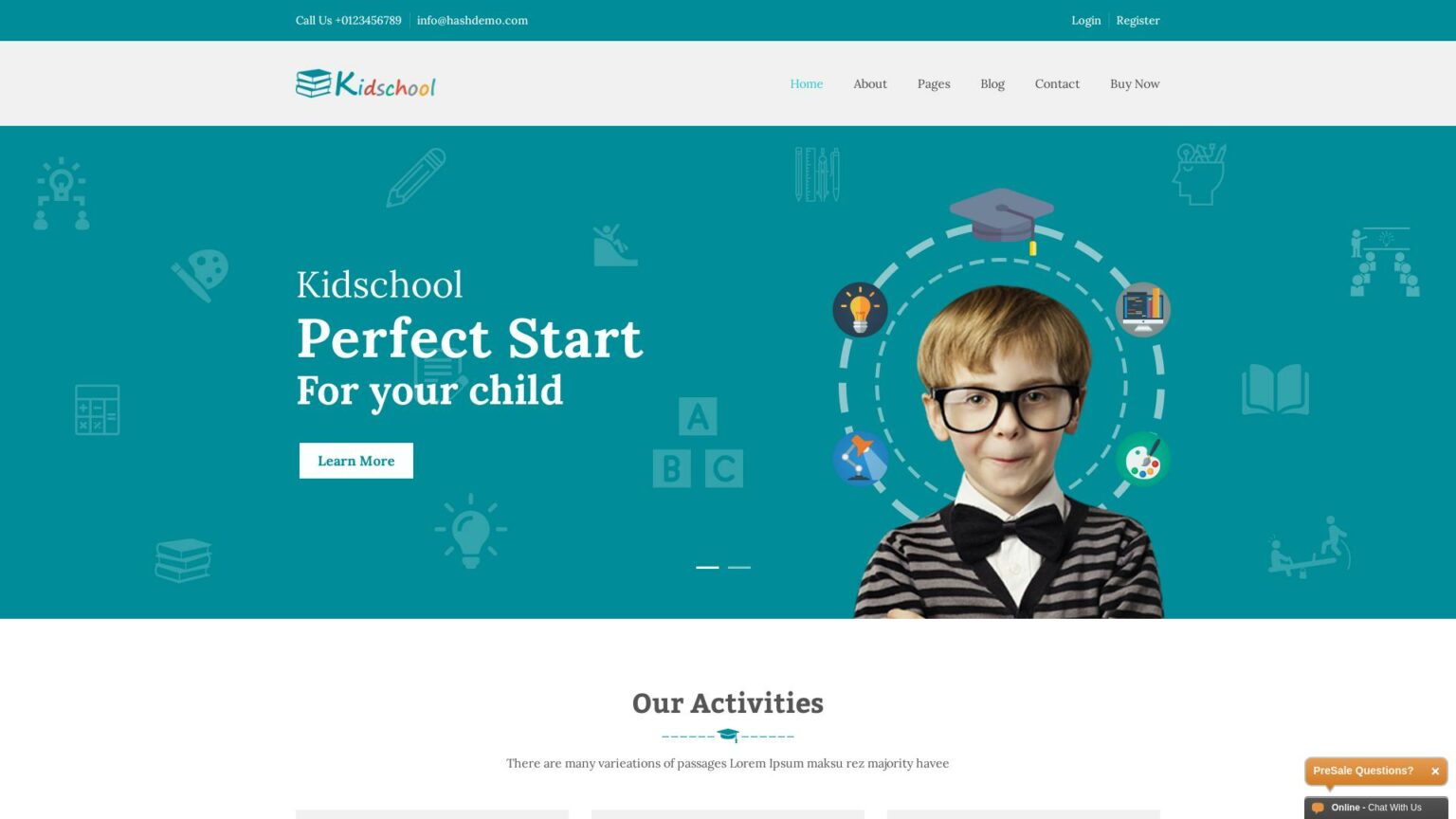 Building a website for nurseries or kindergartens seems to be quite challenging. Kidzy, a product of Themeum, might be a good solution. Attractive right from the first look, with dynamic colours looking great on any devices. Kidzy promises to be suitable for your school or career related to preschool or elementary education.
This theme supports 3 variations of the home page. Especially, you are free to change the background image, background pattern and the colour preset as well. The page's layout is designed reasonably with blocks. They appear orderly while your visitor keeps scrolling to explore more about your school and your service. Class schedule, facilities, teachers' portfolio, etc. All necessary information needed for parents who are looking for a tutor for their children are displayed significantly right from the home page.
Moreover, Themeum does have a very smart step when putting the testimonial part in the theme. So that you can use for parents saying about their satisfaction with your service. Your page could act as an online shop selling goods for kids, clothes, school bags for example. Within one click straight to your cart and checkout easily.
Preschool still owns lots of amazement you should see for yourself!
More details | Demo
Skilled by Aislin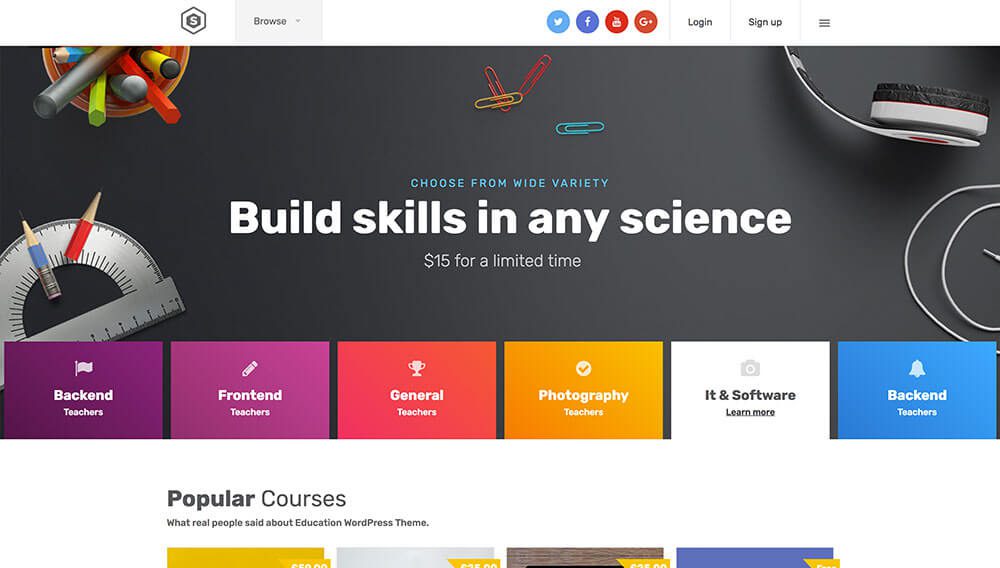 Teachers seeking for a site theme suitable for their desire of sharing their knowledge would love this well-prepared theme from Aislin. Skilled mainly focuses on creating and selling courses. Your site will turn to the second Udemy or Coursera that makes your learners fall in "love at first sight".
Skilled provides features to create online shops, and show teachers and users' profile as well. Built as an LMS theme, it integrates with a system to manage your course, questions and events. It also has a tracking system to let your learner know their progress. So that they could plan to complete their study in suitable time with Sensei plugin. Sensei also includes a question bank, course analytics, quick user registration, etc. They are all ready for you to control your site effectively.
Only one click, you not only install the theme but also are given a package of add-ons and plugins as a free gift: Visual Composer, Ultimate, Layer Slider, Timetable and many other more. Let your online training website to satisfy your learners and spread knowledge around the world.
ParkCollege from quitenicestuff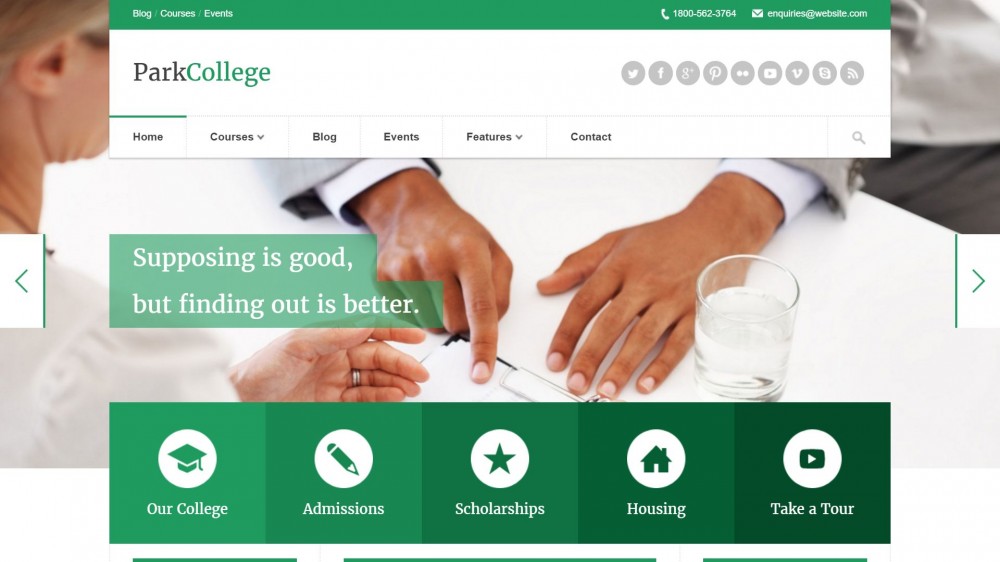 ParkCollege is one of the best flat design WP themes in the market for education-related websites. Like others, this theme is designed in responsive so that your beautiful site always stays gorgeous no matter it displays on PC, iPad or iPhone. Unlimited colour schemes in the theme options help you to edit your page and decorate it in whatever way you want.
ParkCollege is easy to config as well with blocks just to drag and drop as your wish without knowing how to code. Embedding video from Vimeo or Youtube is not complicated because it is also supported.
An educational website's most required feature is course manager, which is fully developed in ParkCollege. You are able to add, edit and remove any detail of the course. Users can approach the course list with no difficulty due to smart search system via name, ID, program and even length.
More details | Demo
LMS by designtheme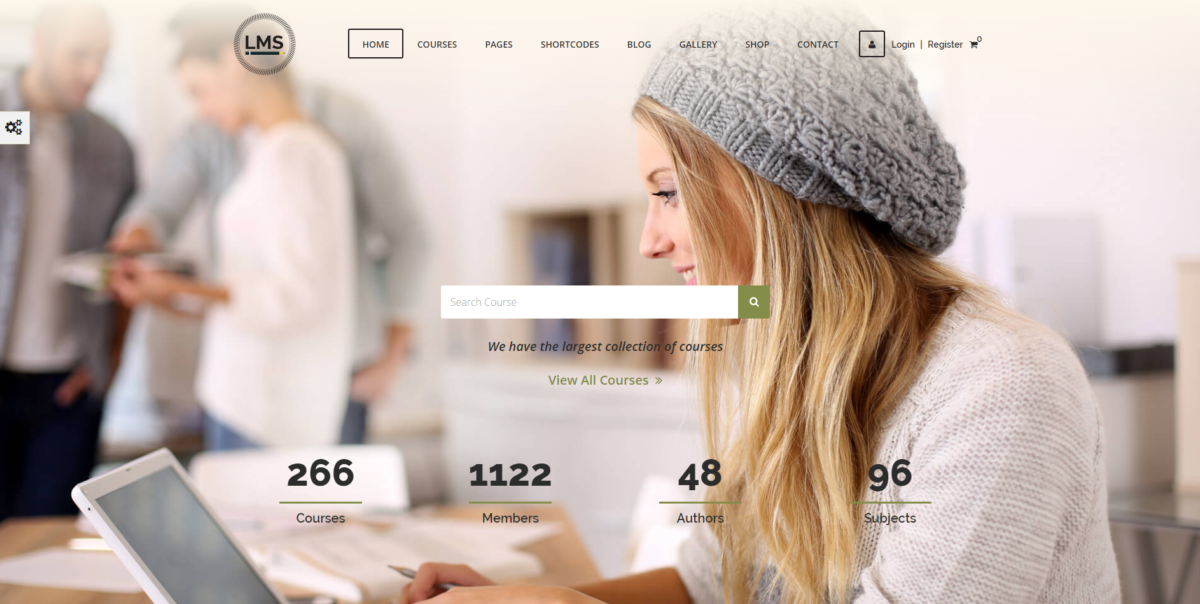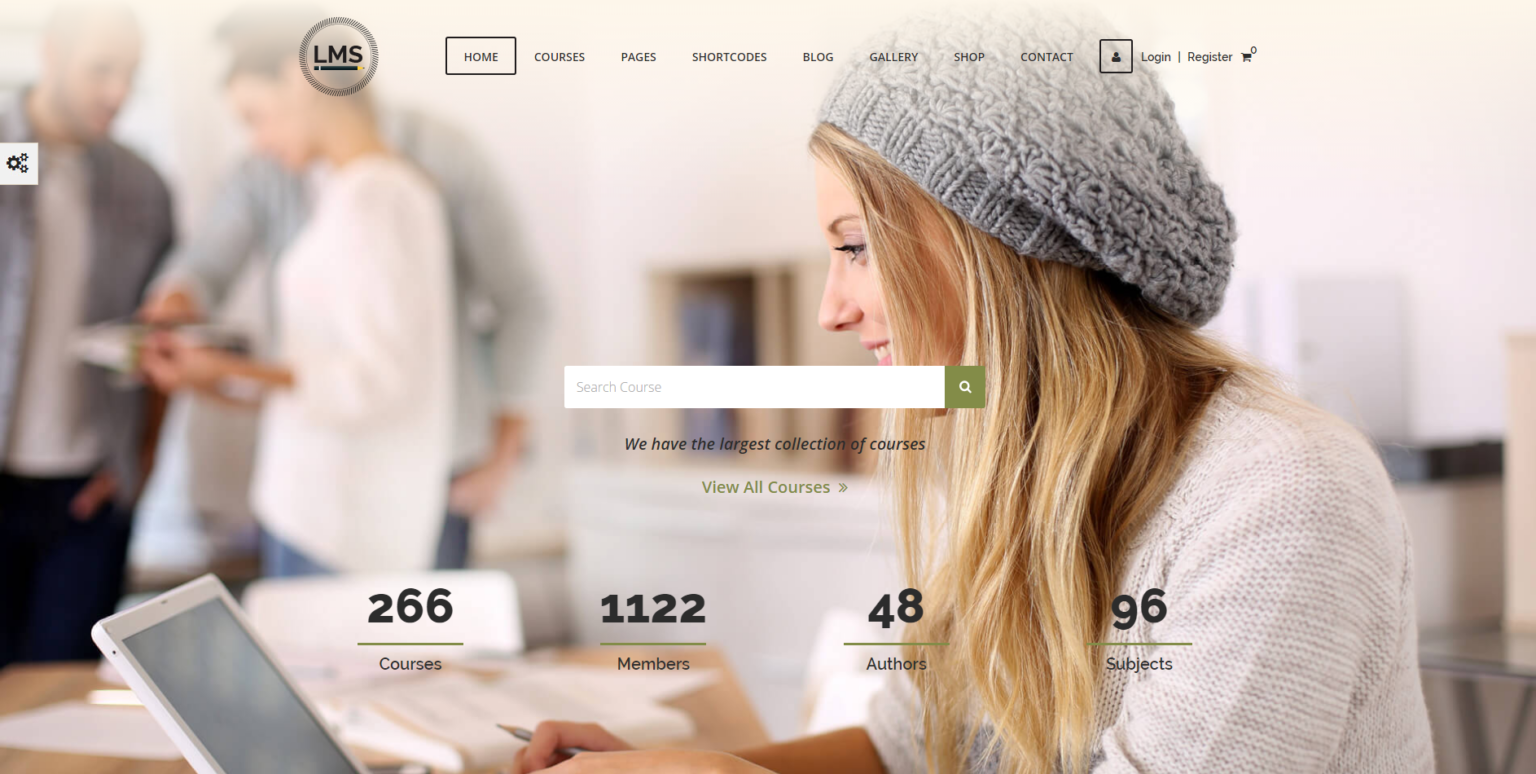 "POWERFUL LEARNING MANAGEMENT SYSTEM WORDPRESS THEME!" is what design theme says about their product. As the name, this theme fulfils site owner's hope of an educational page with more than 3100 sales on ThemeForest.
With cutting edge design and 6 demos, LMS can make your site become a beauty of art. Full width, boxed, left-sidebar, right-sidebar, both sidebar, etc., unlimited choices of the layout are awaiting you. This theme's options panel is very powerful with 4 different types of menu, editable typography and tons of settings.
Furthermore, there are two options for your course: default and Sensei. With Sensei plugin, managing your coursework could be easier than you can create courses, write your lessons and add quizzes from the quiz system. LMS also works well with many other plugins: Contact Form 7 (help you to make a smart contact form), Events and Calenders (set event's timetable, edit venue, organizer, etc.), WooCommerce (sell your products and services).
Learn more: WordPress LMS Plugin – LearnPress