Nowadays, WordPress is the most popular web-building platform in the market. Thus, it is very suitable for many business fields, including the hotel/motel business. A website for hotel service may not be the thing that visitors will mind much, but it is the first impression to them. The experience will be much more perfect if the booking process is nicely done.
Among those themes, the Sailing WordPress Theme has risen to be the most appropriate for event calendars and booking systems. Let's find out the reasons why.
Sailing WordPress Theme Overview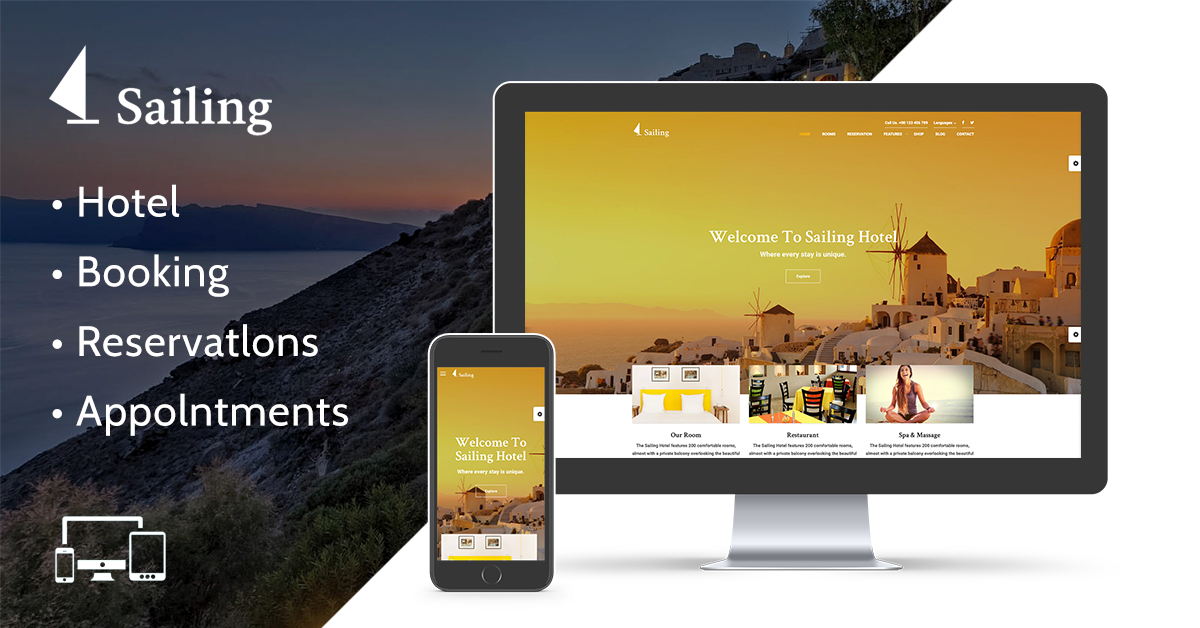 Sailing is a very responsive and multi-purpose WordPress theme. Its functions can meet the demand of a basic and complex hotel-related website such as rooms (number, capacity, types), discounts, management, etc. Besides, it should be easy-to-use and user-friendly for the booking system not to be much difficult to access. You can easily access and adjust the display of rooms, standards, amenities, and photo/video galleries. The price for each day can be set up automatically with some clicks.
This theme gives you a fancy and easy-to-manage design. The drag and drop page builder saves your time and effort spending on designing and managing the site.
It also includes SEO optimization and control over every corner of the web.
Responsive Layout
The responsive design is one of the best functions of the Sailing WordPress theme. This means your site will work well on all screen resolutions, browsers, and devices. The 3 plus points of this function are readable text without zooming, appropriate space for tapping, and no need for horizontal scrolling.
The responsive design plays a very important role in visitors' experience. If a website is not fully optimized for some smaller screens, the experience point will go down and also do the search engine rankings. 60% of online searches are from mobile browsers, therefore, this is the reason for responsive layout's vitality.
Excellent Performance
The purpose of this Sailing theme is to maximize the efficiency of the WP sites, so say no to the slow web. Therefore, it will raise the site's rankings on search generators. As Google has set its design to prefer fast-loading websites, those webs powered by the Sailing theme seem to receive more privileges. If a website takes a long time to load, it will get a penalty in the result.
The Sailing theme helps its users manage the customization of SEO, including title, heading, and keywords. They are all developed based on Google specifications for SEO and posts.
Revolution Slider
The revolution slider of the Sailing theme will cover you in editing transitions, effects, and animations. Besides, this revolution slider is drag-and-drop based, so it's easy for users. If you feel not suitable, then you can apply other plugins' visual editors.
Pre-built Demos
When you start using Sailing, we will have a starter pack of demos that contains 5 premade demos as a base platform for your later customization, which is a better method for your site's building.
Not only for home pages but it's also for the "Gallery" and "About us" buttons. Those are easily linked with WooCommerce to build an online store based on a 1-click installer. The theme can automatically translate RTL languages.
Other Advantages of Sailing WordPress Theme
To edit and manage a theme, you will need more than its layout. We provide a variety of content makers such as images, videos, etc. The visual effects are powerful; the white background and Parallax effects lift your standards. Still, each demo has its style, but you gain full control of your colors and fonts customization.
For people who don't have much time, a one-page design will be the best solution.
Why Going on WordPress and Sailing WordPress Theme?
WordPress platform owns 65+ million sites and blogs from all around the globe, and it's especially free.
Its layout designs, templates, fonts, colors, and customization options are reasons for people to rank your WP site achieve the professional level with an affordable budget and time-saving effort.
The Sailing theme's design has been an outstanding layout in the WP theme market currently. The layout will display how professional and efficient your site will act. There are some other good features, such as simple booking management, and all-aspect reporting system, date-related possibilities, customer and user management, and WooCommerce support.
Sailing WordPress Theme: You Can Expect All You Needs!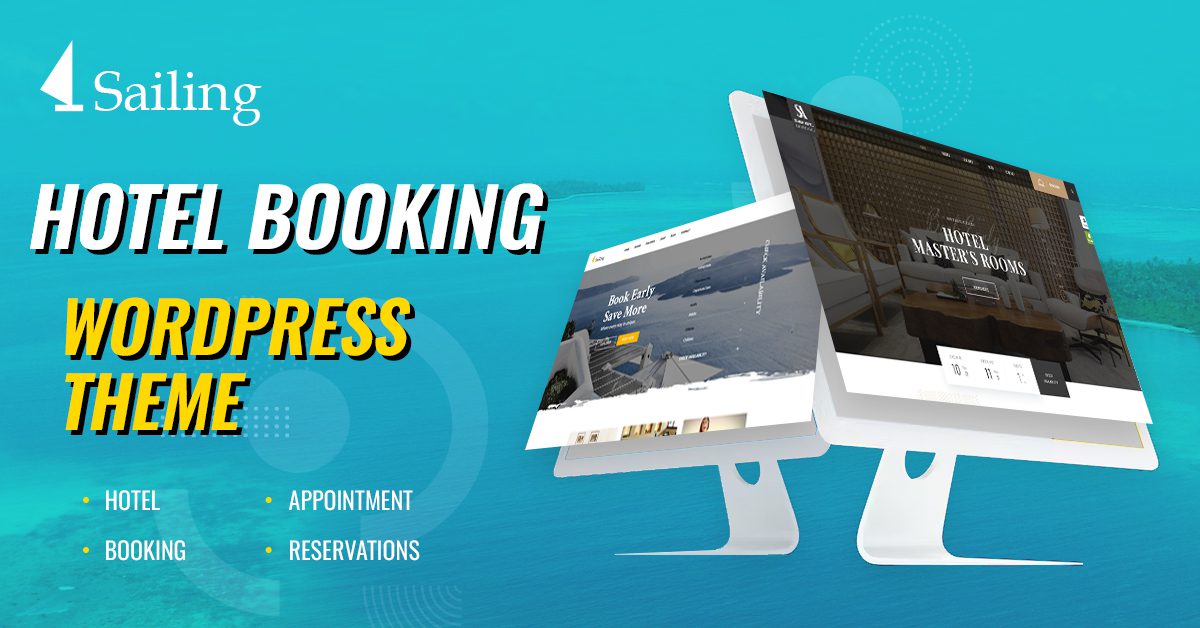 The Sailing WordPress theme is playing a large role in hotel and accommodation booking. If you want to impress your visitors and keep your former customers, Sailing will be a suitable option for your WordPress site.
Read more: Adapting to have the best WP Hotel Booking Themes during COVID-19
---
Contact us, ThimPress:
Website: https://thimpress.com/
Fanpage: https://www.facebook.com/ThimPress
Youtube: https://www.youtube.com/c/ThimPressDesign
Twitter: https://twitter.com/thimpress