If you want to create a successful online store with WordPress, you need to choose the right WordPress eCommerce plugin for your site.
A better platform can offer more chances for growth, so choosing the right eCommerce plugin is essential for your business. A lot of users waste money because they don't do enough research when deciding on the eCommerce platform for their store.
This article will help you choose the best WordPress eCommerce plugins for your business by showing you the differences and similarities between them. You will also learn about their advantages and disadvantages and how they can suit your needs and goals.
Some of the articles that we have picked for you are related to your topic of interest. You may want to take a look at them.
What to Look for in a WordPress eCommerce Plugin for Your Site
You can find many WordPress eCommerce plugins on the market, but they may not all suit your needs. Some of them may lack the features that you require.
For instance, some eCommerce plugins are better suited for selling physical goods that need shipping, while others are designed to sell digital goods like eBooks, music, images, and more.
In order to effectively start your online store, it's important to decide what you'll be selling and what features you'll need.
That is not all, you also need to look for some of the vital factors that are important for picking the best WordPress eCommerce plugin for WordPress:
Payment methods: Your eCommerce plugin should work with your chosen payment gateways, either by default or with an extension.
Design and personalization: Your store's appearance is the first thing that your customers see when they visit your business. Make sure you have access to a variety of templates and easy ways to customize them.
Apps and integrations: See what integrations are available for third-party apps such as email marketing platforms, CRM software, accounting software, and so on. You'll need these tools to operate and grow your eCommerce business more efficiently.
Support services: Make sure that you can get help when you need it. Good customer service can save you a lot of money in the long term.
What Do You Need to Run an eCommerce Website?
The best WordPress hosting that matches your budget is the first thing you will require, as eCommerce websites consume a lot of resources
Starting with SiteGround or Bluehost is a good idea if you're on a tight budget. All of their plans are compatible with eCommerce and include a dedicated support line, an IP address that is only used for that purpose, and the SSL certificate you need to securely collect payments. The most potent WordPress eCommerce plugins can also be installed with just one click through their website.
If money is not a concern while achieving the best performance, we advise using a managed WordPress hosting company like WPEngine.
You need to pick a domain name for your website next. It should be catchy, relevant, and simple to type.
Last but not least, select the vital business plugins you will require, such as OptinMonster, which helps you lower shopping cart abandonment and boost sales.
The Best WordPress eCommerce Plugins: Who Are They?
WooCommerce – The top WordPress eCommerce plugin for you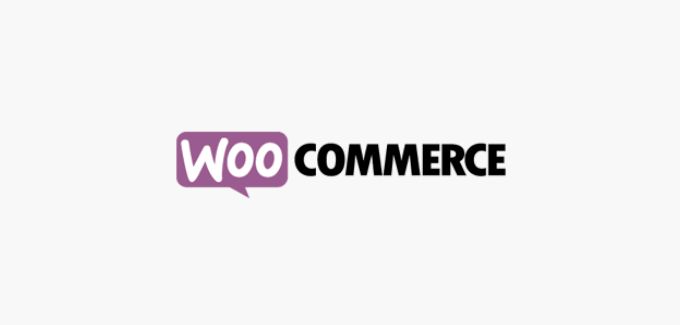 Learn More
WooCommerce is the most well-known WordPress eCommerce plugin. In addition, this eCommerce plugin for WooCommerce is used by most people around the world.
WooCommerce supports a sizable number of add-ons as well as themes. They have the support of a devoted developer community that works hard to improve them. Many hosting companies are making special hosting solutions for WooCommerce.
Advantages:
Themes and Extensions: WooCommerce makes it simple for you to add new features to your eCommerce site because it has hundreds of extensions and themes available. A large selection of themes gives you a wide range of options for the look and organization of your website.
Supports both physical and digital products: Both physical goods and digital downloads can be sold using WooCommerce (such as ebooks, music, software, and more).
Sell Affiliate or External Products: You can include Affiliate or External Products on your website using WooCommerce. Affiliate marketers are able to build product websites that offer users a better user experience.
Complete Inventory Management: WooCommerce has tools that make it simple to manage your inventory, and you can even give them to a store manager.
Payment and shipping options: WooCommerce already includes support for a number of well-known payment gateways, and extensions let you add a ton more. Taxes and shipping costs can also be calculated.
eCommerce SEO: The All-in-One SEO plugin optimizes WooCommerce for search engines (AIOSEO). This raises the search engine ranking of your product page.
Support and documentation: The WooCommerce plugin has excellent online documentation. In addition to documentation, resources include a knowledge base, help desk, and community forums.
Disadvantages:
Numerous Options: This WordPress eCommerce plugin is simple to use, but the settings page offers so many options that a new user may be daunted. 
Add-on Search: WooCommerce has a lot of add-ons, but sometimes a user may struggle to find the right add-on for the features they want.
Theme Integration: WooCommerce can run on any WordPress theme, but some themes may be more challenging or less appealing to configure. You need a theme that is made for WooCommerce to access its features conveniently.
Scalability: As your store expands, you will need to migrate to a managed web hosting provider to support your WooCommerce store.
Easy Digital Downloads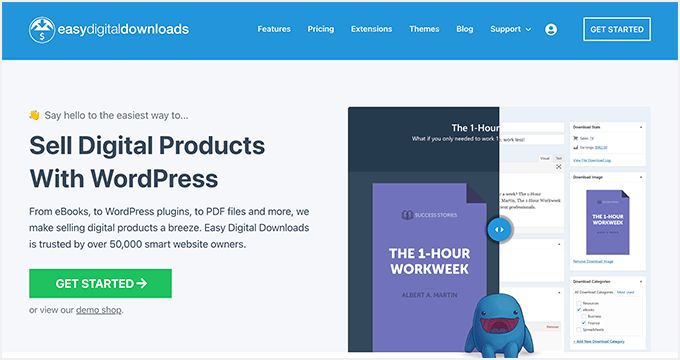 Learn More
Another WP eCommerce plugin we highly recommend is Easy Digital Downloads (EDD). It lets you quickly sell digital downloads online. It has robust features that allow you to build a stunning and valuable digital goods store, and it is incredibly simple to use.
Advantages:
Simple To Use: It is very straightforward to use. You can easily figure out how to add and show products. This is very beneficial for newcomers.
Extensions: There are hundreds of extensions for Easy Digital Downloads that cover payment gateways, email marketing platforms, and other marketing tools.
Themes: Easy Digital Downloads can work with almost any WordPress theme, but if you still need a theme, Easy Digital Downloads has themes specifically made for the plugin.
Software Licensing: This WordPress eCommerce plugin offers powerful software licensing support that enables you to sell plugins and SaaS products with proper digital rights management. 
Affiliate Management: You can easily incorporate affiliate management into Easy Digital Downloads using AffiliateWP and launch your own referral program.
eCommerce Growth Tools: Easy Digital Downloads connects seamlessly with growth tools like MonsterInsights to provide you with enhanced eCommerce tracking, AIOSEO to provide you with maximum eCommerce SEO growth, and OptinMonster to provide you with content personalization and conversion optimization features.
Awesome Support: The plugin is well documented, and you have free support forums, videos, tutorials, and even an IRC chatroom. There is also a priority support option for premium users.
Disadvantages:
Digital Downloads Only: The plugin makes it simpler to build eCommerce sites for digital goods, as the name implies. However, it will get very difficult if you want to sell non-digital products alongside digital downloads.
Selling External Products: You will need to install a third-party addon if you want to add an affiliate product or an external product to your EDD store.
MemberPress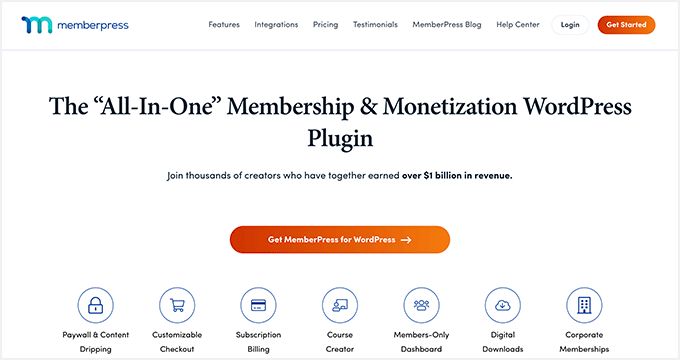 Learn More
You can sell digital products and services with subscription models using MemberPress. It has a ton of integration options and is the best WordPress membership plugin. Even WooCommerce can be integrated.
Advantages:
Sell Subscription-Based Products: This WordPress eCommerce plugin allows you to sell products that have recurring payments, such as club memberships, premium content, and other products.
Strong Access Rules: Strong access control lets you specify user access levels and content limitations. Restrictive content can only be accessed by users who have the necessary rights.
Built-in Course Builder: MemberPress has a course builder that lets you build and sell courses while providing your users with an engaging online learning environment.
Content-Dripping: MemberPress enables you to drip-release paid content over time.
Affiliate Management: The AffiliateWP or Easy Affiliates plugins make it simple to integrate built-in affiliate management into MemberPress. You can design your own referral program using this. You can avoid paying middleman fees by doing this.
Strong Extensions: You can connect it to your LearnPress or WooCommerce store. There are numerous extensions that allow you to integrate MemberPress with external tools to build your own affiliate network.
Disadvantages:
Fewer available payment methods: Authorize.net, Stripe, and PayPal are the only payment methods supported by MemberPress.
Annual Pricing: Annual terms are the only terms available for pricing plans.
BigCommerce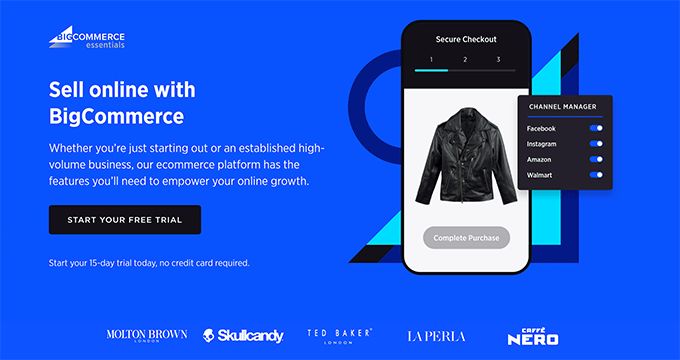 Learn More
BigCommerce is the best eCommerce plugin for WordPress that can be fully hosted and offers seamless WordPress integration. This enables you to use WordPress to manage your content and run your website while using a scalable eCommerce platform.
It has a potent WordPress integration plugin that makes it incredibly simple to embed your products in WordPress. The sign-in, cart, account, and other crucial pages are automatically created for you by the system.
Advantages:
High scalability: It has all the features you'll need, along with performance that's unmatched in the industry and scalability that's simple.
Less Maintenance: Maintaining your WordPress website is easier when your eCommerce engine is kept separate from other content.
Sell across Multiple Channels: This feature allows you to sell not only on your website but also on Facebook, Instagram, and Amazon.
No transaction fees: This WordPress eCommerce plugin does not charge you for each transaction, in contrast to some other eCommerce platforms. You only need to pay the payment service provider when selecting one of the many reputable payment gateways.
Disadvantages:
Limited Integrations: All of the top third-party tools and apps are integrated by BigCommerce. Its app store is still expanding, so you might not be able to find an integration for some less well-known apps.
Annual Sales Threshold: Each plan has an annual sales threshold. You are upgraded to the next plan if you cross that threshold. Costs could go up as your company expands as a result.
Shopify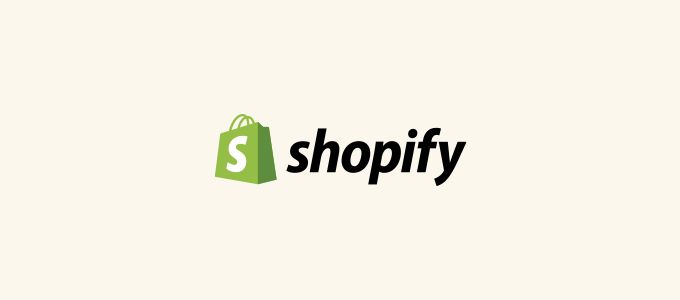 Learn More
Shopify is among the best plugins for eCommerce websites and is rapidly expanding. It takes care of everything for you. Despite not being a plugin, Shopify is a hassle-free all-in-one solution. In addition, Shopify fees are quite reasonable you can consider.
Advantages:
Super Simple for Newcomers: There is no need to stress over an eCommerce store's technical aspects, such as installing SSL, integrating with various payment gateways, managing shipping, worrying about taxes, etc. Shopify manages everything.
Supports both physical and digital products: Whether you're offering physical products like shirts or digital downloads like music, marketing is essential.
Full Inventory Management: Shopify has an inventory editor and bulk importer that work together with an order tracker to make inventory management easy.
Payment and Shipping Options: This WordPress shop plugin lets you accept credit cards online and offline. Their shipping system simplifies your fulfillment process by directly integrating with popular providers like USPS. 
Facebook Store and Buyable Pins: Shopify works with everything. You can create a Facebook store or make buyable Pins on Pinterest with Shopify.
Disadvantages:
Monthly Platform Fee: Shopify requires a monthly fee for using their platform that is equivalent to getting hosting and individual add-ons with the other plugins in this list.
Shopify Payments: Shopify advises that you use their payment platform, which is operated by Stripe and is an excellent option for beginners. However, if you want to use more complex and external systems, the WordPress eCommerce plugin will charge you an additional fee.
Read More: 8 Woocommerce Reporting Plugins Help You Understand Your Users
---
Contact us, ThimPress:
Website: https://thimpress.com/
Fanpage: https://www.facebook.com/ThimPress
Youtube: https://www.youtube.com/c/ThimPressDesign
Twitter: https://twitter.com/thimpress