In WordPress, themes and plugins have important roles in running, maintaining, or developing a website. When surfing the Internet, you may meet nice and attractive website designs but you don't know how to find that theme/plugin/add-on. Now, it is not a problem anymore since we have arrived with a useful WordPress Theme Detector list.
We will make sure that you can take up what you need in this field.
Manual Theme Identification
For WordPress Theme Checker, you must make sure that the site you are looking at is created on the WordPress platform. Now, right-click on the mouse and select "View Page Sources". Then, you will enter the webpage and navigate to the file "wp-content".
You can look for it easily with the quick search box CTRL + F (Command + F on MacOS). if you can find this place, it means the website is 90% a WordPress site.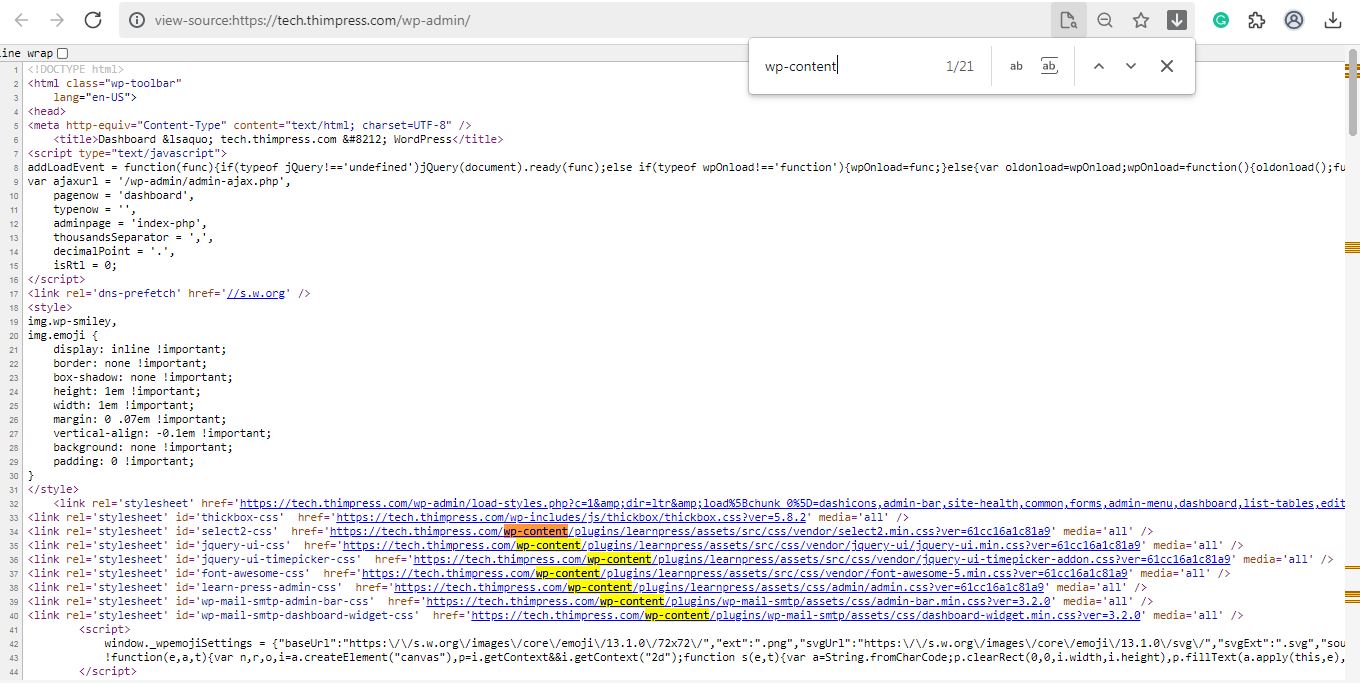 Next, you can follow the 2 below ways to check the theme manually.
Check for the Site's Footer
As you can see, everyone can apply this way to check for it manually. However, it won't be that easy. Not many sites or themes put their theme names in the footer since they can put anything better and more beneficial. It is OK if you cannot use this way to track the name of the theme. We still have other ways for you later in the article.
Take a Look at Page Source
Looking for it in the page source is a good idea, too. Since it varies on different browsers, we will use Chrome for example. First, you will open the site in Chrome and right-click to reach the view page sources place.
Next, search for the file "style.css" on the code page by using the quick search box. Lastly, you will double-click this phrase to reach another page code. That page code will contain the theme name you want.
To launch a website is not an easy task, detailed guidelines to create websites using WordPress themes will help you.
Online WordPress Theme Detector Collection
It will be good for you if you succeed in manual search but what if you fail? Don't worry, we will deliver you the best WordPress Theme Finder list so that you can make it fast.
WPBeginner – Niche and Nice WordPress Theme Detector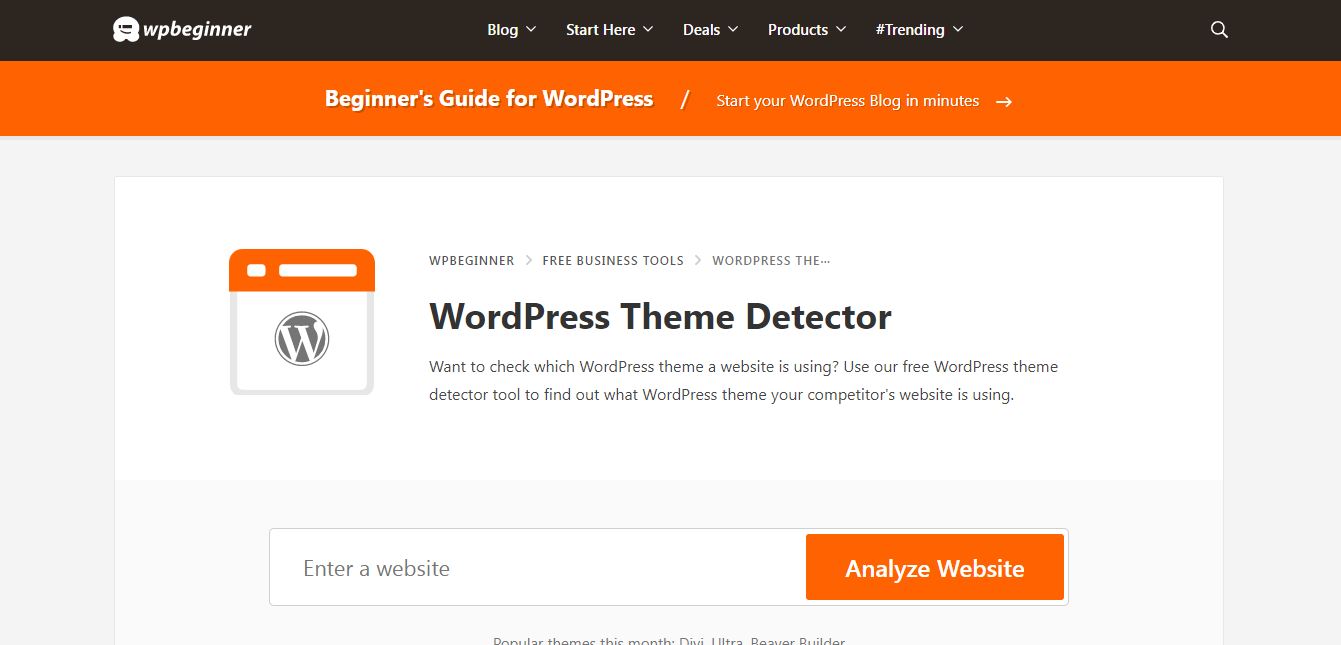 Learn More
To answer the question "What is that WordPress theme", the developers from wpbeginner.com have delivered us the free WordPress Theme Detector tool. When you use this tool, it will automatically scan the site's source code to find out what is the name of the site's WordPress theme. In particular, you will check the WordPress theme's name correctly and pay no cost for it.
This tool will come up with the name of the WordPress theme that the site is running. Of course, you can download it is popular. If it's not that popular, you can type its name into Google and look for its name. Particularly, you can't download some themes since they are custom themes.
Besides, the widget also shows us the site's hosting service. In this way, you can search for suitable web hosting, too.
IsItWP – Free Detecting Toolbox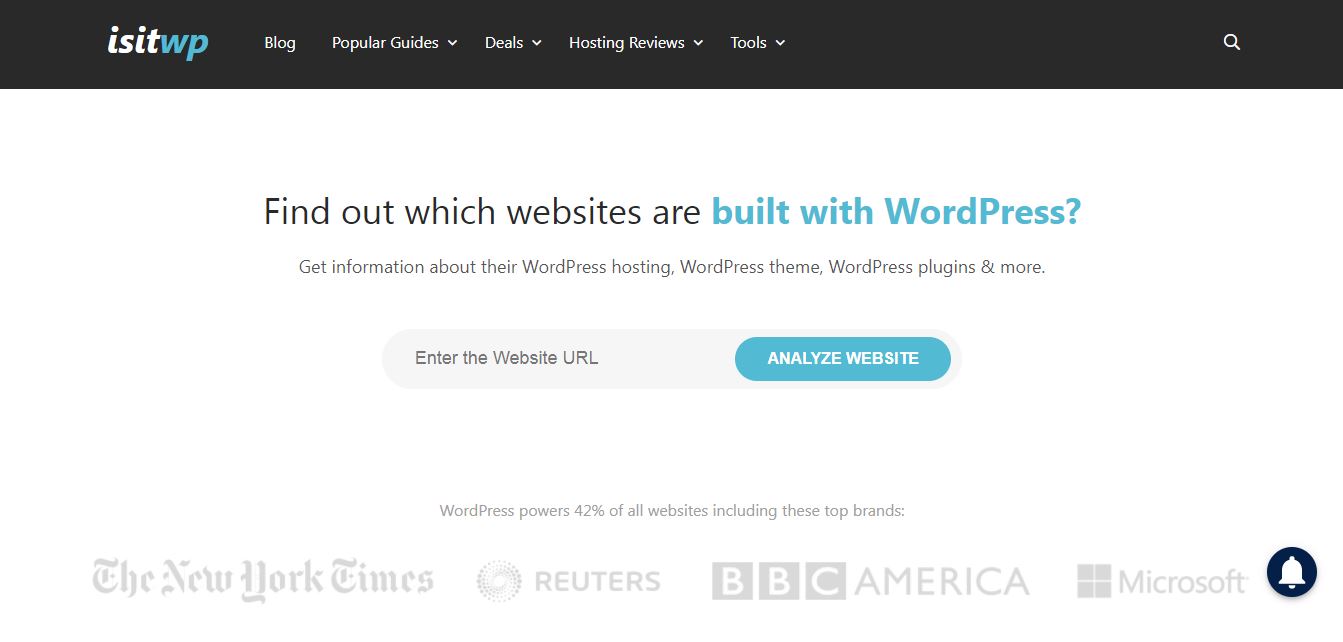 Learn More
Running low or out of budget but still need a good WP theme detector?
Choose IsItWP, IsItWP is a WP theme detector that will help you find a WordPress theme in a few seconds. To use it, you will paste the link to the site into a search bar on the main page.
Then, all of that site's information will come up for you: the theme name, web hosting service, title, and plugins. Afterward, it's all yours to take up the wanted theme or plugin.
Scan WP – Bring You the Best WP Theme Detector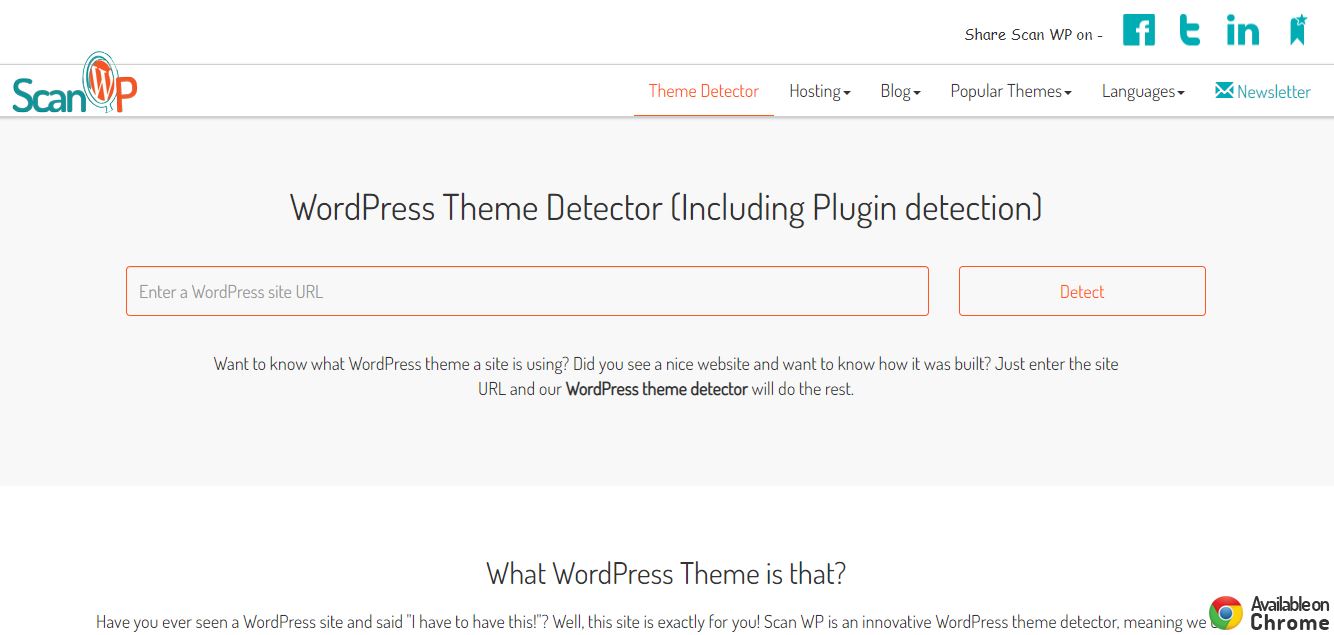 Learn More
Do you want to find out which WordPress theme one website is using? Or do you need to know what kind of plugin or add-on that site has? Well, it's worth looking at Scan WP. This widget will solve the problem for you.
Briefly, we make sure that you can search for almost every WordPress theme and plugin in the current marketplace. To make it possible, we usually update the theme and plugin collection. Therefore, you just need to paste the wanted URL into the search bar and click the "Detect" button. Then, we will make all the rest for you.
On the other hand, Scan WP will show you other related information such as theme price, theme tags, theme version, vendor name, theme buying link, used plugins, plugin price, and plugin downloading link.
WTS – Efficient Theme and Child Theme Finder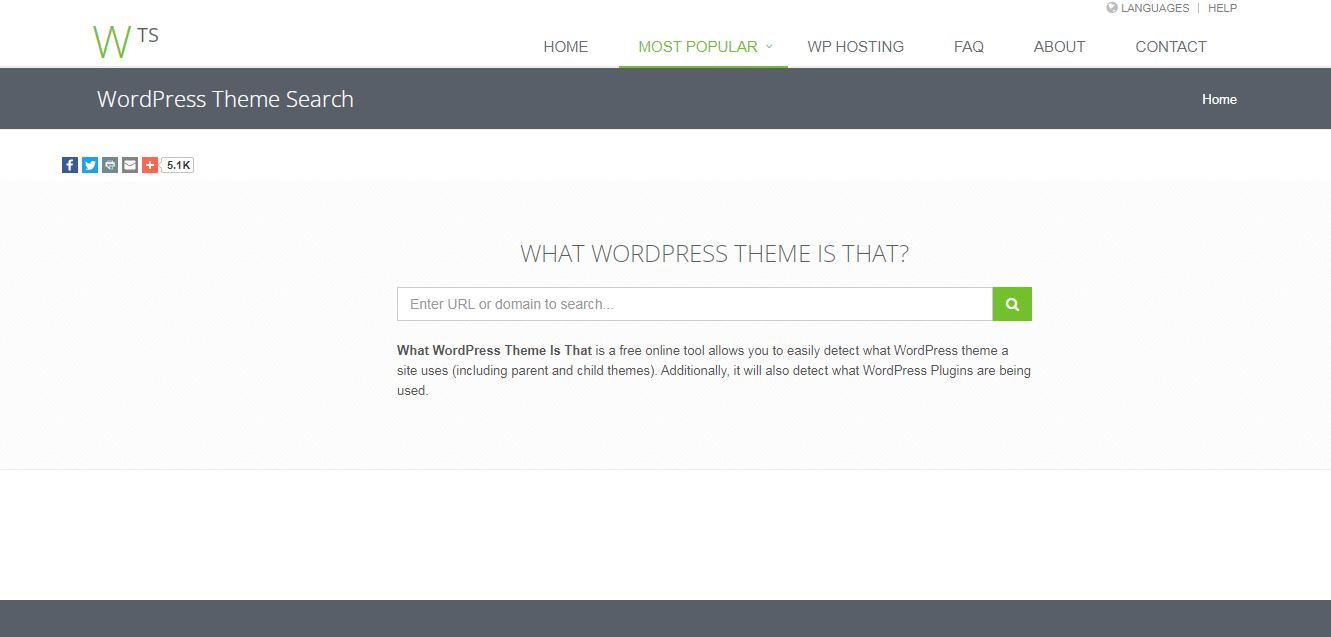 Learn More
WordPress Theme Search (WTS) is a theme detector WordPress that allows users to find WordPress themes and child themes. The function of finding a theme is very effective, especially when you are looking for the theme's information. However, the searching plugin function is not a great option for you. However, you may still search for web hosting services, themes/child themes stats, and many more.
Also, please refer to our article on child themes for beginners if you are not familiar with this concept
WPDetector – Powerful Theme Searching Tool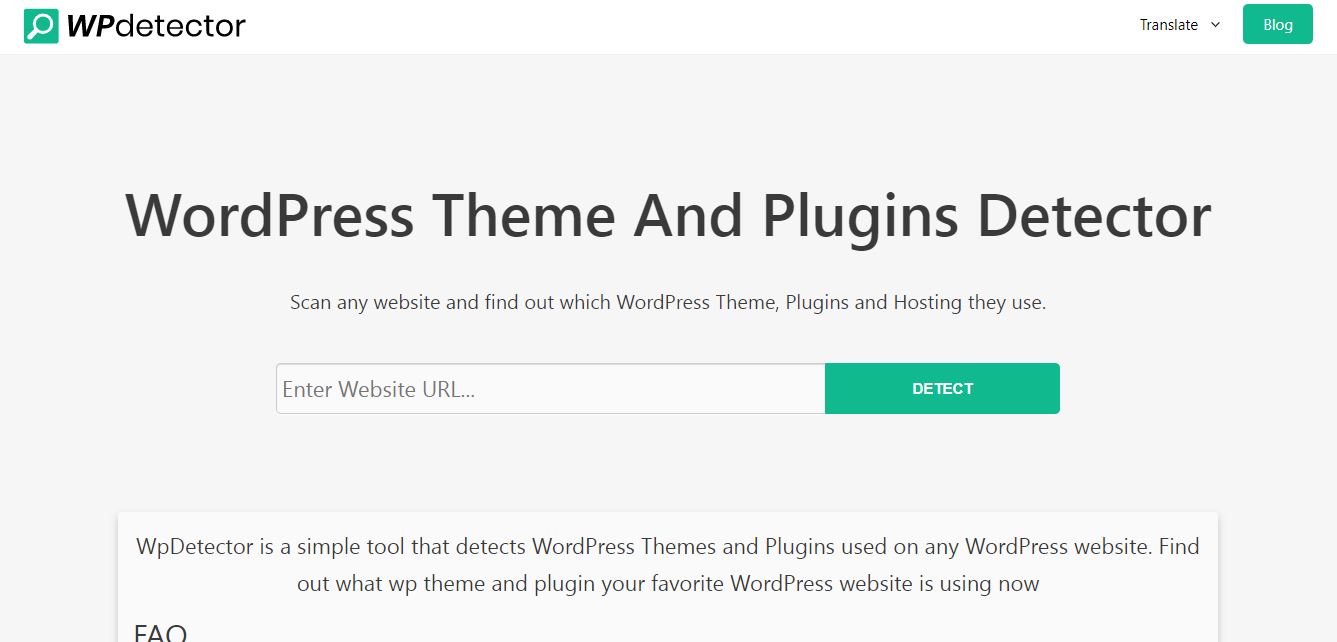 Learn More
As has been said, WPdetector is such a strong WordPress theme-finding toolbox for you. After you enter the site's URL, this widget will automatically detect WordPress Theme and all related info like theme name/price/tags, child themes' information, and plugins as well.
However, if a WordPress website is too heavily configured, this tool will only detect some of them. Afterward, the tool will show you the most relevant results.
WordPress Theme Detector – Well-Designed Detecting Widget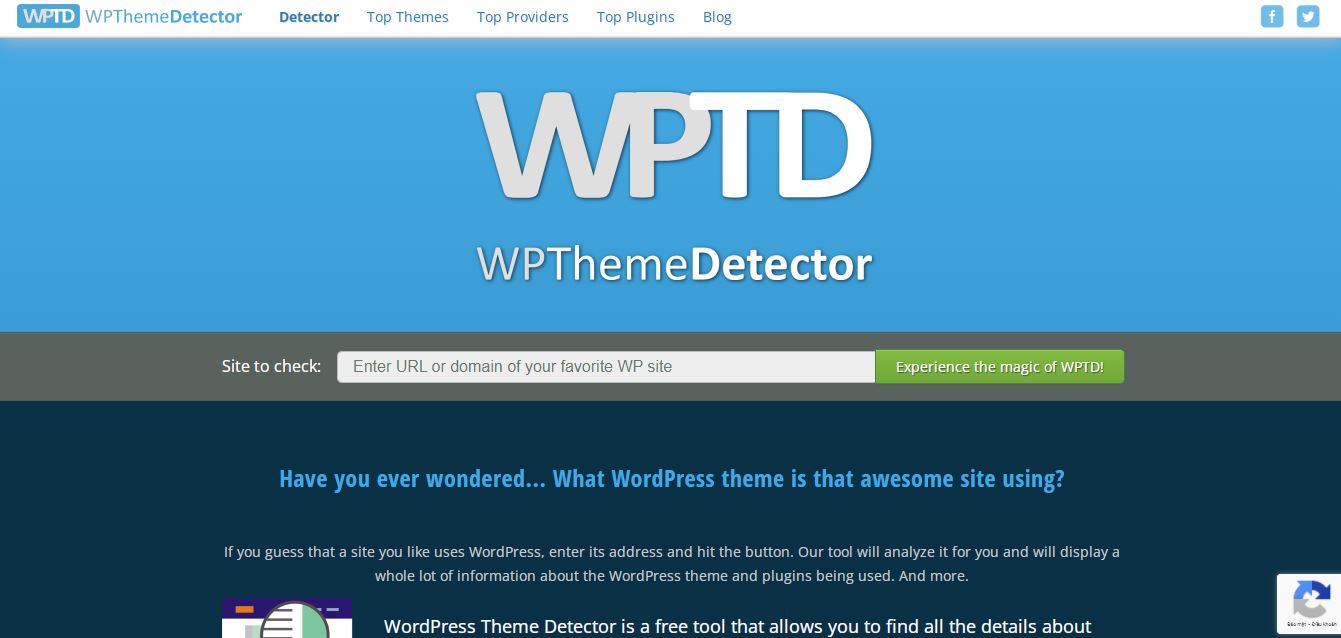 Learn More
With its nice and neat tool design, WordPress Theme Detector (WPTD) will surely satisfy its users when using its service. Its clear design allows you to find suitable search tools and options more easily.
However, WPTD can do more than just a nicely designed website. It can detect the WordPress themes and plugins of a site as you type in that site's URL and press the search button. After that, all the information about the WordPress themes and plugins will come up on your monitor. You can use it without paying any fee.
WordPress Theme Detector: Conclusion
The Internet is developing very fast and you should keep up with it. On the other hand, using other sites' WordPress themes and plugins is also a good way to make your site better.
We hope you can find the right theme or plugin for your WordPress site through our article.
Read more: Best Free WordPress Blog Theme
---
Contact us, ThimPress:
Website: https://thimpress.com/
Fanpage: https://www.facebook.com/ThimPress
Youtube: https://www.youtube.com/c/ThimPressDesign
Twitter: https://twitter.com/thimpress