The article includes a list of several Free Church WordPress Themes that can be used for a variety of spiritual and self-learning purposes. Besides, divine blessings and offerings to your favorite place of worship online, or to donate and work for their social cause from your own workplace.
While many pastors utilize computers in the church, not every church has a website. Many churchgoers use the internet to find places of worship. An organization's website can assist people in connecting with their favorite churches.
Furthermore, churches may use a website to keep their members up to speed on different existing or planned activities or events so that members can engage in them. They can also produce newsletters on a frequent basis.
The church website also allows users to make donations and contributions to the church's initiatives. Outsiders are also welcome in the Ministry and church. The following are some Religion WordPress Themes that can be utilized to create church websites.
The Reasons for Churches to Use WordPress Themes
WordPress is presently used by around 75 million sites, thus according to estimates. The CMS platform is well-known for its website creation and hosting features, both of which are particularly beneficial for church websites.
WordPress provides a plethora of functionality features that help ease and improve the design and management of your church website. Here are a few examples of how WordPress may help your church website:
Downloading is completely free.
Incredibly simple to use – anyone who can use Microsoft Word should have no trouble using WordPress.
Completely customized
Tens of thousands of templates
WordPress themes for churches
Over 60,000 free plugins that improve the operation of your website
Integrated management system
SEO-friendly
Made to be safe and secure
Upload media files quickly and easily.
Top 5 Highlight Free Church WordPress Themes and Review
The Church Lite – The Amazing One in the Free Church WordPress Themes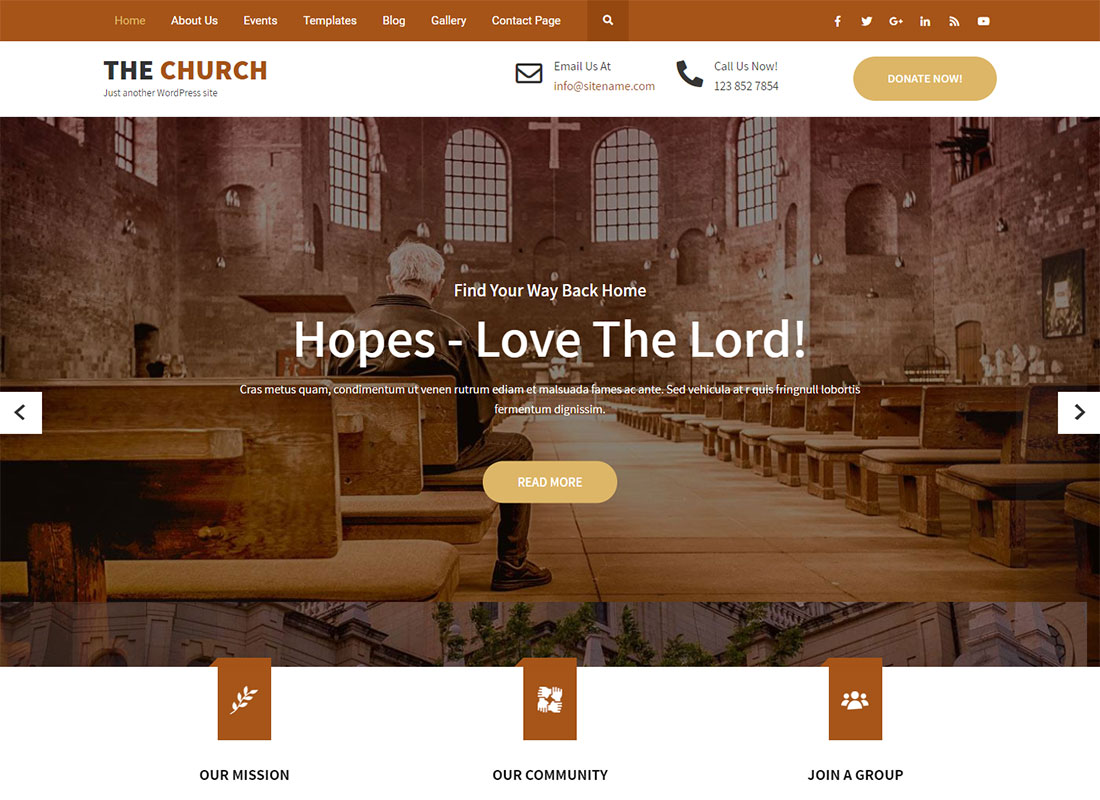 Download
Demo
The Church Lite seems to be a contemporary, professionally designed, and responsive theme in the Free Church WordPress Themes. However, you may always modify it for non-profit organizations, foundations, ministries, charities, and fundraising campaigns.
This faith WordPress theme seems to be a full and functional theme that is available to download for free to improve your web presence. The Live Customizer makes it simple to install and adjust this theme. The Church Lite, also including several important plugins to help it run better, is in the free church WordPress themes.
It specifically supports WooCommerce, so setting up an online store will be quick and simple. Similarly, The Church Lite provides SEO optimization with Yoast SEO, form management with Contact Form 7, WPForms, and newsletters for extra marketing goals.
Charity Help Lite – No 1 Religion WordPress Theme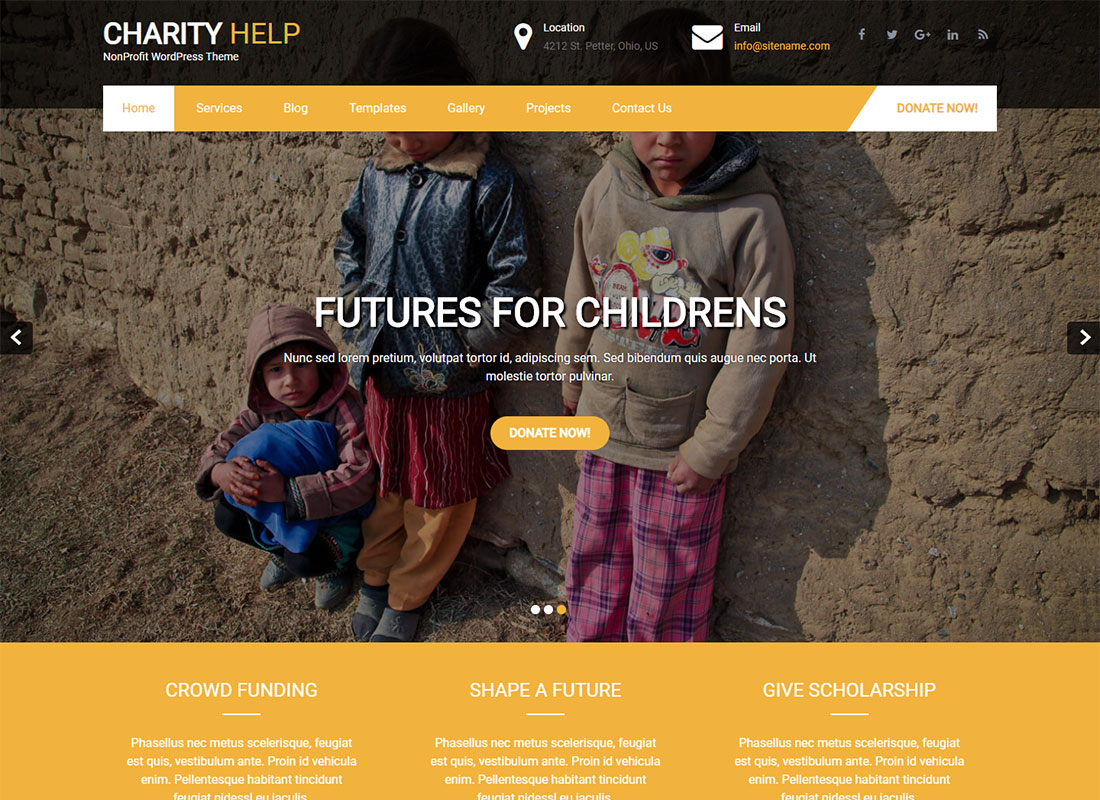 Download
Demo
Charity Help Lite, despite its default focus on charity, may be an excellent Free Church WordPress Theme for church websites. This theme has a Customizer panel that lets you simply and rapidly modify the design and use experience for your website.
This Faith WordPress Theme is also responsive and cross-browser compatible. (It will look great on all modern web browsers and devices.) It also includes social networking buttons in the header to let visitors connect with you. Furthermore, its interoperability with WooCommerce allows you to easily begin selling things.
Your new church website is nearly complete.
Social Care Lite – The Fetish for Free Church WordPress Themes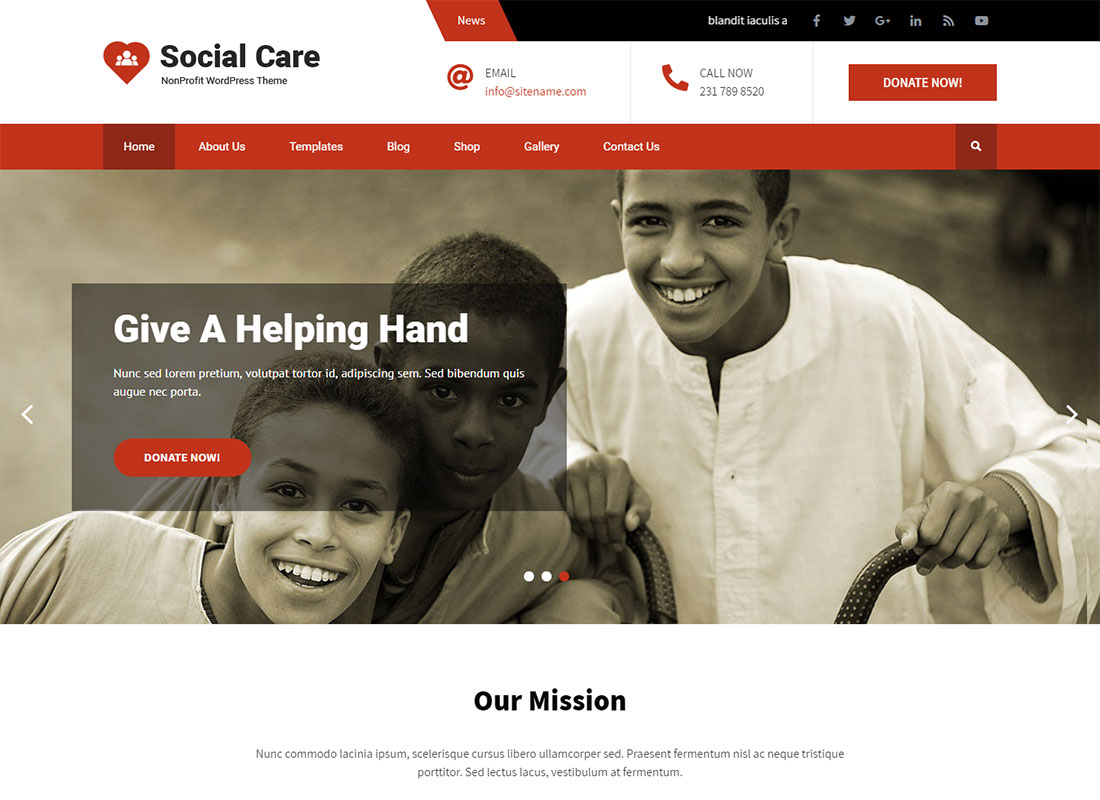 Download
Demo
To make a powerful and lasting impression, make sure the design of the website for the church is clear and uncomplicated. Social Care Lite seems to be one such free church WordPress theme that might assist you in making things happen.
This Religion WordPress Theme was designed for charity websites, but it may also be used for foundations, churches, events, and political strategies.
Social Care Lite has custom widgets for the sidebar and footer, as well as color choices and a live customizer. Social Care Lite seems to be designed to operate well on mobile gadgets and has a responsive design.
It was designed with SEO in mind (you can integrate any of the popular plugins). This theme also works with plugins like Google Maps, Newsletter, Contact Form 7, Slider for emphasizing fantastic content, and more.
Endurance – Best Simple for Free Church WordPress Themes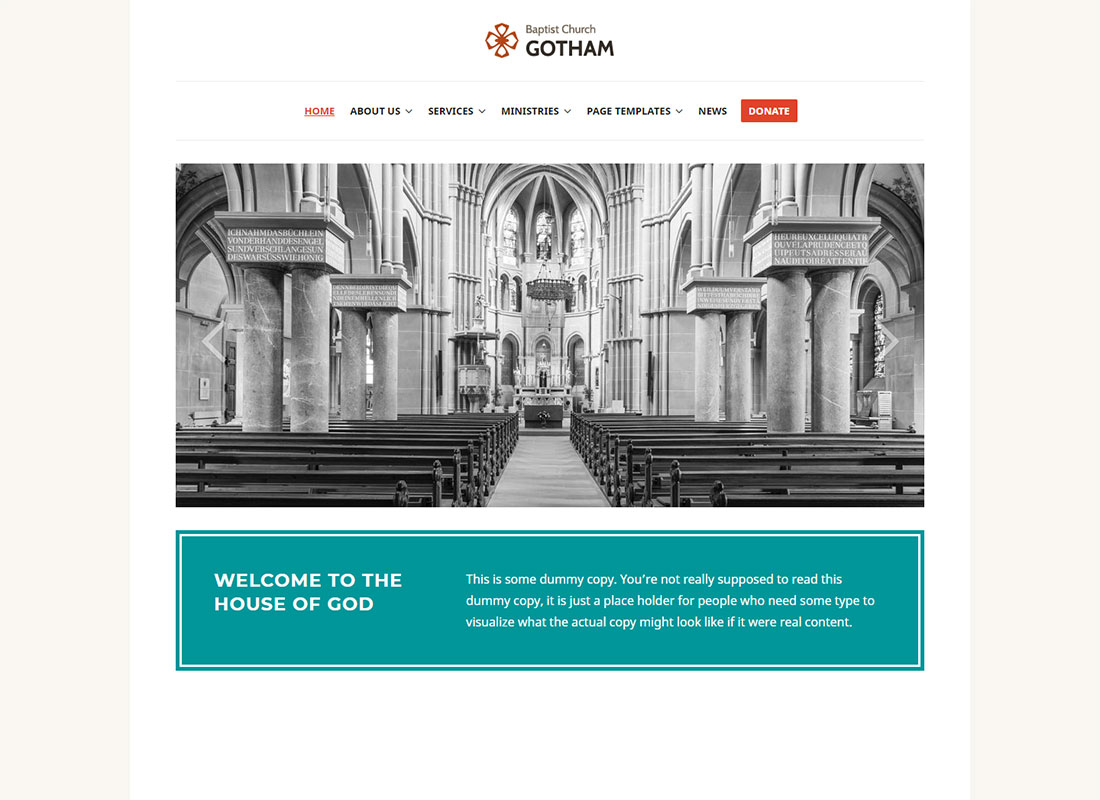 Download
Demo
Provide the finest place for people to debate sermons and show the world what life is like at your church. Endurance is in the free WordPress themes list that can help you develop the authenticity of your church if you're new to WordPress. It is a free theme for church WordPress with a fantastic and unique design.
With this theme, you may present your church's purpose and vision in a stylish and elegant manner. In the hero area, you may emphasize the most anticipated images of your latest church projects, sermons, and other wonderful stuff. You may also include links to recent publications.
This free church WordPress theme also has a section for future events where you can quickly submit them. It also includes an appealing and enticing donate button for generous visitors who want to support your ministry.
Unconditional – The Unique One in The List Of The Free Church WordPress Themes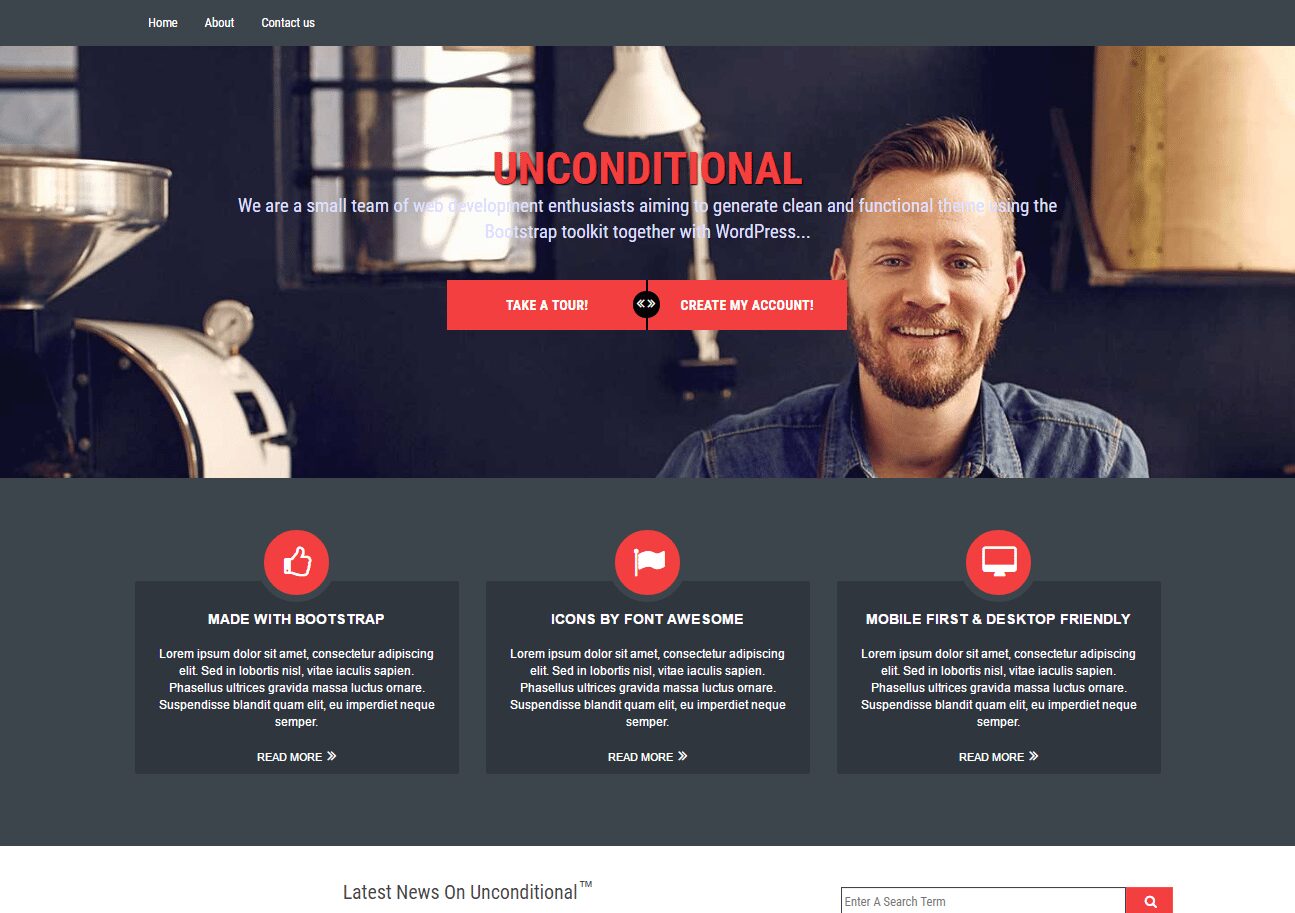 Download
Demo
You should select a faith WordPress theme depending on the design and function of your website. Unconditional may be the theme for you if your church website serves as a hub of information and is intended to attract new parishioners while also creating a community for existing ones.
Unconditional is a multi-purpose WordPress theme that includes several premium features such as Jetpack portfolio integration, an integrated blog page and blog feed, and numerous sidebars for improved site navigation. These capabilities are ideal for creating a community feel on your church website, as you can add websites, portfolios, and blogs, as well as upload a variety of information for your parishioners to see.
The "Call to Action" Section is a unique component of the Free Church WordPress Themes. This purpose-built section allows you to include a statement summarizing your church's aims or values on the homepage of your website, which is a terrific way to explain what your church is all about to potential new congresspeople.
Faith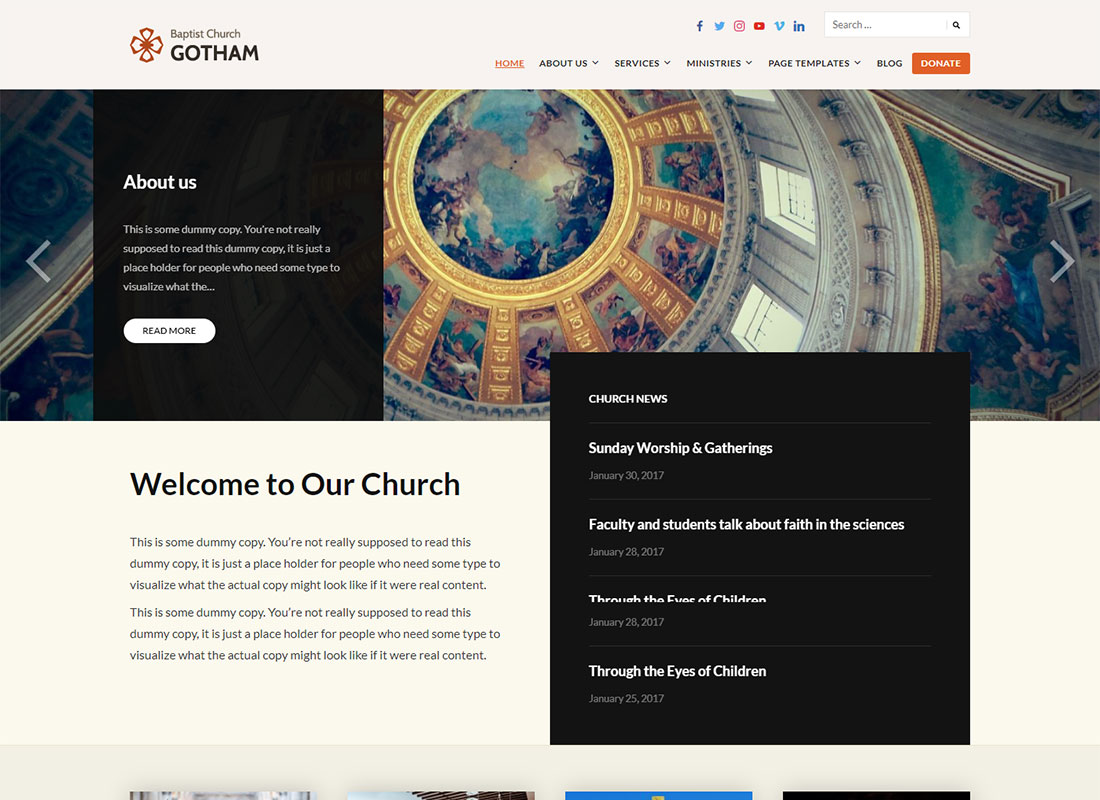 Download
Demo
A church website's contemporary, clean, and minimalist design is a must, not a want! The initial impression of your church may be made or broken by how visitors see your website. Faith is a superstar in The free church WordPress themes list and helps you create your online trust and reputation. It's a free church WordPress theme with an eye-catching design.
In the hero scene, Faith has a gorgeous slider where you can display outstanding material to wow visitors. Below the hero scene is a news area where you may submit sermons, theology thoughts, events, and so forth.
This religion WordPress theme includes several useful sections, such as About Us, Services, Ministries, Blog, and others. The free church WordPress themes also contain a visually appealing contribute button in the header for simple access.
In Conclusion
Top 5 Highlight Free Themes For Church WordPress surely bring you many options to choose the best one. Of course, if you are a newbie, there are a lot of problems and wonder how to build a website with WordPress, the article "How To Build A WordPress Website for Beginners" will help you a lot.
Read More: Charity WordPress Themes for Your Non-Profit Businesses
---
Contact us, ThimPress:
Website: https://thimpress.com/
Fanpage: https://www.facebook.com/ThimPress
Youtube: https://www.youtube.com/c/ThimPressDesign
Twitter: https://twitter.com/thimpress