If you intend to go on an estate career or have already gone on, you will realize that online marketing is becoming more and more popular nowadays, especially because of the worldwide epidemic Covid-19 and the significant development of online business.
With that in mind, people working in the estate aspect, such as realtors, tend to own an estate website. With WordPress, we can offer you a lot of Real Estate WordPress Themes. By using our WP themes, you can have a modern and convenient design and many other features that will create customer retention.
Today, we bring you a list of the 10 best real estate WordPress themes. We hope that you can pick up the one that you have always been looking for on the web and succeed in your career.
10 Best Real Estate WordPress Themes
AgentPress Pro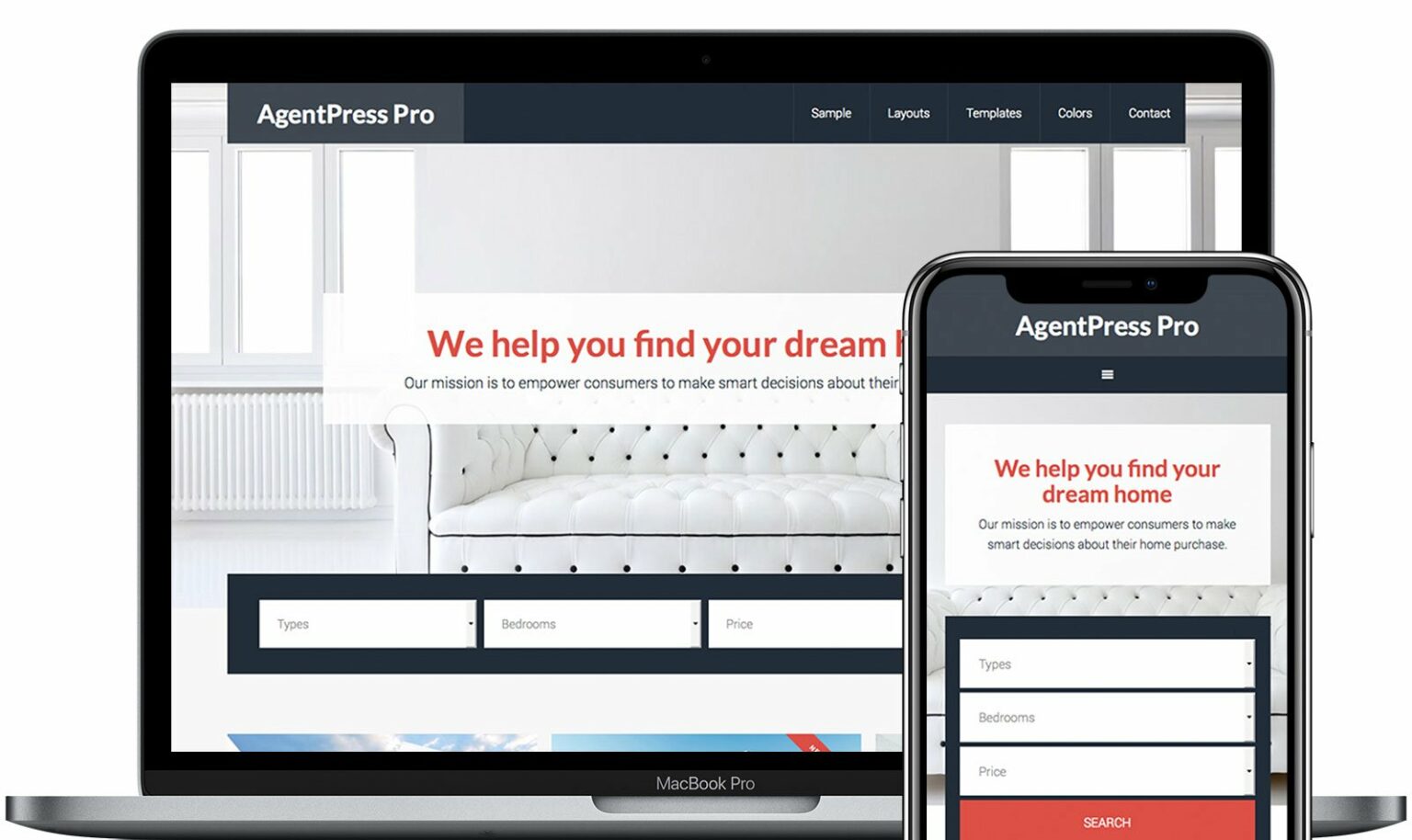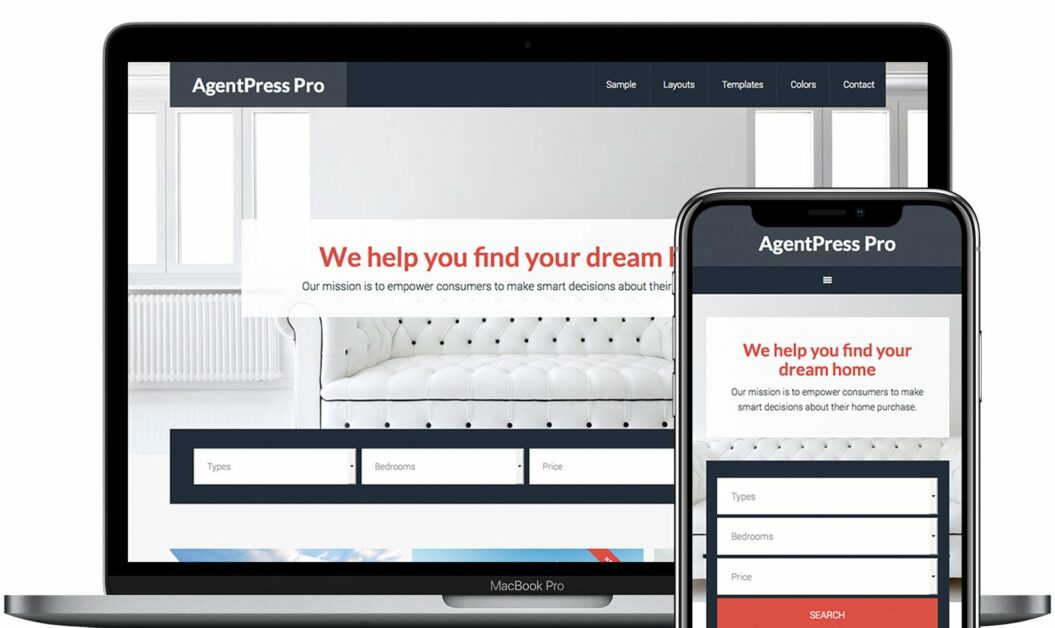 "Our mission is to empower consumers to make smart decisions about their home purchase", is the slogan of AgentPress Pro. The theme's portfolio is very good as you can easily arrange and organize the content including images, videos, and texts to give your customers the best impression of the products. It's intuitive design and smart listings will attract your customers a lot, too.
The theme itself has a variety of theme options to build and run your web in a few minutes and so do its prebuilt demos. The building is not enough for a real estate web to work properly as your wish, so we add a theme customizer to let users get in and adjust the theme's settings. Colors, fonts, and other related stuff.
Besides, you can check the preview in real-time to ensure it is going on your right way. AgentPress Pro is considered one of the most simple real estate WordPress themes.
Divi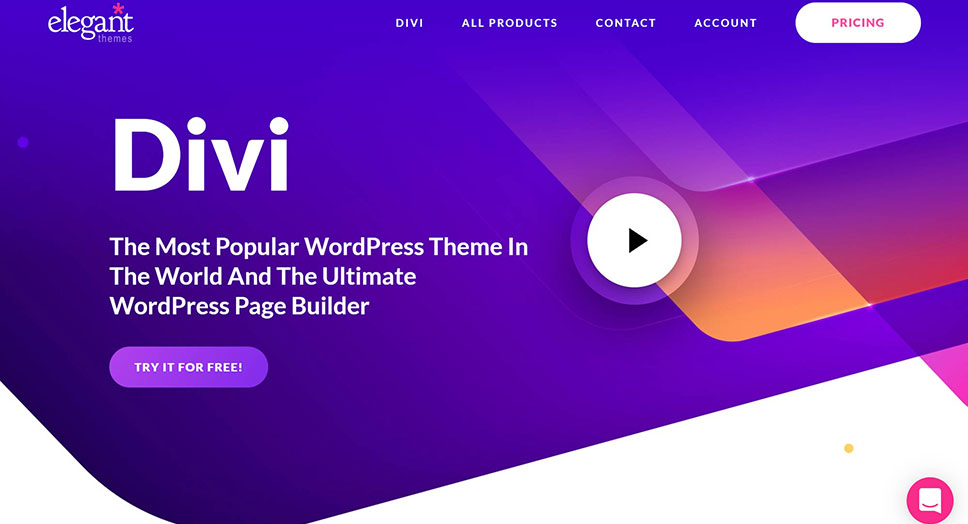 Replacing the standard WordPress post editor with a new superior post editor, Divi is called the commercial real estate WordPress theme. It can be easily used by both newbies and professionals to produce amazing estate webs. Building webs with Divi, one single platform is enough for page builders, no need for some themes else. We reduce the time our customers spend on building websites and turn the editing so simple. The process also gets more efficient.
With Divi, users are freely allowed to bring out their ideas and products into every part of the websites. You can build your responsive estate webs simply since Divi is naturally responsive and it can give you full control to edit your in-mind perfect sites. Using drag and drop page builder means you can add, delete or move your content at pleasure. On the other hand, editing letter is very easy as users can pick from hundreds of available fonts or upload their ones and then customize the colors, height, and style.
When you have decided to go with this best WordPress page builder theme, don't miss to grab the Divi Discount offer which has exclusively been made for the site developers.
OceanWP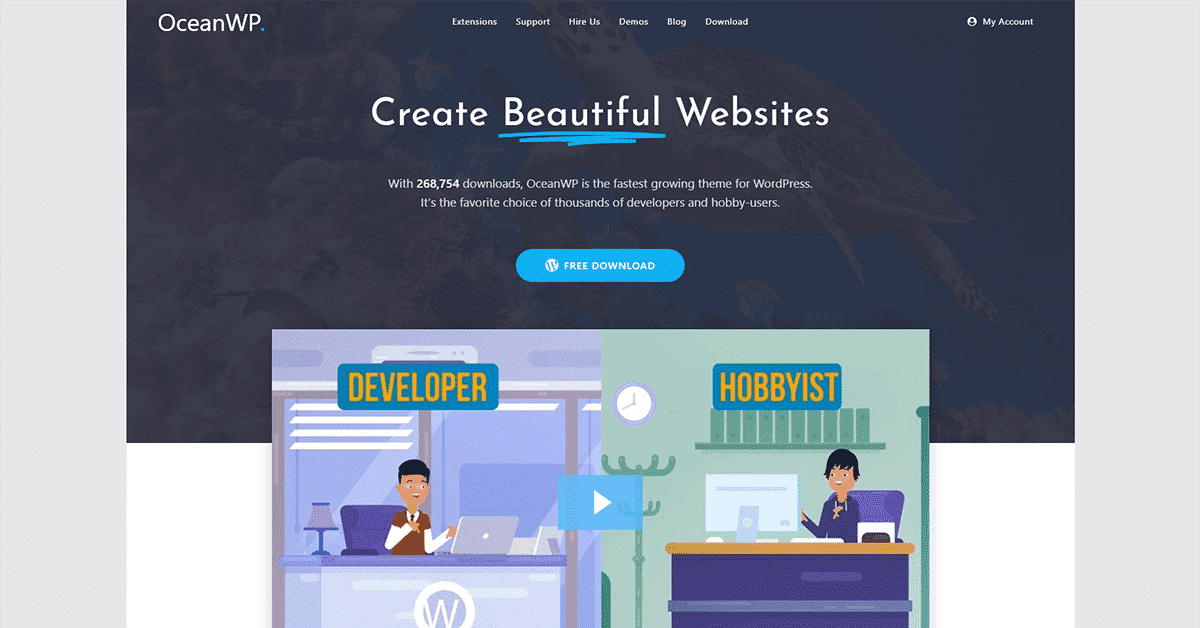 OceanWP is a luxury real estate WordPress theme. The cooperation of OceanWP and Elementor makes a powerful duo as it is easily customizable. Our customers can reduce their time on building estate websites with our creative pre-built demos with the import extension installed instantly in the theme. The layout is luxurious and convenient: a white label for replacing the OceanWP name with your company's name, a pop-up plugin to add a pop-up register form, and a noble portfolio to showcase your work beautifully. All of them are very fancy and efficient.
Applying our theme, your estate website will look stunning on all screens and devices. Also, OceanWP earns the fastest page load time in most of the tests from the top speed testing tools. It supports RTL languages and can transfer into your language and vice versa. Meeting a hard problem? Don't worry, our fast and wholehearted support team will help you 24/7.
Astra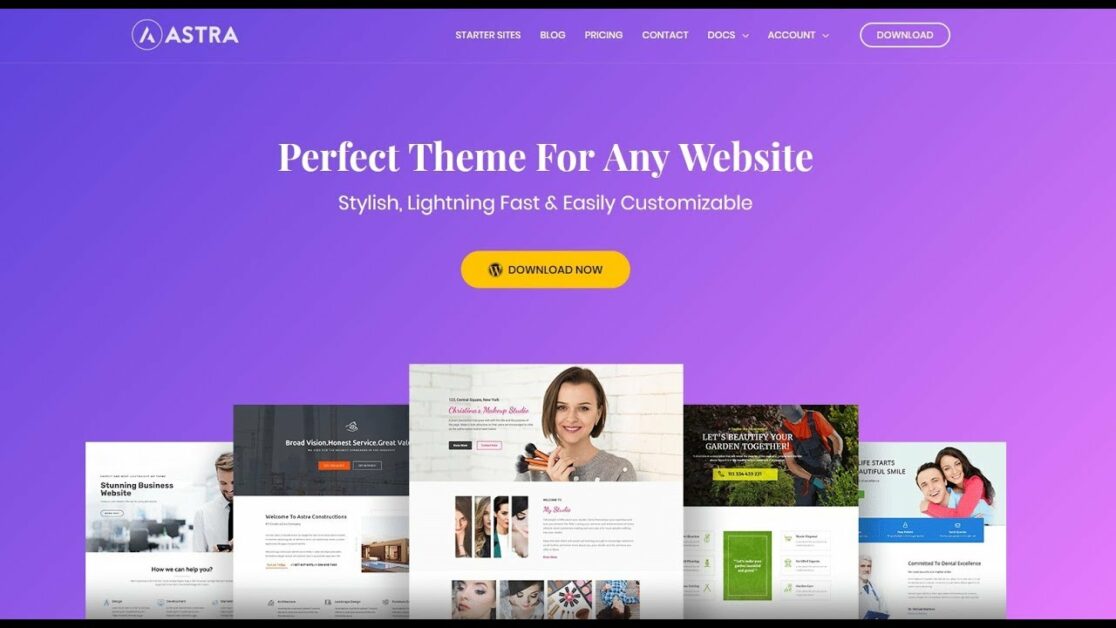 If you are busy and in the middle of jobs, Astra will help you deal with page-building stuff. No need for coding; Astra has pre-built websites so that you can spend less time designing by using website demos from Astra's starter templates library. Also, you can customize the design through bunches of theme options. Taking it easy, you can make it fast and look the same as how you have intended. These features have offered very fast performance.
The layouts are not hard to set up and adjust. One can manage the web's layout: container, blog, header, footer, archives, posts, and single pages. Understanding the importance of colors and fonts, we provide you with hundreds of ones to integrate. Controlling the design of posts and archives easily is not a problem with our neat options in the customizer. Among real estate WordPress themes, Astra is well-known for a long time.
RealHomes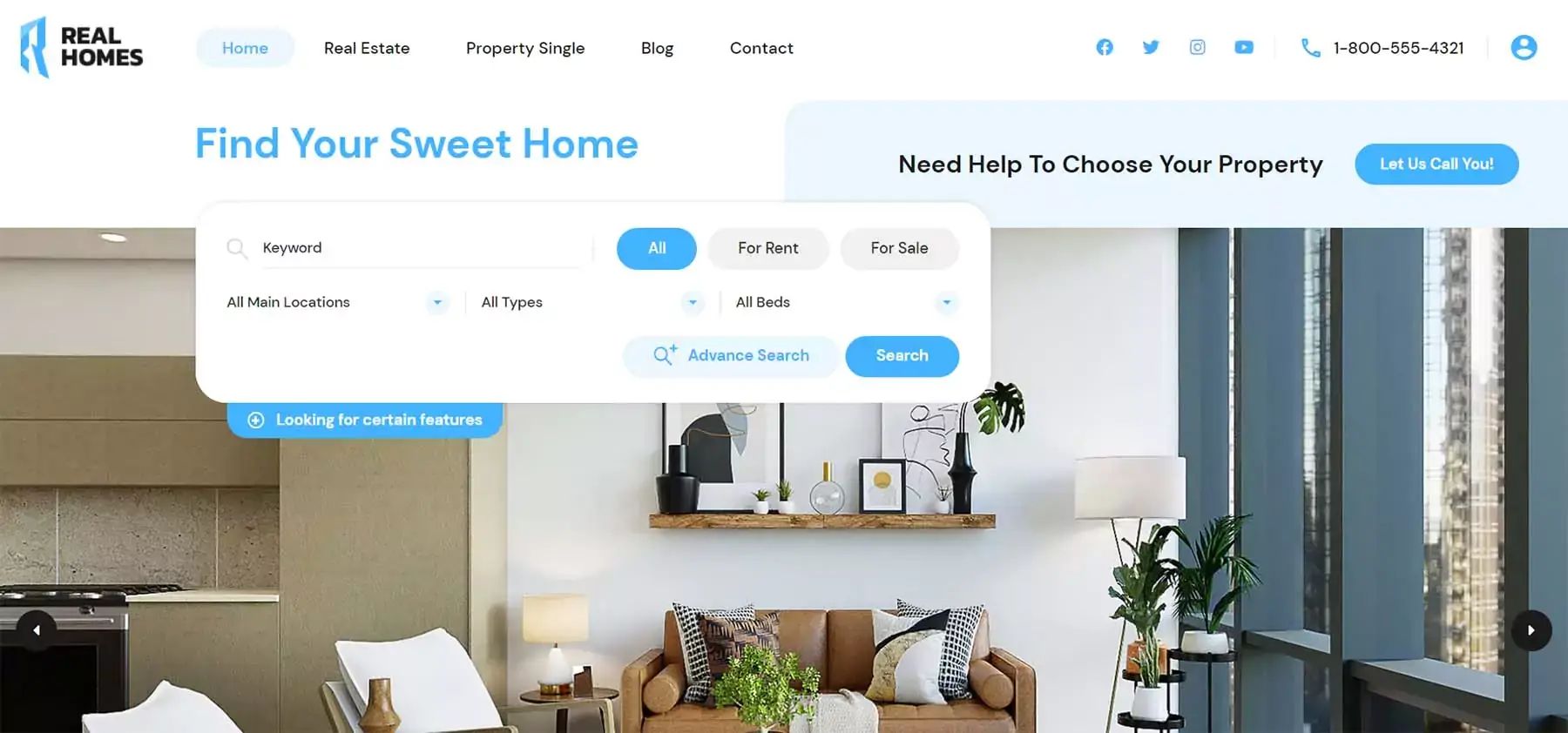 RealHomes is a real estate WordPress theme born for land-selling professionals, agencies, companies, etc. A Realtor offers a large range of features for customers to build and finish their dreams of fantastic estate websites.
It has a fully responsive design which will increase visitors' experience. RealHomes is also called a real estate listing WordPress theme because of its grid/list properties view. You can choose the way your estate web displays the lands' information. Its responsive design will improve customers' use and maximize the lists' function. It also comes out with 2 different single-property layouts, which are suitable for its design.
Some other beneficial features will help you make the Dreaming estate web as well: various color customizations, W3C valid source code, cross-browser support, 24/7 support, etc.
EstateEngine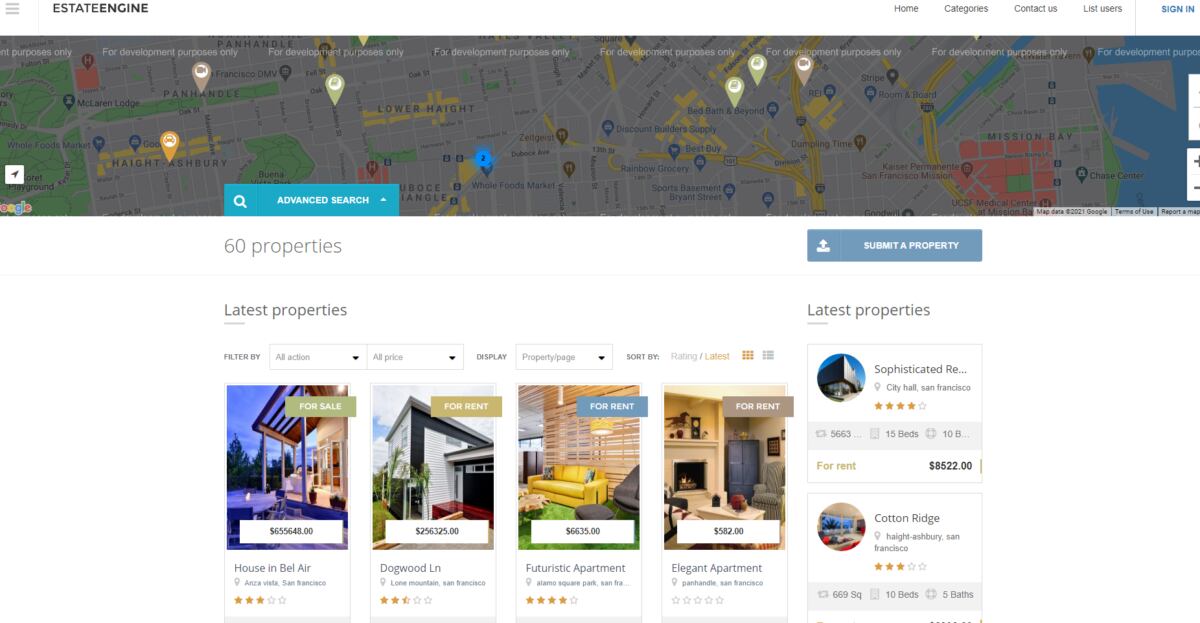 EstateEngine is considered a real estate WordPress theme. It owns a unique feature: users can design and manage the land-business website on smartphones.
In case you don't have a PC or a laptop with you, you may be able to make changes to your web using your phone which can be connected to the Internet. The setup wizard on both computer and phone versions is a breeze to design and run, so we don't waste time waiting anymore. An advanced search bar will follow you when you are surfing the web, along with other criteria. The next time a customer comes back to check, he/she can insert a keyword and essential information will show up. The list won't reload until you reload it with the refresh button on the screen.
The users can get fronted controls, simply drag and drop the content parts and configure them in the right position. There is an admin panel where you can quickly manage all general options for setting up a web. Besides, remember to put your logo and brand name on the header and footer.
Residence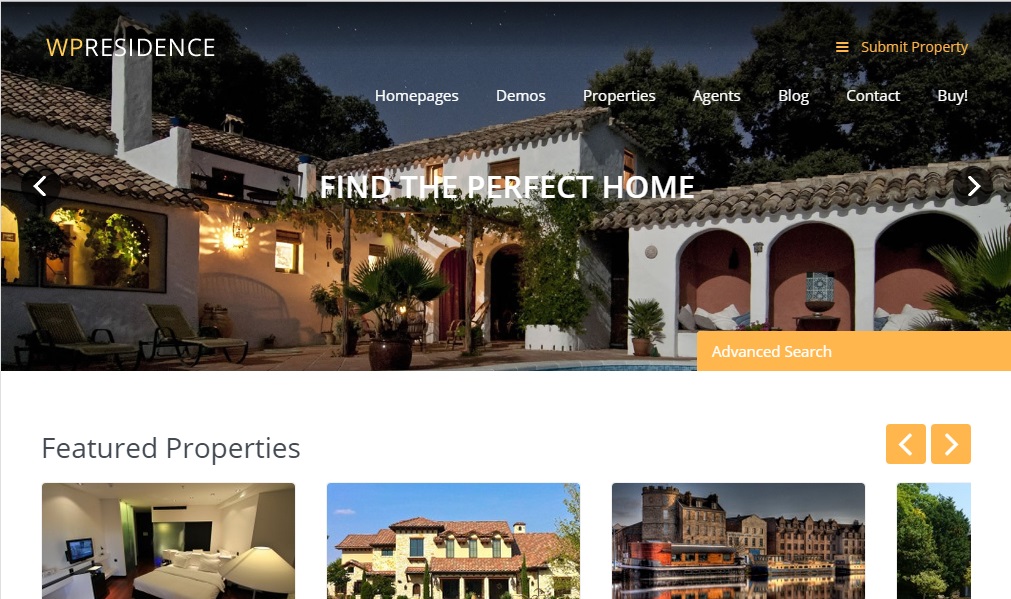 Residence may look simple, but almost every user has to admit that it is a very strong real estate WordPress theme. The outlook is very intelligible: the header is filled with your company's name, important links and pop-up links on the header and footer, and a popular arrangement. A search bar and filters are put in for users to fill in their findings so that they can look for a suitable house.
The residence has a mobile responsive layout and IDX-MLS integration. The theme also has Google Maps, an automatic slideshow, the capability of large property galleries, etc. not only serving lots of property information, but Residence also allows us to drag and drop content parts, add titles and numbers, and update the newest information.
Altitude Pro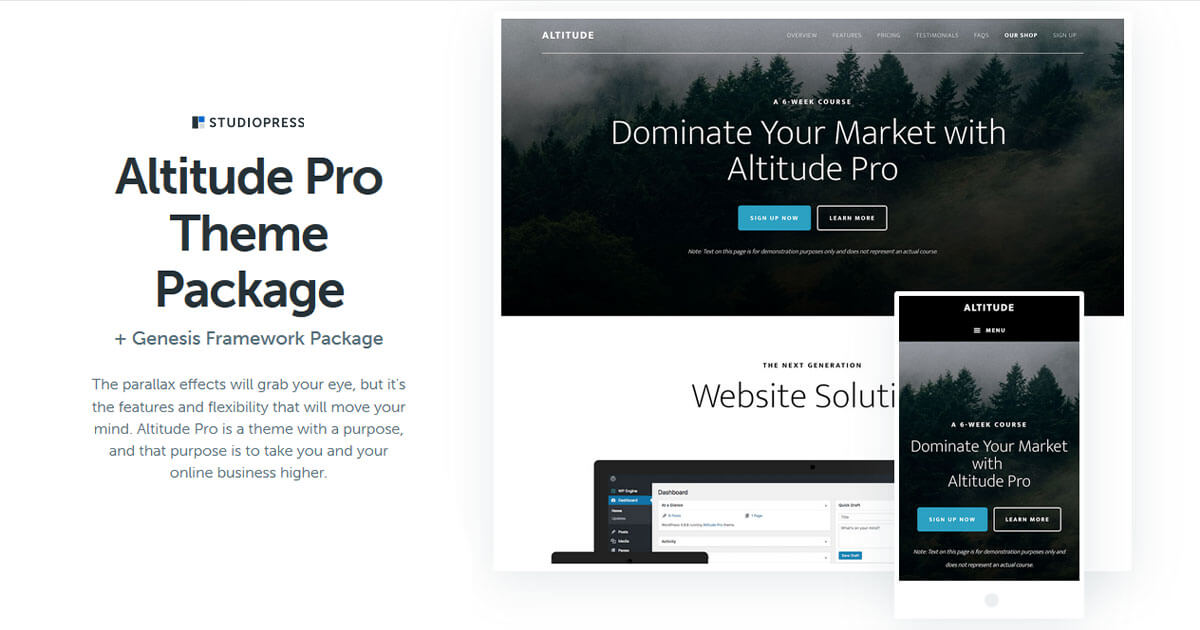 It's a good real estate WordPress theme for first-time designers. Altitude Pro gives us an allowance to design and reuse old modules in case we don't reach the peak or recreate the web. The Gutenberg theme optimization empowers customers to combine the old modules with others from the beginning to the end. Using these options to create and implement your site is as simple as ABC with only some clicks. Automatic connecting to WooCommerce quickly set up your online market.
We provide 7 homepage widget areas to customize your brand, your logo, and your portfolio. If you feel the normal font is boring, we can support you with text-based logos and various letter fonts, as well as hundreds of colors and other settings.
Presence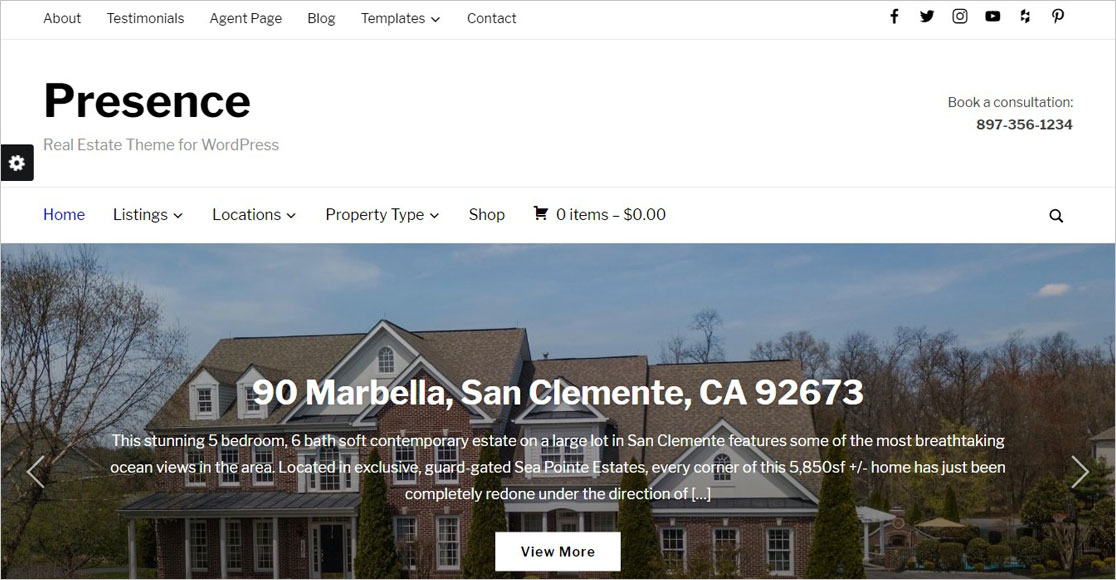 For people loving convenience, Presence has everything you may need to build and own an estate website. The first thing is the drag-and-drop page builder, a standard and popular page builder that every WordPress theme must have. This helps us build the page so fast, and you can also import your designs from the pre-built demos. We also have 2 layouts: boxed and full-width to follow these 10 demos.
There are normal features that Presence and other estate themes have: various colors and fonts, full responsiveness, IDX support, etc. Especially, it also has music features: a music bar and playlists. The music, along with the nice and elegant outlook of the theme will hold any visitor to the website.
London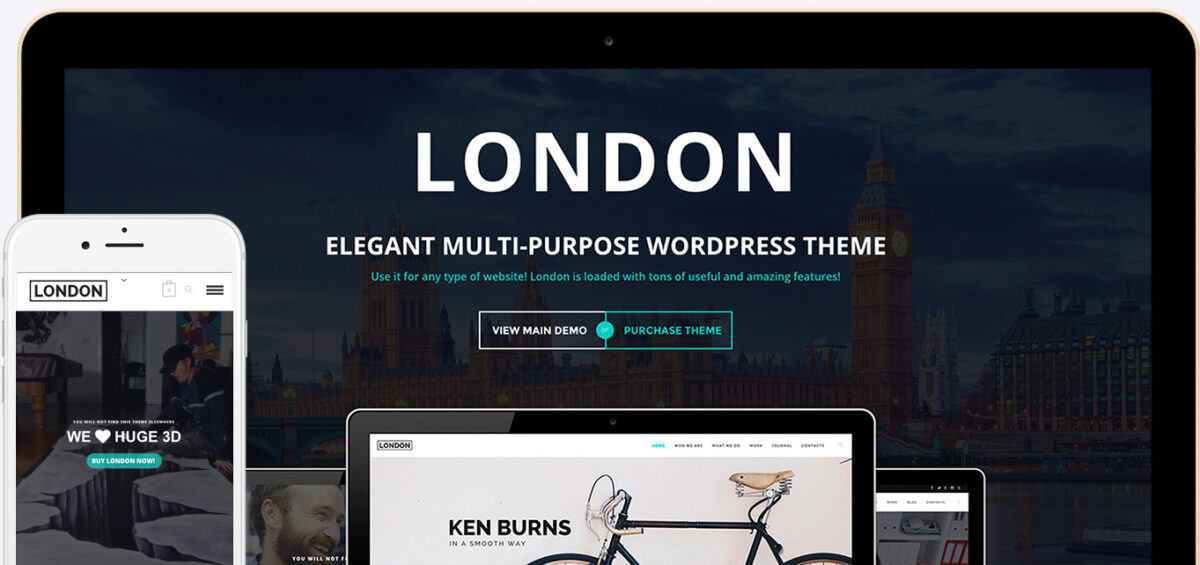 This theme is designed on the WPCasa framework. Combined with easy-to-use custom widgets, we can build a lot of professional content with few things to care about. We have a video that describes the sliders, galleries, boxes, and much more.
The homepage of the theme's options is in your hand. You might want to apply available templates or use your own, meanwhile, the theme will provide places to add your content or useful widgets if you decide to build your one. Logos (text, image, alternative, print) and colors are various, hundreds are waiting to be dug up and used. Apart from the home page template and customizations, London has a wonderful wizard to show your estate properties and related ones.
Do Real Estate Sites Need WordPress Themes?
Through the 10 above real estate WordPress themes, we believe and hope that you can find the fit one for your estate website.
Developing online shops means moving a long step in the land-selling aspect: giving customers convenience as they don't have to come and see by themselves. Saving time is also a way to make more benefits and market, so come and pick up your WordPress themes to succeed in this difficult market.
Read More: How Can Real Estate Agents Benefit From Digital Marketing
---
Contact us, ThimPress:
Website: https://thimpress.com/
Fanpage: https://www.facebook.com/ThimPress
Youtube: https://www.youtube.com/c/ThimPressDesign
Twitter: https://twitter.com/thimpress