Why Should We Use Simple Themes for WordPress?
Whenever kicking to start learning something. It always basically focuses on simple things. In other words, simplicity is eternally easy to grasp and learn. It is the same in technology, customers usually tend to apply the best quality WordPress themes to make their businesses go off without a hitch. However, there is no need to distract the users with many extra frills and flair. Because simple WordPress themes have already been basic in design and elementary in both form and function.
There are many choices in deciding which the best simple WordPress themes are in many different fields such as business, blogs, artists, photographers, or beginners. So, let's get straight to the point with these simple WordPress themes.
The Best Simple WordPress Themes for Business
Galax


We can praise Galax for its features being all-in-one. In other words, Galax brings to the customers every essential utility. To prove that, this multi-purpose WordPress theme has already come up with myriad features. Galax is not only saving money but also saving time with several demos such as Corporate PRO, online store, restaurant, health care, etc.
You can be guaranteed its greatness because Envato has given it a perfect 5/5 rating and quality assurance on ThemeForest. Enjoy future updates with ThimPress's 6-month support guarantee.
Galax has 200+ preset pages and 12+ niche demos that demonstrate its adaptability to a variety of needs. With more than 500 theme options available, you can customize to your heart's content and use the amazing Visual Builder to unleash your creativity. Discover the power of Galax with its large library of more than 100-page elements and other features. Easily improve your web presence using Galax.
Galax not only shines as a superb SEO WordPress theme but also has a myriad of other remarkable features. It performs amazingly well on a variety of platforms, including Windows and mobile devices. Galax guarantees that websites are visually appealing and captivating on all platforms thanks to its mobile Retina-ready features. The combination of the theme's ultra-fast functionality provides an unmatched method for improving website performance. These only scratch the surface of Galax's many incredible features.
Sailing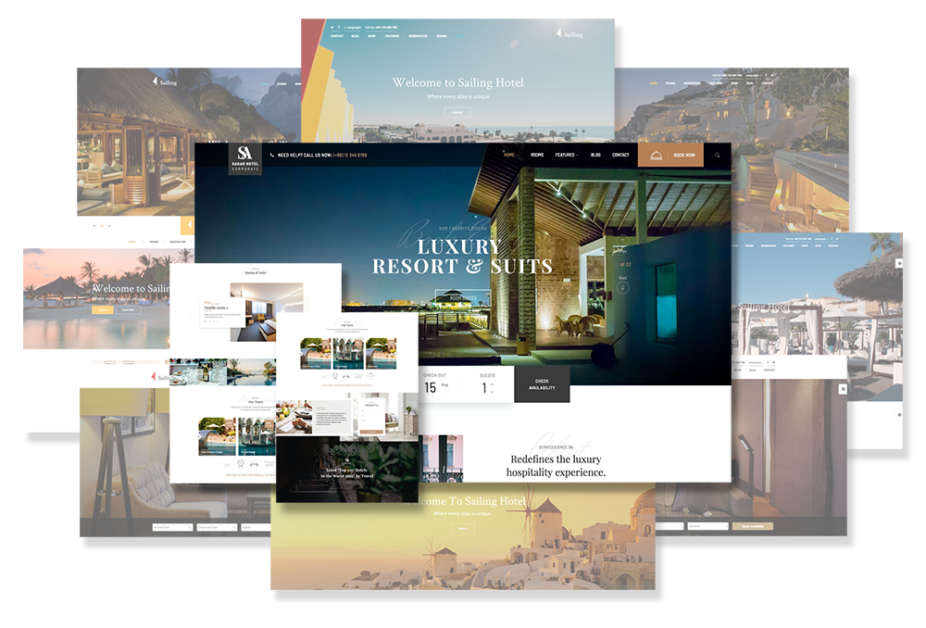 A top-rated responsive WordPress theme with almost 4,000 sales and a fantastic 4.7/5 rating from more than 250 users is called Sailing. More than a thousand people have praised it for its excellent performance.
Both WooCommerce and WPML are smoothly integrated into this theme. All devices will display it at its best thanks to its fully responsive design. The drag-and-drop page builder, Revolution Slider, HTML5, CSS3, and Bootstrap 3 are just a few of the capabilities that Sailing offers.
Moreover, the theme is an attractive option for WordPress users because it was designed with SEO in mind and has Contact Form 7 integration.
In addition, Sailing also holds up other features as providing social media features to seek potential customers via Twitter, Facebook, or Instagram. Generally, Sailing can be seen as a versatile and creative theme for any hotel service.
OceanWP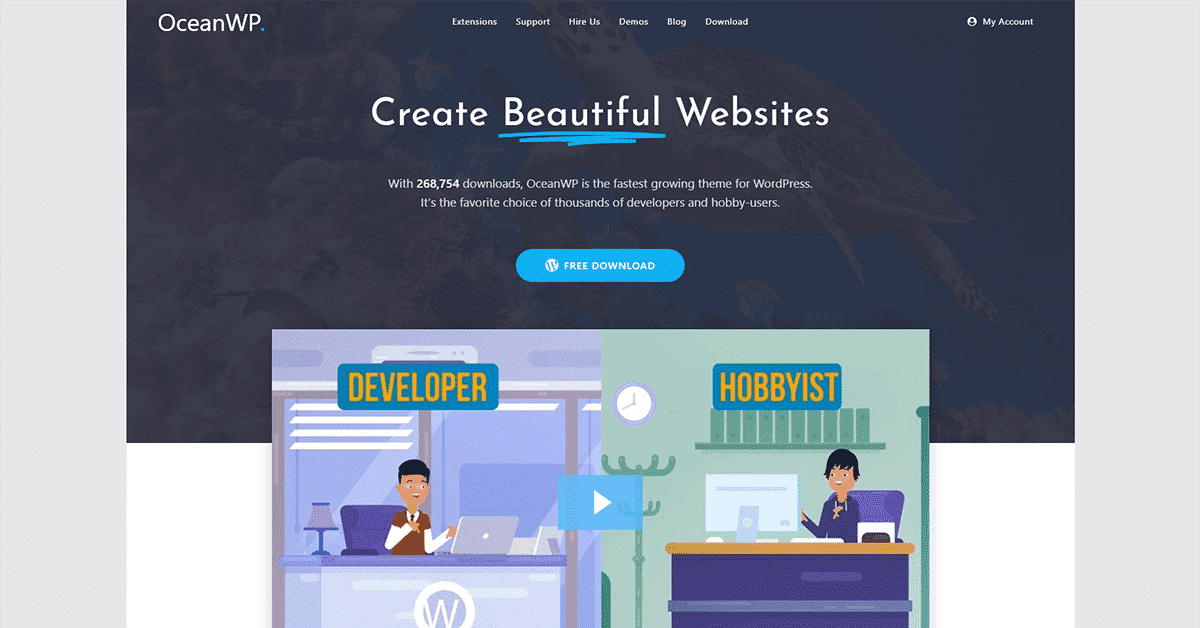 With an astonishing estimate of more than 6 million downloads, OceanWP is a WordPress theme that is popularly expanding on ThemeForest. It provides thorough eCommerce support, enabling customers to expertly build and run their online enterprises.
OceanWP offers the required features and tools to improve the client experience whether selling goods or services. With its rising popularity, this simple theme has established itself as a dependable option for people looking to build a strong online presence and grow their businesses.
Simple WordPress Themes for Blogs
Cali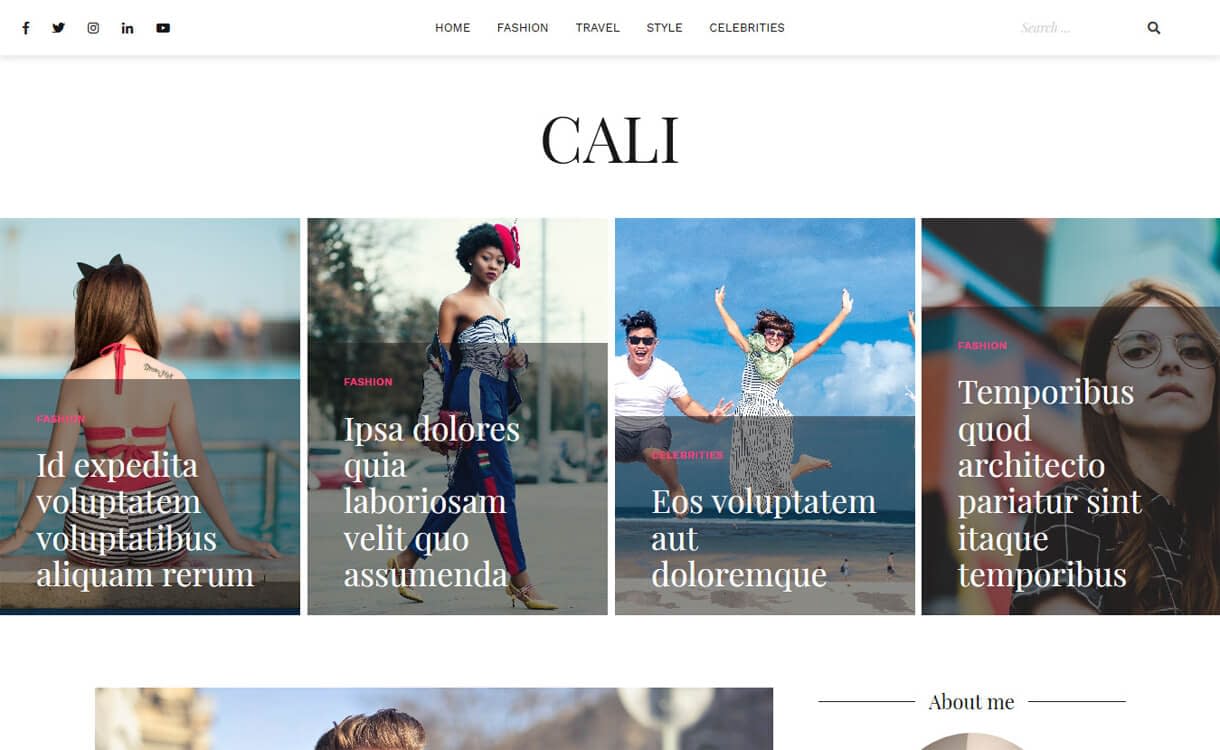 People consider Cali one of the simple WordPress blogging themes which are very suitable for magazine websites from travel to fashion. Cali has a beautiful and free-of-charge theme blog for users.
This simple WordPress theme has some outstanding features like providing some extra layout for viewing on smaller devices and having a stunning format with lagers photography locations and space to maintain the nature of a magazine. Lastly, users can put their trust in choosing this free modern WordPress blog theme.
Gucherry Blog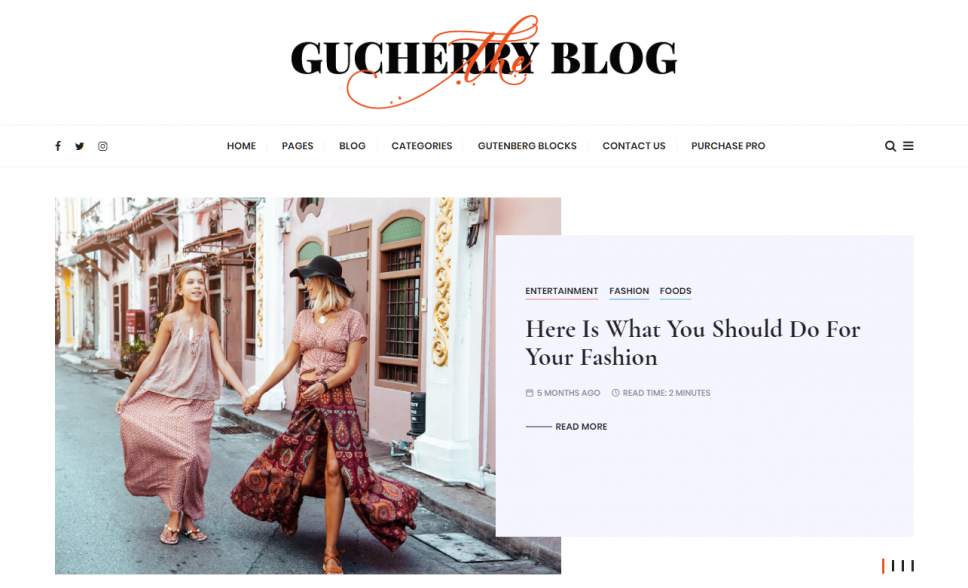 Gucherry Blog, a beautifully designed and simple WordPress theme created for travel, lifestyle, and fashion bloggers, deserves special note. With its selection of post formats, Gucherry Blog offers customers seamless support, making it simple to display content in a variety of ways.
The users of this simple theme are given the freedom to completely express their creativity and exploration thanks to simple modification options and a variety of practical utilities. For bloggers looking for a beautiful and useful platform to share their experiences and interact with their audience, Gucherry Blog is the ideal option.
Unwind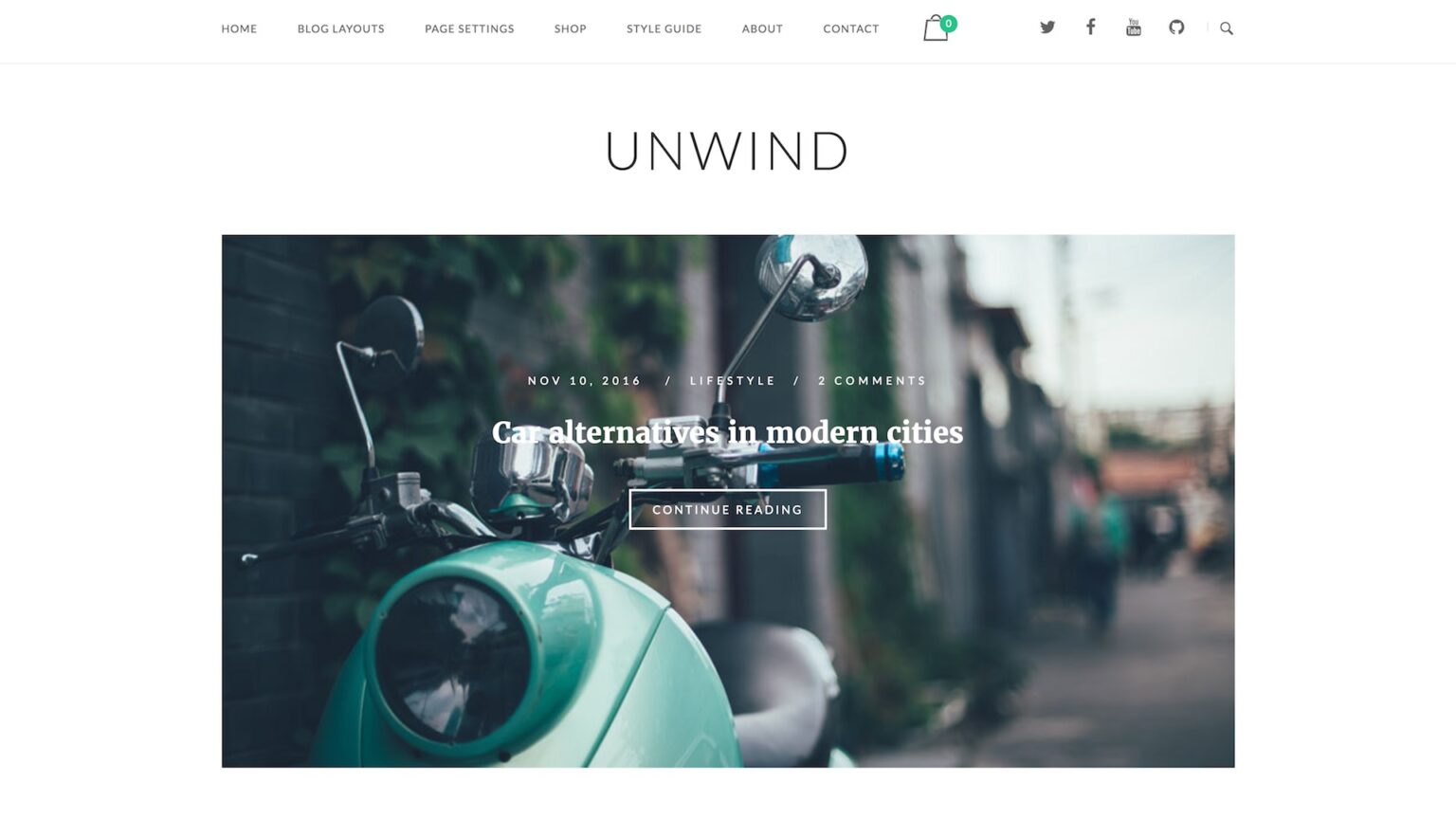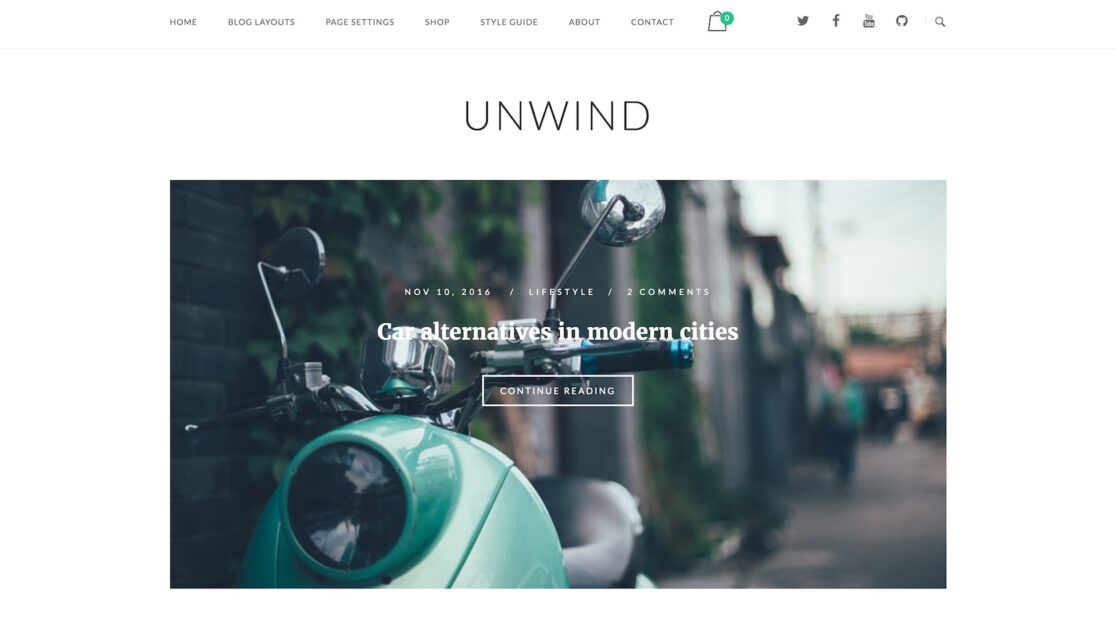 Unwind is well known for its simple, approachable, and clean blog design, making it a great option for anyone that values exhibiting their photographs. As its features provide a natural canvas for displaying photographs, texts, and videos fluidly, this simple WordPress theme is particularly well-suited for travel websites, artist portfolios, and freelancers.
Users may highlight their creative work in a beautiful way with the help of Unwind's immersive and visually appealing experience. Unwind provides the ideal platform for tastefully presenting your material and captivating your audience, whether you're a travel enthusiast, an artist, or a freelancer.
Simple WordPress Themes for Artists
Dorsey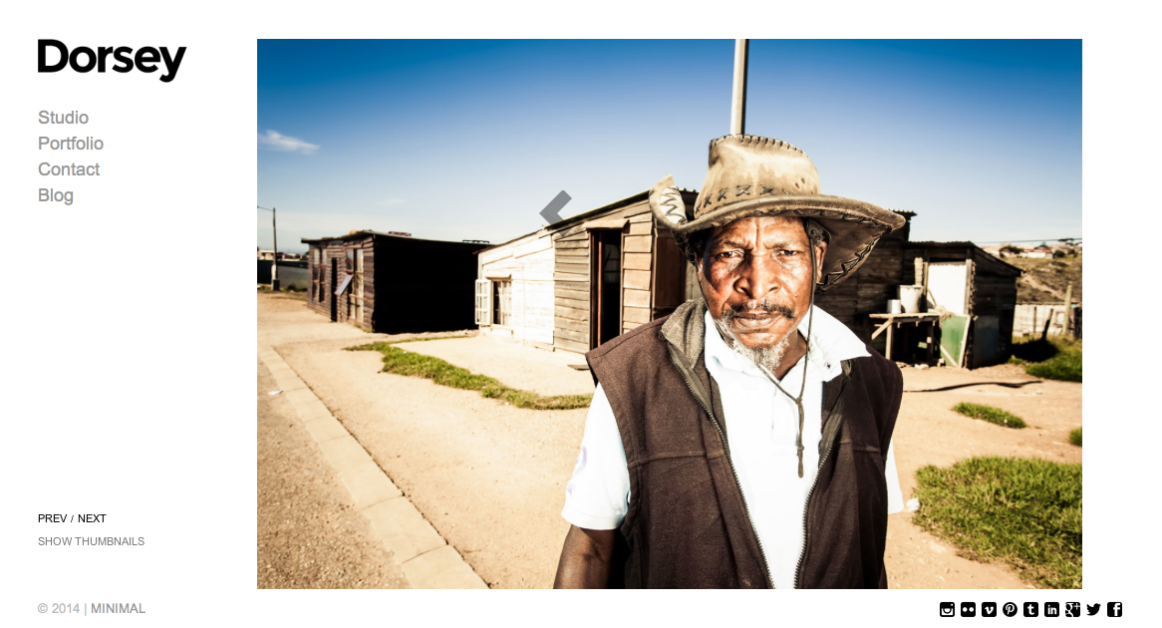 For painters and photographers looking for a simple and approachable WordPress theme, Dorsey is the perfect option. Users may easily increase their online presence with Dorsey's simple installation and clear website modification options.
In order to accommodate the distinctive styles of daring artists, this theme also provides a wide range of customization options, including the opportunity to change fonts and color schemes. For creative people to share their work, Dorsey offers a flexible and adjustable platform that enables them to design a website that is visually attractive and uniquely reflects their artistic vision.
Marble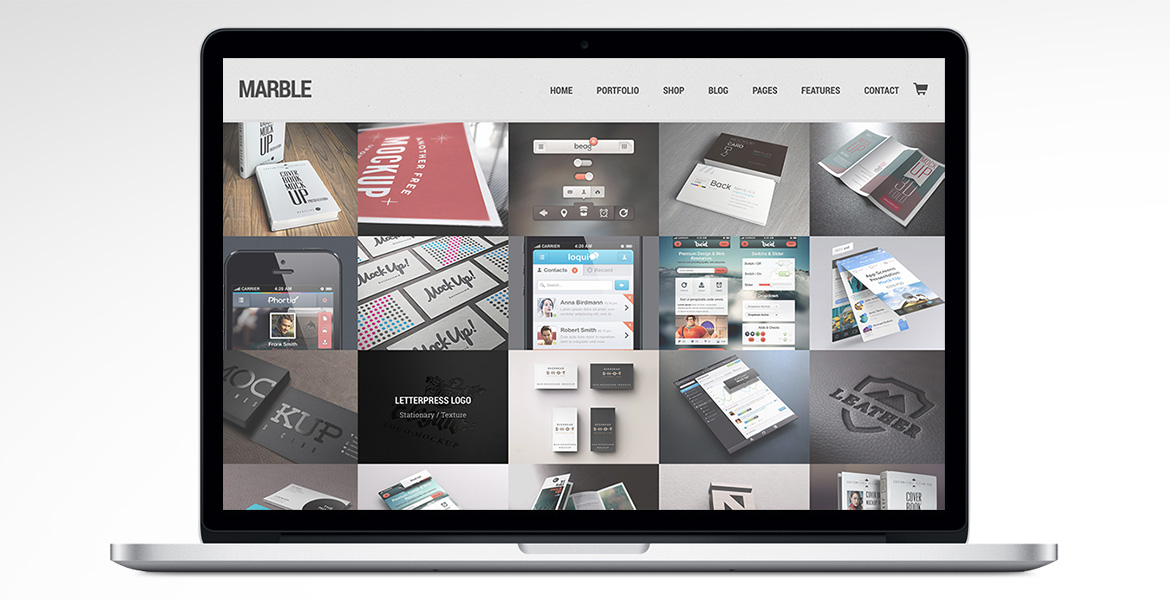 The pinnacle of adaptability for artists is often considered Marble, a flexible and simple WordPress theme. It provides customers with a variety of customization options by providing six different homepage layouts and two blog layout alternatives. The excellent design of Marble guarantees seamless device compatibility and top search engine visibility.
A fascinating user experience is produced by the responsiveness and aesthetically pleasing design of this theme. With the assurance that Marble will seamlessly adjust to any screen size, artists can easily display their talent. Marble has been the go-to theme for artists looking for a technologically advanced and aesthetically pleasing WordPress experience due to its adaptability and elegance.
Milo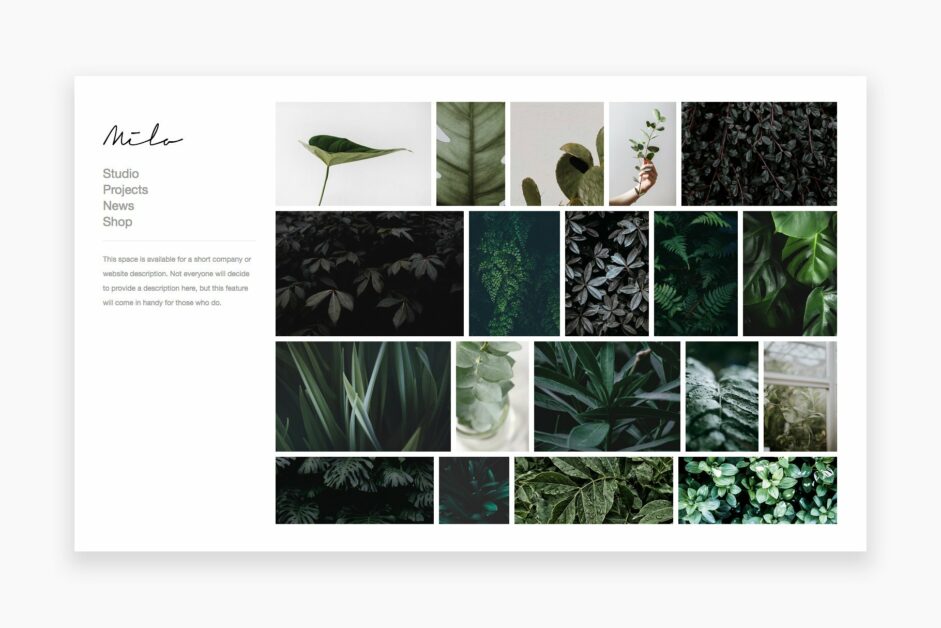 With its clean design and simple navigation, the simple WordPress theme Milo—perfect for aspiring artists—embodies simplicity and elegance and is thus great for exhibiting stunning pictures. Both authors and visitors will enjoy it thanks to its appealing design and straightforward usability.
Because of Milo's smooth WordPress connection, artists can easily showcase their work and draw in their audience. Milo stands out as a delectably simple theme with its visually appealing layout and user-friendly features, enhancing the creative process and allowing artists to shine through their stunning works.
Simple WordPress Themes for Photographers
Coastline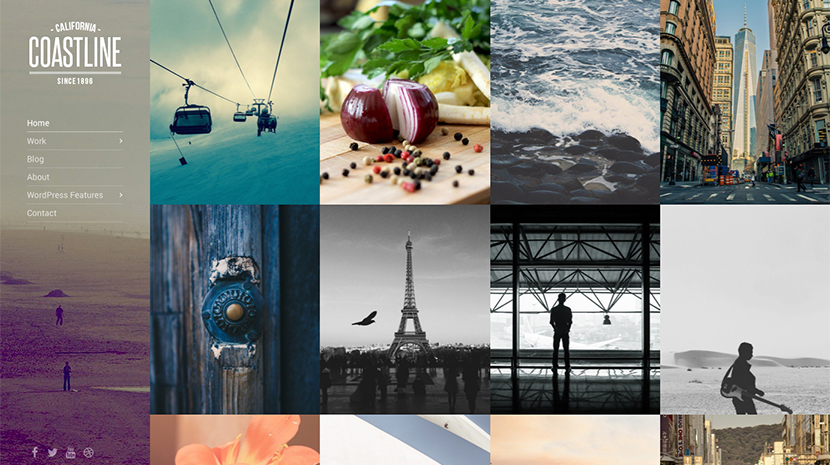 Photographers must pay close attention to Coastline, a superb WordPress theme that may take their images to new heights of beauty. Photographers can present their work in a visually appealing way with their portfolio area.
Coastline provides a variety of enticing elements, such as widgets and other layout options, that improve the website's overall design. This distinctive theme is made with the express purpose of enhancing the visual impact of photographers' portfolios, making sure that their pictures command attention and create a lasting impression on visitors. Photographers shouldn't undervalue Coastline's powerful appeal for their web presence.
Photography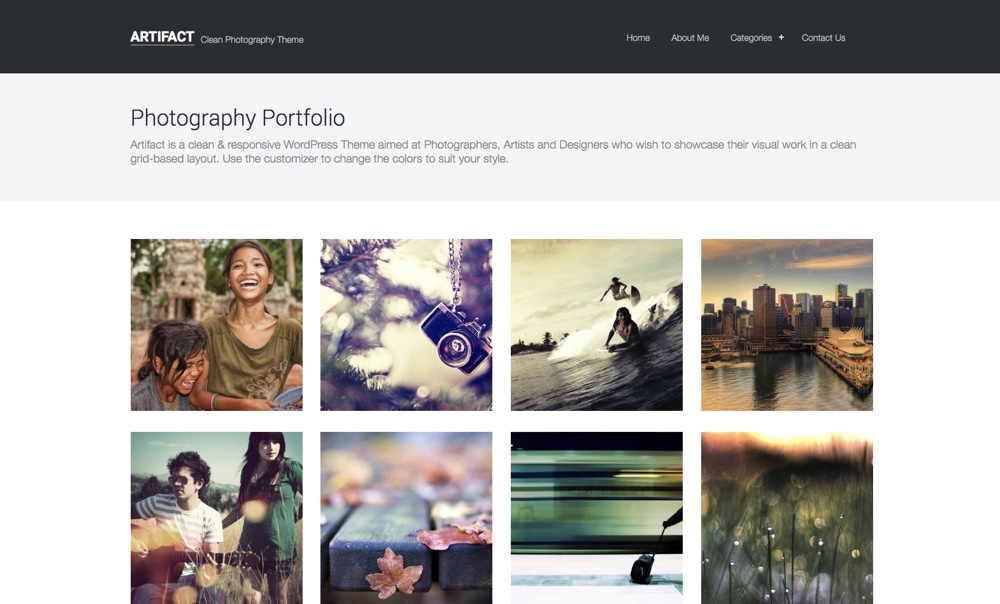 One of the best WordPress themes for photographers, Photography is priced at roughly $59 and offers a wide variety of designs. This theme includes a drag-and-drop content builder, different portfolio styles, password-protected photo proofing, and customizable menu layouts, among its many features.
Its adaptability and extensive toolkit meet the special requirements of photographers and gives them the tools they need to build attractive websites that highlight their work. Photographers have access to a strong platform through photography that allows them to effectively engage their audience and showcase their talent.
Fargo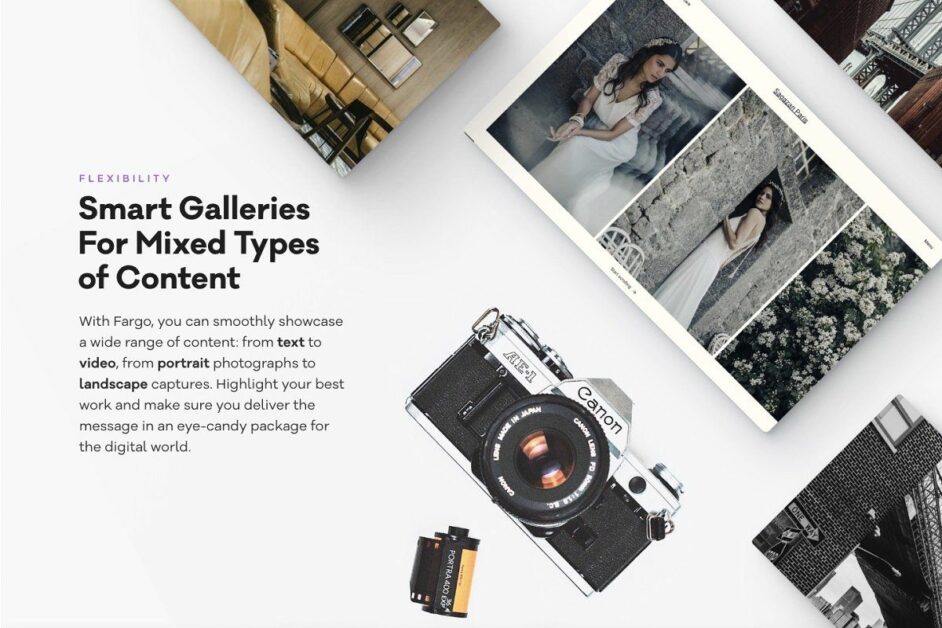 Fargo is a simple WordPress theme for photography that was created with artists and photographers in mind. It radiates elegance thanks to its alluring black-and-white aesthetic and gorgeous animations.
With Fargo, users may display their work using a variety of layouts and include content in a variety of formats, such as text, video, photographs, and multimedia. Additionally, because of its smooth integration with WooCommerce, this theme makes it simple for photographers to set up an online store where they can sell their goods. Fargo offers a comprehensive platform that integrates aesthetics and functionality, enabling photographers to efficiently market their work and show off their talent.
Conclusion
There are many satisfactory choices to get the ball rolling, and everything takes easier when starting from simplicity. This writing has specially re-system some kinds of the best simple WordPress themes. After reading, customers can equip more knowledge as well as evaluation which WordPress themes are the most suitable. Besides, this is also a useful source for users who are craving to make their work as smooth sailing as possible.
Read More: 5 Reasons To Choose WordPress As Your LMS
---
Contact us, ThimPress:
Website: https://thimpress.com/
Fanpage: https://www.facebook.com/ThimPress
Youtube: https://www.youtube.com/c/ThimPressDesign
Twitter: https://twitter.com/thimpress