In the current period, we are taking up a lot of work and pressure, so traveling seems to be a good solution for us. There are many factors that have fun on your vacation, and accommodation plays a very important part in the success of a trip. A strong hotel website is not the biggest element, however, it will be the first impression of the hotel to the customer. On the other hand, a hotel booking website can drive them to the top, or crash down to the bottom. Therefore, choosing the rightful theme for your booking site is very important. Luckily, we are here to bring you a list of our worthiest hotel WordPress themes. They are all the greatest in the market in gathering and keeping visitors.
You should check this list, the right one can poop out at any time you don't expect:
Sailing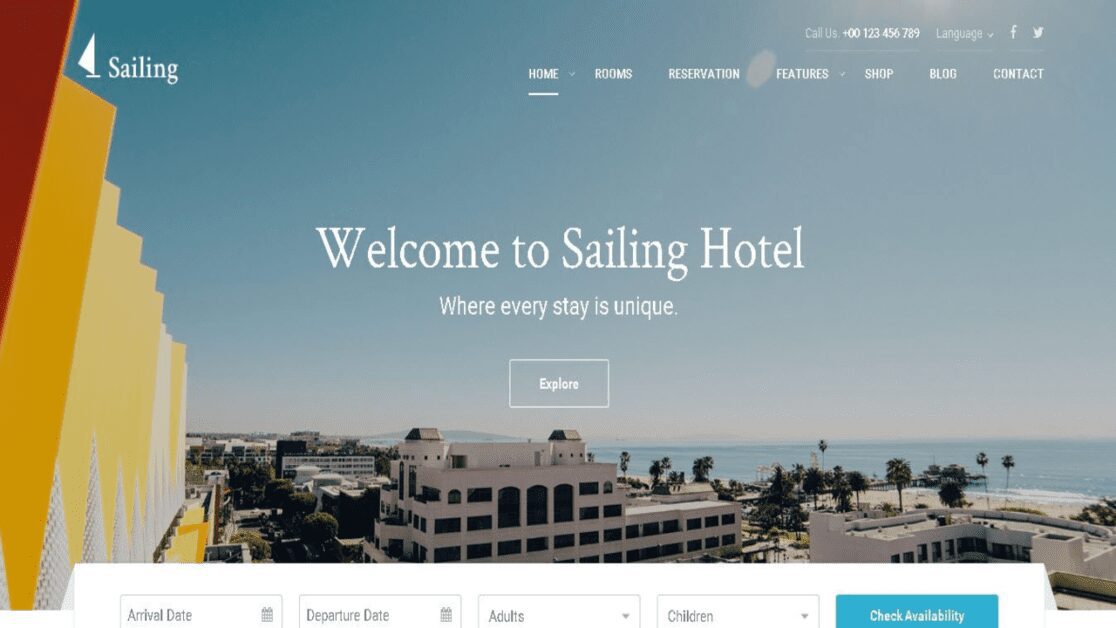 Download
Demo
Sailing is surely one of the best hotel WordPress themes for hotel, resort, or accommodation services with a great online system.
The excellent online reservation system is run by TP hotel booking – an upgraded version of WP Hotel booking. You can control all aspects of your WP site: customers, booking, types of rooms, room capacity, price, etc. This theme is very responsive and user-friendly, so the users' experience will be assured.
The first impression of a visitor to a hotel web is its outlook, and Sailing absolutely manages it well. By using the revolution slider, it allows you to post any content with highly customizable effects, transitions, and animations. The parallax effect will make our site fancy and luxurious, while a 1-click installer helps you speed up your process. Since the Demo Content Importer is inside the theme options, you can open it and access available demos, home pages, sliders, and many more. Moreover, the drag and drop WP page builder boosts the speed up, too. Besides, the Sailing theme also provides other plugins like Black Studio TinyMCE Widget, Testimonials by ThimPress (display your testimonials), and WordPress Importer (import pages, boxes, pop ups, posts, fields, categories, and more).
Understanding your different preferences, Sailing has a variety of 600+ Google fonts and 1000+ Google font icons ready for usage. They are all at your hand to serve your purpose of perfecting your website. RTL languages are also supported here.
Sailing theme comes with SEO maximum optimized. Once applied to your site, it will get higher ranks on search engines. We have coded so that not only posts but also WooCommerce products. Using Structured Data, every single keyword, title, tag, and the heading has been optimized based on Google's favor.
Alongside with above significant features, the theme owns a lot of other good functions, such as WooCommerce ready, 3 post formats (Standard, Gallery, and Video), real-time customizing preview, self-done HTML5 video player, and unlimited color options.
LuxStay
Download
Demo
Like Sailing, LuxStay is a very luxurious and strong hotel booking theme. Besides, it is also charming and modern. LuxStay will comfort any customer with its powerful system and stunning design.
Furthermore, this is a user-friendly theme, you can easily set up, modify, and customize. It is also 100% responsive. Your WP hotel site will look nice and fit on all screen resolutions and devices.
To save your time and effort, we have managed to help you edit your site without any single line of coding with our drag and drop WP page builder. Simply, just like the name, you may just choose the content, then drag and drop to create unlimited sites with different effects. Also, we bring you Visual Composer Builder and improved WP Customize options to level up your drag & drop experience. You can check your newly made customizations via a real-time WP customize window. No coding is required, so it should be very easy to pursue.
This theme uses revolution slider which is a great plugin to bring your site transitions, effects, and high customization. You may post any content (images, videos, texts,…) with high quality. The 1-click installer will assist you to speed up the process of editing your content significantly.
Alongside those functions, LuxStay also has some other good features: parallax effect, unlimited Google fonts and icons, ultimate SEO optimization, unlimited color options, endless combinations, RTL support, Elementor compatible, and WP Gutenberg ready.
No wonder why we listed this theme in the best hotel WordPress themes!
Augustine
Download
Demo
Augustine is another theme in the collection of the hotel WordPress themes that focuses on a 5-star hotel outlook. It can serve all purposes, from simple patterns of a hotel website to various options and stunning layouts. Augustine is born for showcasing every single corner of your accommodation business and introducing it to customers. We have a lot of layouts (from charming to luxurious), various types of image galleries, and many other booking possibilities.
The theme is fully responsive and user-friendly, so any visitor can access the web with ease. This will give your site a better rank in Google's result. Also, one more factor that will deliver your WP site to the top of search engines is SEO. Understanding that, we have maximized SEO optimizations so that your site will fit Google's structure analysis more.
Augustine has 2 modes: Hotel and Restaurant. The Hotel module gives you all the things that a hotel needs: layouts, forms, and filters. On the other side, the Restaurant module will build up a menu, a stylish working display, and more. Augustine also co-operates with other plugins like WooCommerce, Elementor, Contact Form 7, etc.
There are 800+ text fonts and hundreds of colors in advance. They are very easy to mix and switch. We also have professional support where all your problems related to the theme will be dealt with.
Alloggio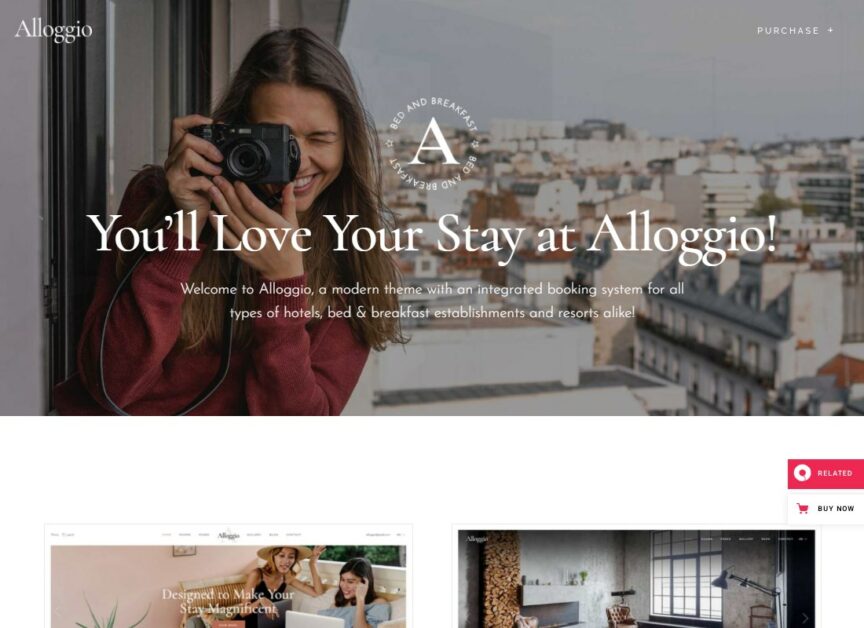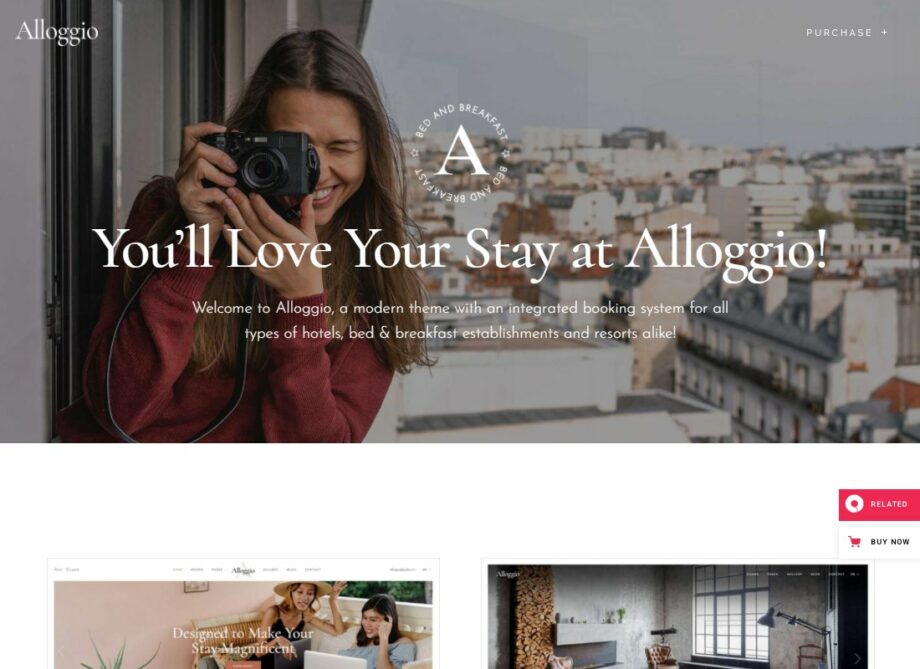 Download
Demo
Alloggio is a WP theme that is suitable for all hotel, resort, B&B, and accommodation booking websites. Alloggio will provide anything a modern booking site will need.
When you start, you will receive 6 premade homepages which differ in many purposes. Whether you conduct a hotel or restaurant business, Alloggio makes sure your homepage will stay fully functional. Additionally, this theme's homepages will be equipped with various tools that are essential for visitors. They have also differed in unique experiences. Each separate homepage is built with a lot of filtering options so that the customers can seek and pick the rooms fitting their requirements and tastes. All you have to do is entering the time you come and leave and the number of people staying. Then, the hotel site's choices will be displayed for you to select.
Besides, the room lists are also wonderful features of Alloggio. First, it's specially made for attracting customers' first impression when displaying your rooms. If a room catches the client's eyes, he/she can click on the room's link and will be able to have a thorough view of the details and convenience of the room. On the right section of each room's site, there is a form for booking as well as extra services included in the price. Alloggio has co-operated with WooCommerce, so the site applying this theme can enable users to create accounts and pay for the service immediately on the room's site. Integrated room booking management and reservation form short-code will take care of your payment methods.
Alloggio is very responsive, so your website will look high-quality and fit all types of screen.
Iver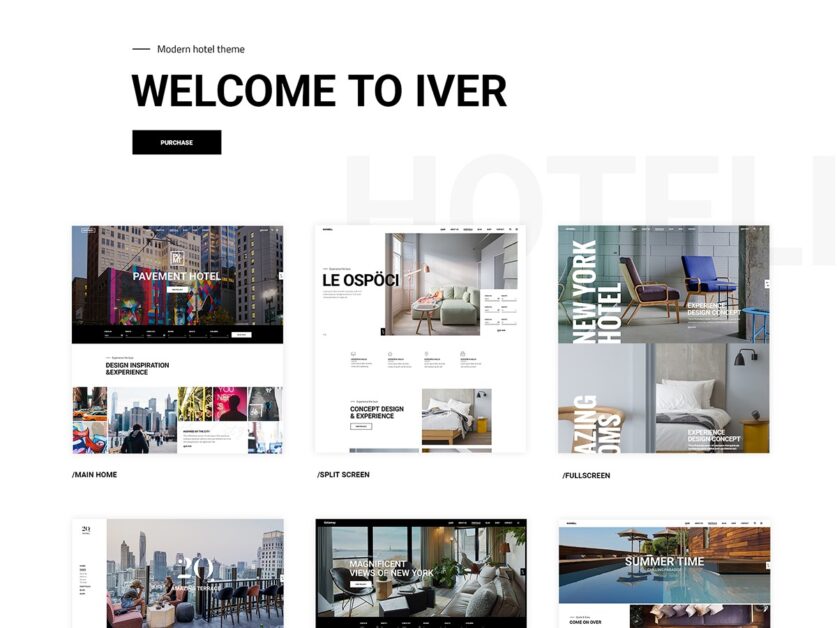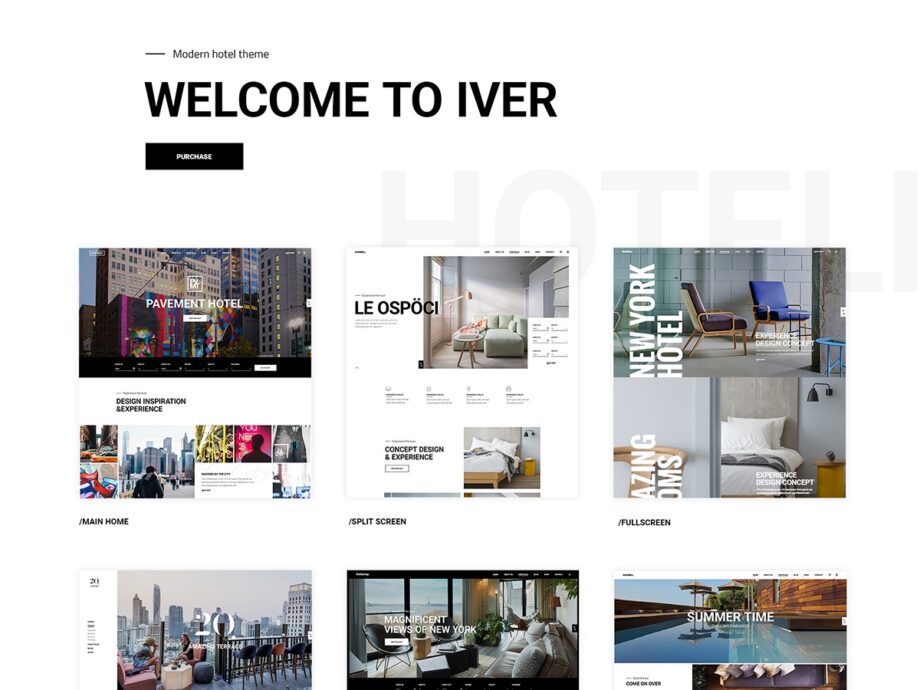 Download
Demo
The next one in the hotel WordPress themes list is Iver. Iver is a modern hotel and booking-related WordPress theme. The theme provides all users 6 pre-built homepage layouts that are all different. However, they are well-done for attracting visitors and keeping current clients. Each layout has its site equipped with a reservation form on almost every single page, which will help clients booking rooms and accommodations so simply. Furthermore, Iver has a layout called the full-screen layout, helping site developers make amazing displays and take the users to the local ambiance. Short descriptions can be added to all pages to give your clients more information.
This theme can give you a gallery of done-before templates, reducing the time and effort spending on building and managing the site. With conveniently pre-designed room lists, the visitors can conduct various filtering and multi-criteria. Usually, a guest will filter either by price, date, availability, and name.
There are many mini-sites in the main one since your guests can go on and choose the rooms they like. Then, with a click, you can check descriptions, locations, and even previous customers' reviews. It also lists all services as well as prices. This feature eases the users' selecting process as the rooms are more obvious and clear for booking. In addition, you can make payments and reservations directly on the page.
A hotel website will be more convenient if there are some shop pages inside. Iver allows you to make online shop sites in a few minutes. Of course, there aren't many themes coming up with this feature, so this function makes Iver stood out from the crowd.
Whether you are going on a theme to put your site on top or just a small business, Iver may be the 1st choice on the list. It provides all features and possibilities that a hotel WP website will ever need.
FiveStar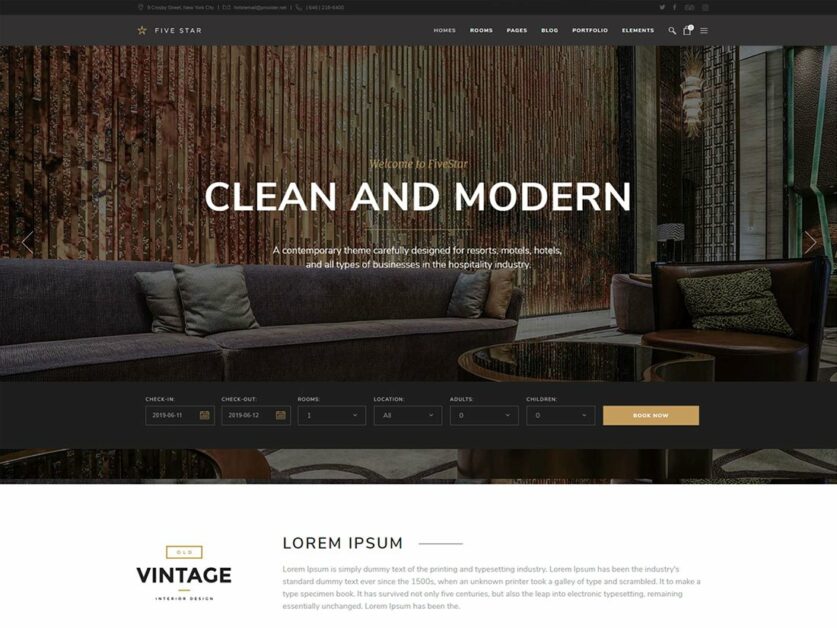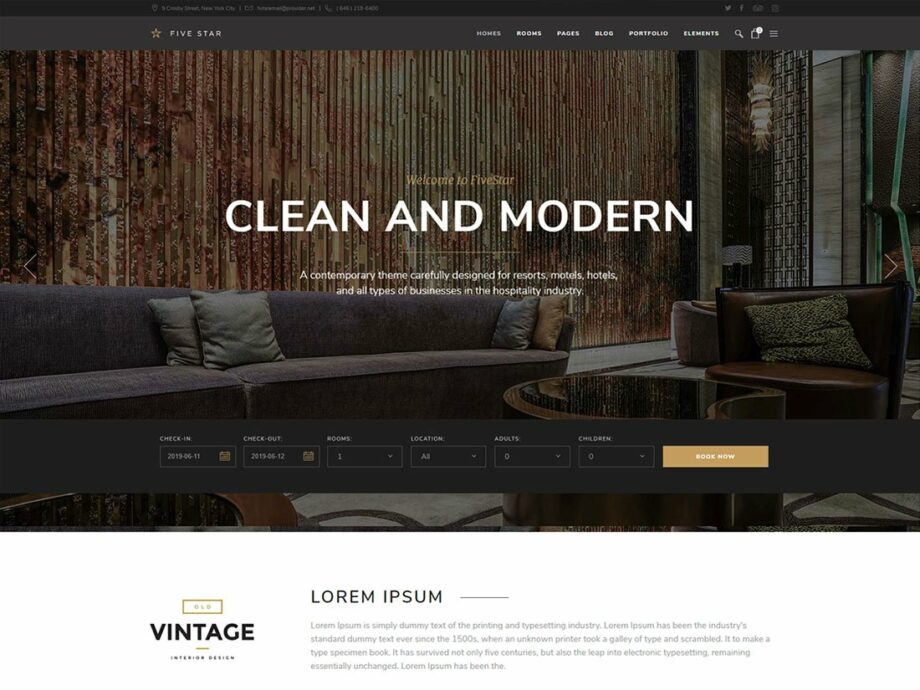 Download
Demo
FiveStar is a WP hotel booking theme that will bring you a real treat of how a theme will promote your work significantly. It will assure a hotel site that is built for everyone to visit.
When you install the theme on your site, you will immediately receive 6 prebuilt homepage designs. Each of them is built for a specific purpose: hotel, bed and breakfast, city tourism, tropical, ski, and nature resort. With each topic, all pages can enable you to showcase the related information. Also, you can add images, videos, descriptions, and more. The templates' features are very suitable for the kind of hotel or resort they are heading to. The bed and breakfast layout can insert info transportation, which will improve the quality of the site.
FiveStar is fully responsive, so worry no more about your site if it's not working or loading properly. It is also 100% customizable, which means you can manage your site's outlook as you like. Users can add Google Map's location if they need it.
Booking is very important, so we ease the process with completing the spot feature. When a customer finds the favorite room, he/she can book it with some clicks. Nice and easy!
Serving accommodation purposes, FiveStar gives you a gallery of widgets and tools for room presentations. Some of those powerful tools are Expanded Gallery, Stacked Images, and Image Gallery. Your WP site will be very attractive and easy to captivate the clients as well as claim more bookings.
Albergo
Download
Demo
Albergo appears to be the outstanding WP accommodation-related theme in the crowd even from first sight.
It delivers you 8 pre-made homepage layouts, which are more than other themes. All of the 8 designs are very flexible and easy to get on well with your requirements. At the first sight, you will be overwhelmed by its stunning parallax effect which is almost everywhere on the site. Every single homepage has been designed to become so elegant and delightful. Another attractive element is the number of animations used on the designs, making the scrolling funnier and more effective.
Albergo provides users 4 pleasant types of room lists to illustrate the accommodation services smartly and stylishly. The voguish room single template will help you describe what you offer in more detail. To help your customers in selecting rooms, you can add more images and video backgrounds. There is a review section where other visitors can see and get a thorough view of a room or an accommodation.
On the main page, you can create a lot of mini-sites. The information will be much more various, obvious, and clear for anyone. The visitors and choose light or dark contact form. In each mini-site, the web developers can set up blogs, online shops, and reservation forms. This thing will save the time and effort of users when checking for a room. Besides, you can check the blog Masonry in Grid page where your previous posts are listed nicely and charmingly.
Hotel Zante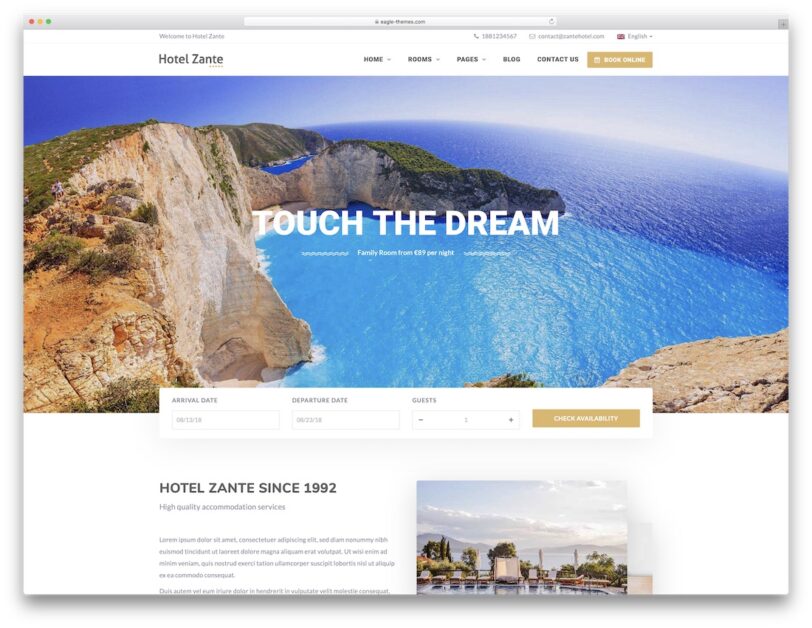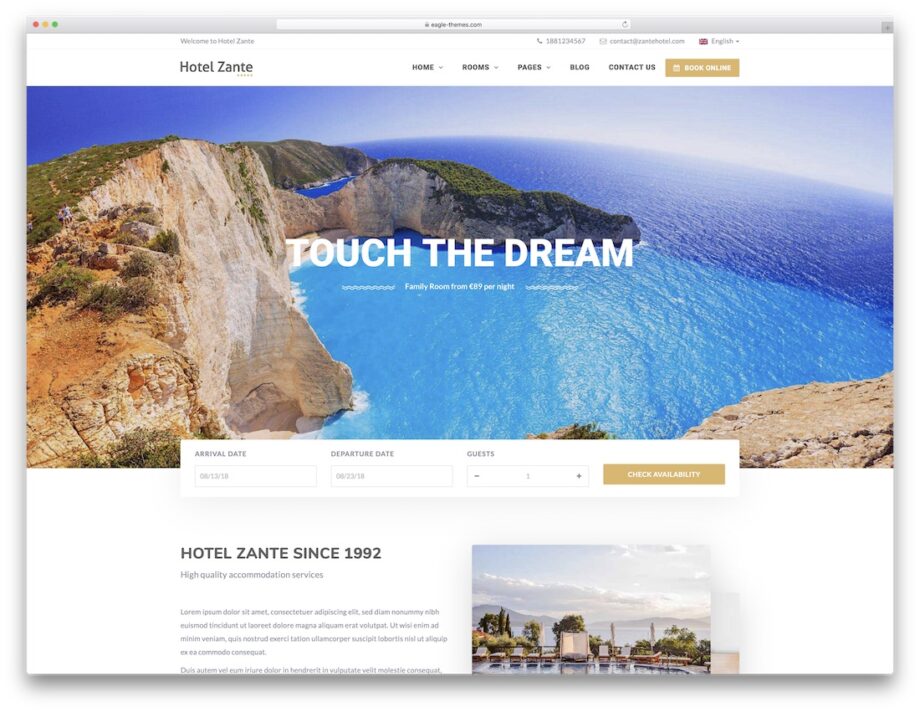 Download
Demo
The above hotel wordpress themes are a bit complex and some features may be difficult to use. In case you would like to pick up a simple and fresh yet practical WP theme, or a theme for your accommodation website, Hotel Zante is worth trying.
Right at the beginning of your usage, the theme will provide you 4 made-before demos for you to select. Each of them is pixel-perfect designed and owns a strong customizing panel to edit the theme as you want. Not only a good outlook but Zante also offers you a variety of features and functions that a hotel website will need. The Eagle Booking plugin – one of the popular WP tools for booking, comes along with the theme and assists users in booking managements with less effort. There are also paying methods as well, so the users' payments should be simple to conduct.
If premade demos don't satisfy your demand, you can integrate your WP site with other booking systems. Besides, when you integrate, all the inner functions are also integrated, making it easier for the guests to find you. The contact forms will give you the essential information about the hotels.
Afraid of not knowing how to build and set up a hotel website? Don't worry, since Hotel Zante also has WPBakery, so it will cost much less time to create it.
Marina
Download
Demo
A hotel with the topic of aqua has been a symbol of the tourism and accommodation field for decades. For a good frame like that, Marina seems to be born for it. If you are looking for fresh hotel WordPress themes? Marina is one of them with its dominant color palette related to aquamarine. The color tone of blue and white with the delightful design of every page will catch many customers' eyes and pursuit them to try the hotel you offer.
The theme's beauty does not only appear in the outlook but also in the inner features. From room check to paying methods, Marina can handle it easily with the 100% functional booking system. Marina's searching function is the simplest tool for users to meet their demands and requirements. A client can search for a room based on the price, calendar, capacity, extra services, and more.
Besides, the order management system will be the indispensable tool of the web manager. It allows the designer to view the change and reservations in real-time. The hotel manager can check for capacity and availability. A tab named "Our rooms" will help you display all the rooms properly. Also, in this ta, you may add related images or videos to get a better view for clients. The process of choosing accommodation will be super easy and comfortable.
Each site will be equipped with the calendar availability box, extra services, the possibility to add seasonal prices, etc.
At last, if they finish choosing a room, users can pay through various methods: PayPal, credit card, upon check-in, etc.
California
Download
Demo
California is one of the perfect WordPress hotel themes for any type of accommodation-related service. It's a balanced combination of a 5-star hotel and a bed and breakfast restaurant. It will give you a professional hotel site that requires less effort from you. California provides 15 homepages that were made before. You will have wide options of homepages with specific purposes to choose from, and all of them are made to push your work faster. The result is that you will have a ready website in some minutes. California also comes up with 3 pre-built demos if you wish to go straight away and get your site running immediately. These demos also have features like room filters, calendar availability, capacity, information, etc. The hotel manager will have a tab to control what you will show your clients: images, pictures, contents, and much more, as a file of what you want to deliver to your customers to see. In addition, it has added a tool which has shown its efficiency recently, "quote calculator". This is a function which will calculate all the fee that customers have to pay for their booked services in advance.
Having co-operated with the WooCommerce plugin, this theme also sets up online shops and provided related tools within a mini-site. An online shop within a site will be such a big advantage over the other themes in the market.
California can be translated into many languages, giving you the ability to access it by people from all around the world. The more people you get to view the tour booking site, the more reservation forms you will receive.
Starhotel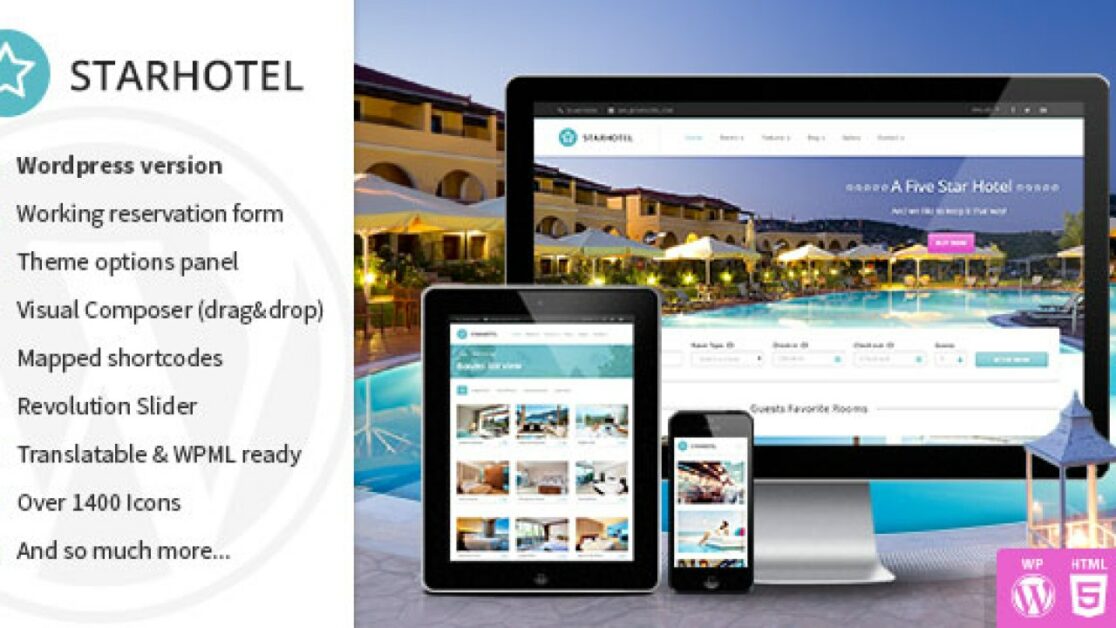 Download
Demo
Just like the name, Starhotel will promote your hotel/hostel/resort/restaurant to the level of 5 stars alongside easy maintenance.
The theme is equipped with many useful features that will support your management a lot. Your customers won't have to spend much time and effort looking for the needed information about the rooms and that is a good point. With a responsive booking form, your clients can check whether the rooms are available or not, book and reserve themselves holidays.
Scrolling down a little bit, you can see a list of available rooms with their images. Moving your mouse onto the pictures will show their descriptions and necessary information before booking.
There are many forms of room lists you can use or create, then you can input your data on each page. Your guests can see all the essential details and have a full view of the rooms. You may also make a blog on Starhotel's site to share experience, reviews, or anything you think. If there is any problem, call our support team. They will help you deal with the problem 24/7 with a wholehearted attitude.
Conclusion
Above are our 10+ best hotel WordPress themes. We hope that through the article, you will be able to choose the most rightful theme for your accommodation website.
Read More: Things to know about WordPress Travel Themes