When creating a blog on WordPress, it is important to ensure that you have the Best WordPress Blog Themes with the right features, design, support, and functionality to make your vision a reality. It's best not to hire much – if any – outside help. You want a theme that doesn't stop you from easily creating and posting content, but also something powerful enough that you can create unique content experiences for your readers.
Among the many WordPress themes, finding the perfect theme for your blog can feel like you're lost on a foggy day, especially for starters. That's why, in this article, we'll highlight the topics that you absolutely need to incorporate for your blog.
In this post, we'll start with a broad discussion of the fundamental characteristics of a good WordPress theme. Following that, we'll go through the precise characteristics that make a WordPress theme suited for bloggers. Finally, based on my own experience, I would offer WordPress themes that are suitable for bloggers and blogging.
Magie | WordPress Theme for Magazine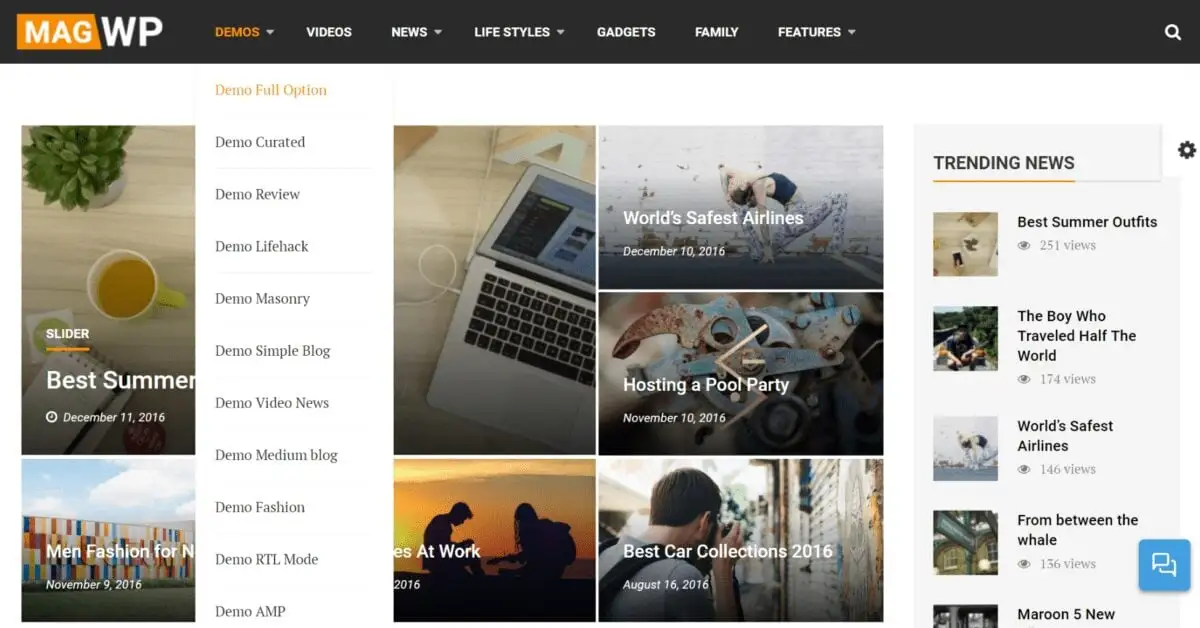 WordPress theme magazine – MagWP is the best WordPress blog theme for magazines, personal blogs, journals, and product evaluations as well as content editors. The world's first and only MagWP theme for WordPress is that it is using the same technology as the world's top online magazines and newspapers.
Also, with improved performance, cleaner design, speed, and sleeker experience, MagWP has revolutionized the concept of online publishing and online magazines.
The theme is fully responsive, and optimizing mobile devices is more important than ever because more people than ever use the Internet on mobile devices. MagWP, which was the latest mobile standard – AMP, was created in order to maximize expertise in any content type on all platforms. With the latest mobile standard Google uses You are more vivid and authentic than ever before in video, blog postings, or even image pieces. Moreover, MagWP will optimize your search engine's website more than most other WordPress newspapers, following all of Google's SEO techniques and directives.
Magazette | News & Magazine WordPress Theme for Blogger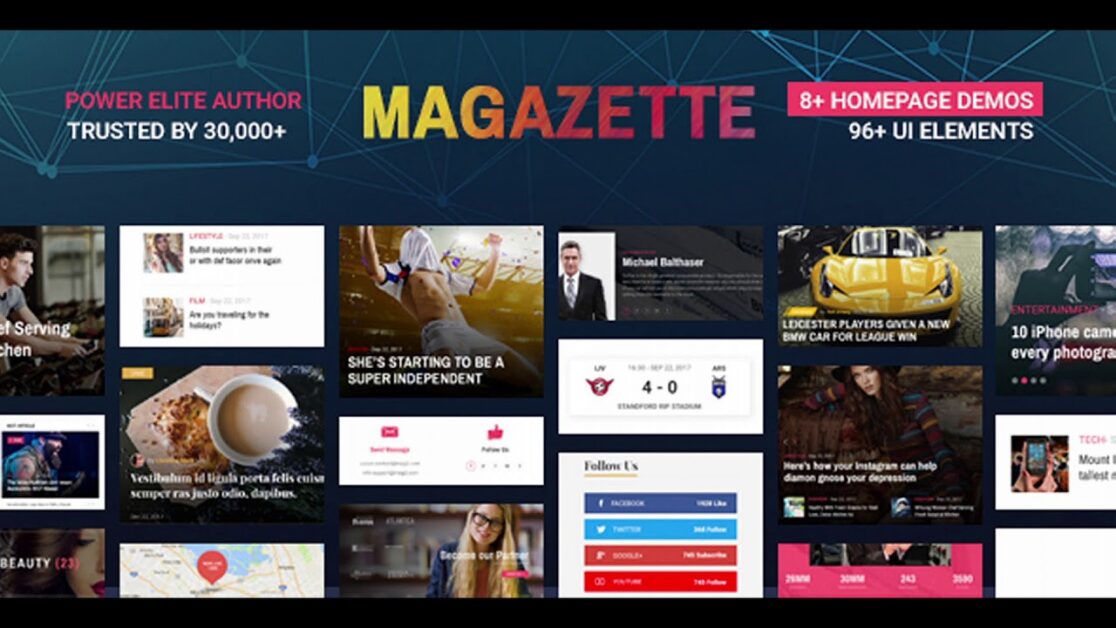 Magazette is one of the best WordPress themes designed for multifunctional magazines, news, blogs, and websites of newspapers. In addition, used to promote content by Pro bloggers, rank high on Google and get your reader to remain on your website, lower bounce rates. Plus, give absolute independence and control to your own website with the ability to drag & drop, install, automatically update, and six months of support.
The magazine covers many demonstrations for many purposes: fashion, lifestyle, travel, food, sports, fashion, beauty blogs, schools, colleges, universities, training, mentors, galleries, portfolios, showcases, pictures, corporate, business, buildings, films, consulting, financial services, designs, jewelry, charity, soccer, baseball, fan club, business, industry, engine, automobile, and so much more.
Vividly | Best WordPress Blog Theme for Video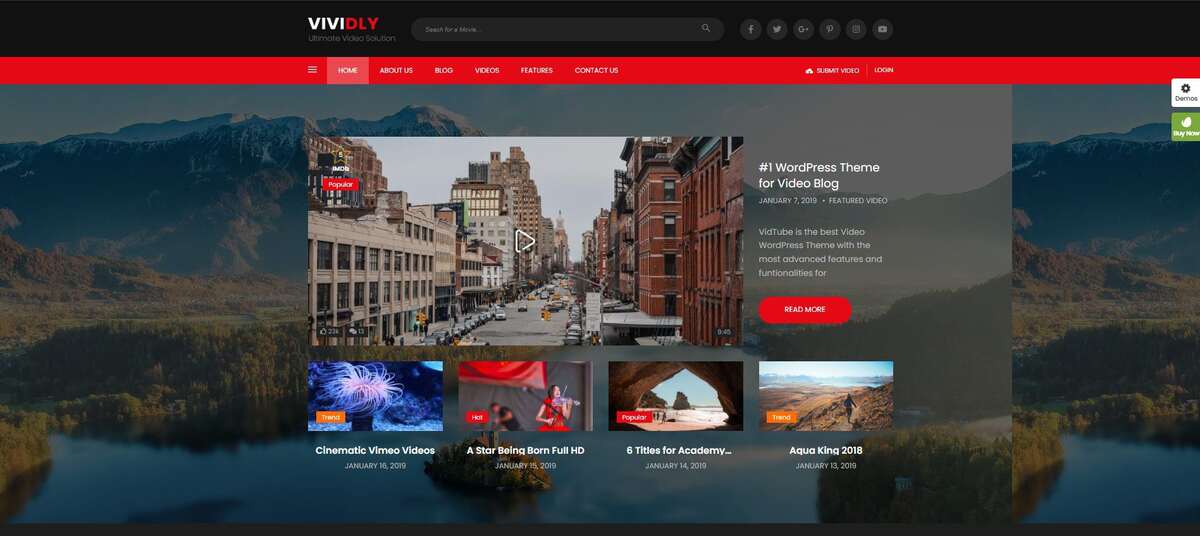 A WordPress creative video theme that is great for movies, streamers, gamers, movies, magazines, and video websites, Vividly is one of the best WordPress blog themes and an ideal video for your business. Whether you want to create a personal blog for your company, including a website or a video display, Vividly is extremely straightforward and is suitable for a range of websites and projects of all types.
You may showcase your movies, photos, and articles in an attractive manner with the Vividly WordPress video themes. This WordPress video topic features 4 distinct pre-made demos to make the best choice for your needs. In addition, each content style allows you to build endless pages.
The theme is entirely responsive so that all pixels may be used to adapt well to whatever device your visitors use such as a desktop, laptop, tablet, or smartphone. This WordPress video theme will be simpler than ever to construct a page and edit any element on the page, thanks to the incorporation of drag & drop page builders. The Visual Shortcode System also allows topical users to build endless content and page designs.
Blossom Feminine Pro | Best Feminine WordPress Blog Theme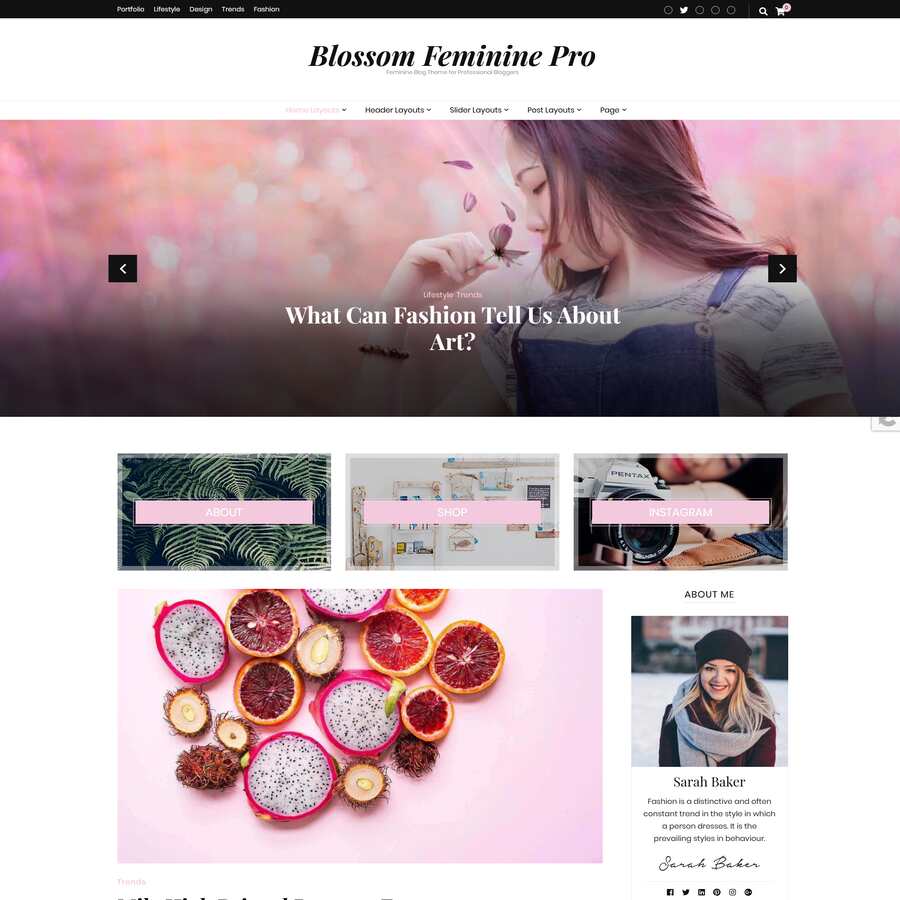 Blossom Feminine is a feminine WordPress blog theme for female bloggers ideal for fashion, lifestyle, travel, beauty, spa, food, and more.
This SEO-optimized theme has pre-built advertisement widget areas to display ads to monetize your blog. In addition to that, it is fully responsive and consists of multiple layout options like 16 Homepage layouts, 2 Featured layouts, 2 Sticky Post Area layouts, and 5 Single Post Page Distinct layouts.
If you are thinking of converting your blog into an online shop, in the long run, this theme is compatible with the WooCommerce plugin. Additionally, Blossom Feminine comes translation-ready and sports RTL scripts as well.
CheerUp | Modern Personal Blog WordPress Theme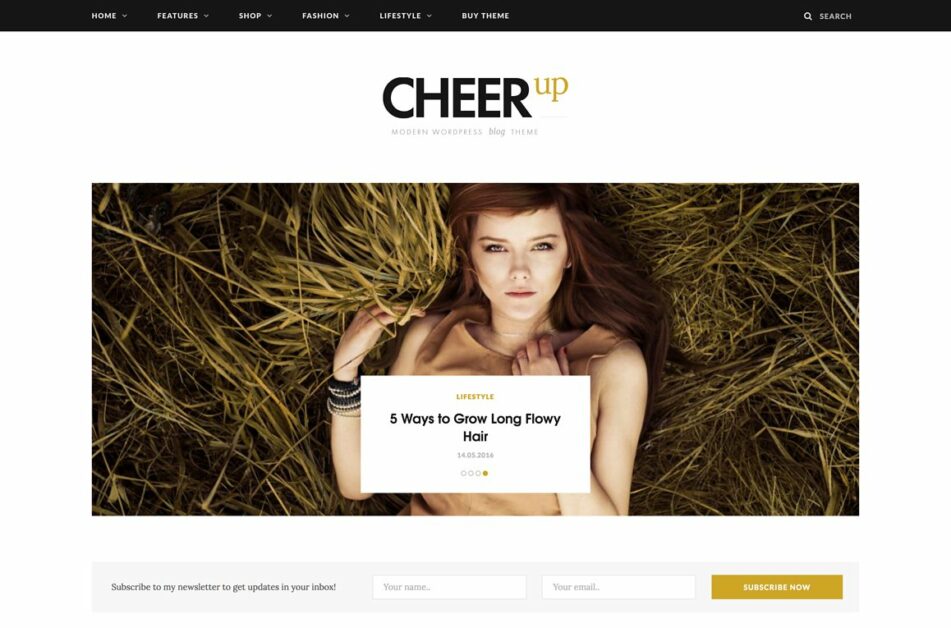 As one of the best WordPress blog themes, the CheerUp theme has a lot to offer individual bloggers. Starting with a modern and balanced design, this theme includes features that will help you build a beautiful personal brand and get your content noticed on social media. Some core features like:
Compatibility with MailChimp
Built-in share button
Hundreds of layout options
Live Customization
Beautiful image gallery
And so on
On top of that, this theme has been optimized for SEO as well as loads fast, so you can rest assured that your search engine rankings will not be affected.
Blog Amory | Responsive WordPress Theme for Personal Blog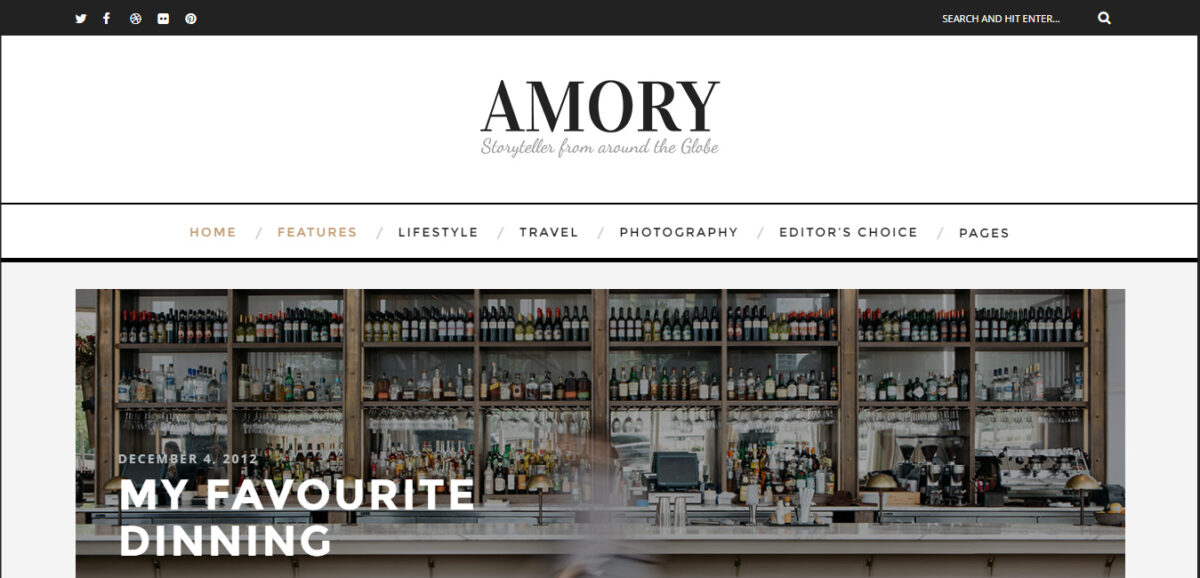 Blog Amory has a 5-star rating and has gained accolades for its great customer care as one of the best WordPress blog themes. Its appeal originates from its eye-catching design, easy social network integration, enthralling sliders, and numerous customization choices.
The presence of Google AdSense-specific blocks distinguishes this theme, allowing for easy monetization of your site via user-friendly plugins. You receive not just an aesthetically attractive and feature-rich theme with Blog Amory, but also the means to transform your love into a successful company. Learn why bloggers love this top-tier WordPress theme.
Sprout & Spoon | Best blog WordPress theme for food bloggers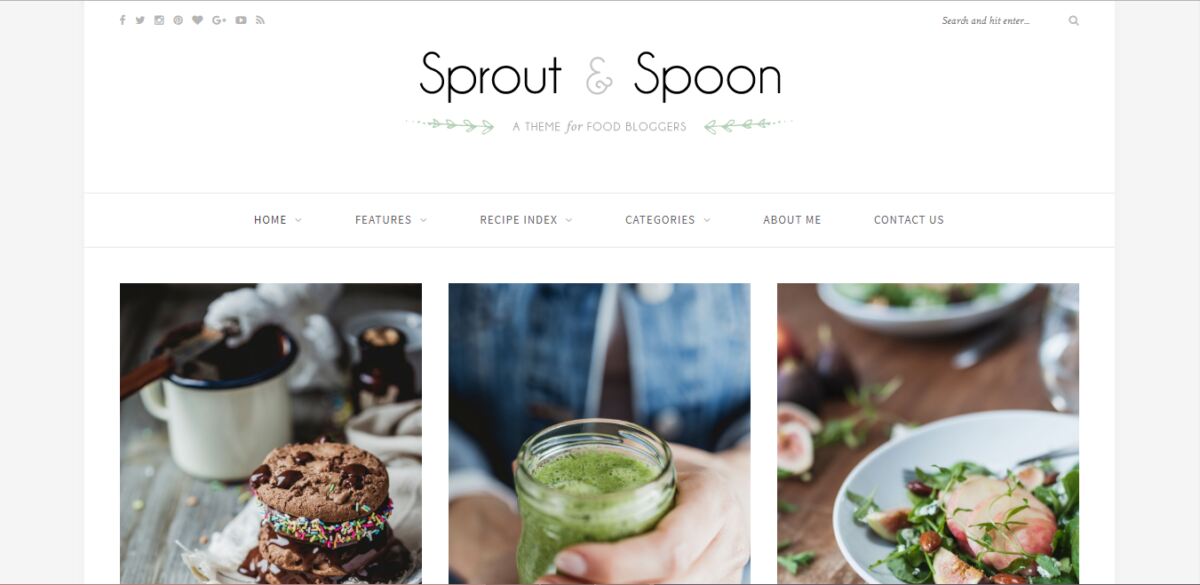 Visual appeal is essential in food blogging, and this theme stands out as the best WordPress blog theme for exhibiting culinary inventiveness. It provides an elegant approach to showcasing your recipes with its balanced lines, beautiful header and footer, gorgeous featured photographs, and a dedicated recipe index.
This theme, created with foodies in mind, captures the spirit of gourmet blogging. Its outstanding looks and functionality make it a popular option among WordPress writers, assuring that your food blog will fascinate and inspire your readers. Choose this theme to take your food blogging to the next level.
Solstice | Multi-purpose personal blog theme WordPress design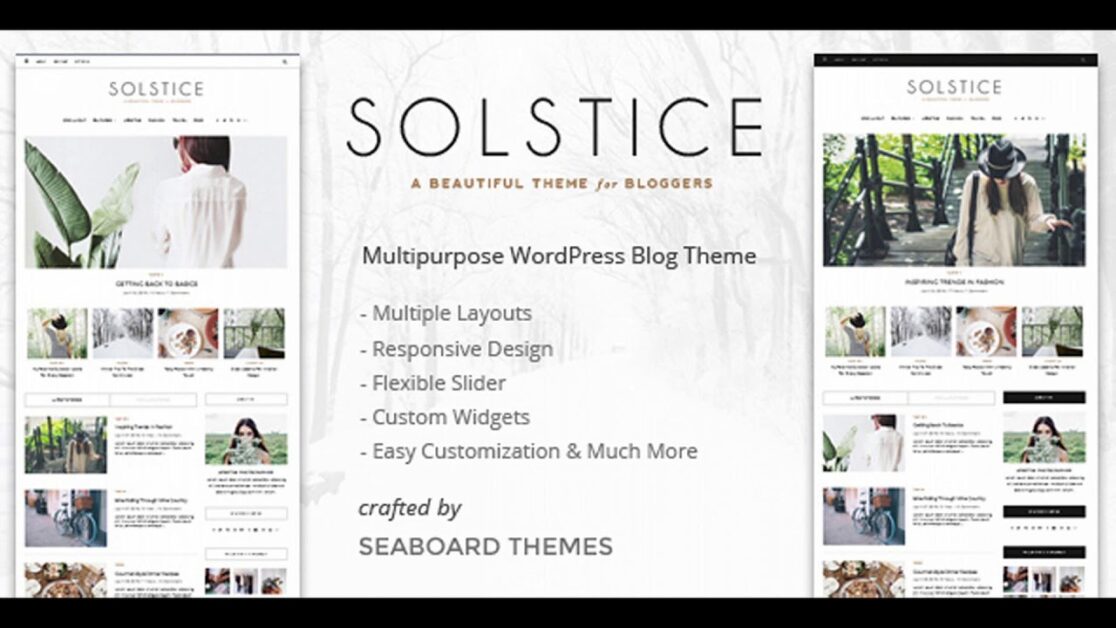 As one of the best WordPress blog themes, Solstice is a powerful and adaptable WordPress blog theme suitable for a wide range of personal blogs. Its amazing feature set, which includes 140 stylistic choices, unique and convenient sidebar gives you plenty of creative flexibility to create your website to your preference.
The well-balanced and compact design of the theme guarantees a visually pleasing and user-friendly experience. Choose from list and grid layouts to properly exhibit your material, while highlighted pieces and custom placements allow you to emphasize your greatest work. Solstice also effortlessly interacts with social media networks, enhancing your online presence.
If you enjoy simple style and seek customization, the Solstice theme is well worth investigating.
Gossip | WordPress Theme for Minimalism Blog Style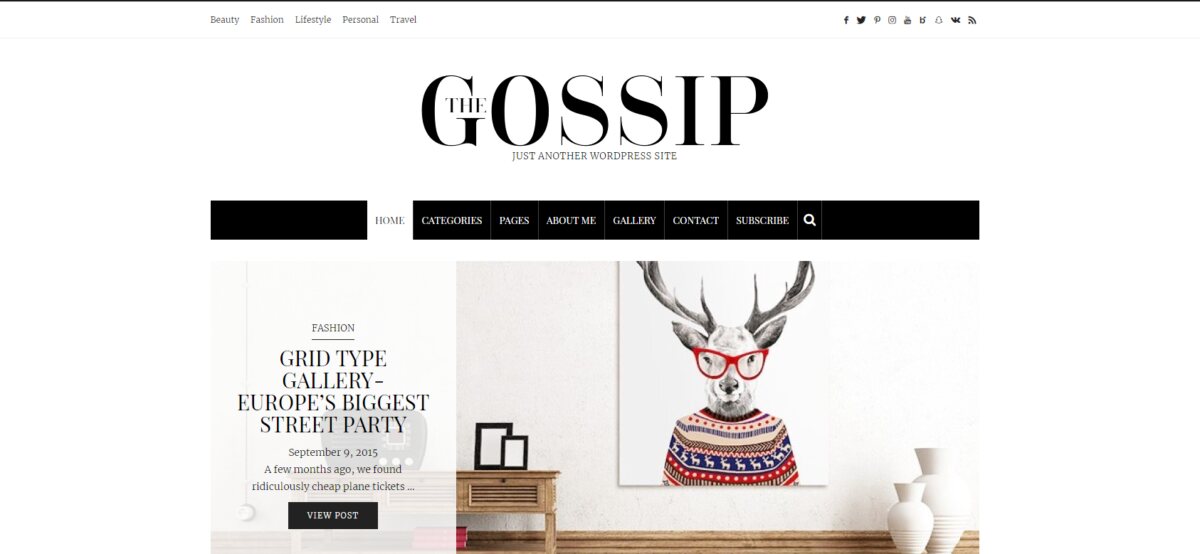 Gossip is a fantastic WordPress theme created primarily for personal blogs, with plenty of room to display your content. It allows you to construct a unique and personalized website by providing a comprehensive variety of functionality and endless customization options.
With 10 custom widgets, 9 unique page layouts, a built-in registration page, and a custom picture gallery, Gossip offers a plethora of possibilities for improving the functionality and visual appeal of your blog. Furthermore, because of its smooth interaction with WooCommerce, it is a fantastic solution for bloggers who want to venture into e-Commerce and offer their own items in the future.
Camille | Stylish WordPress Theme Blog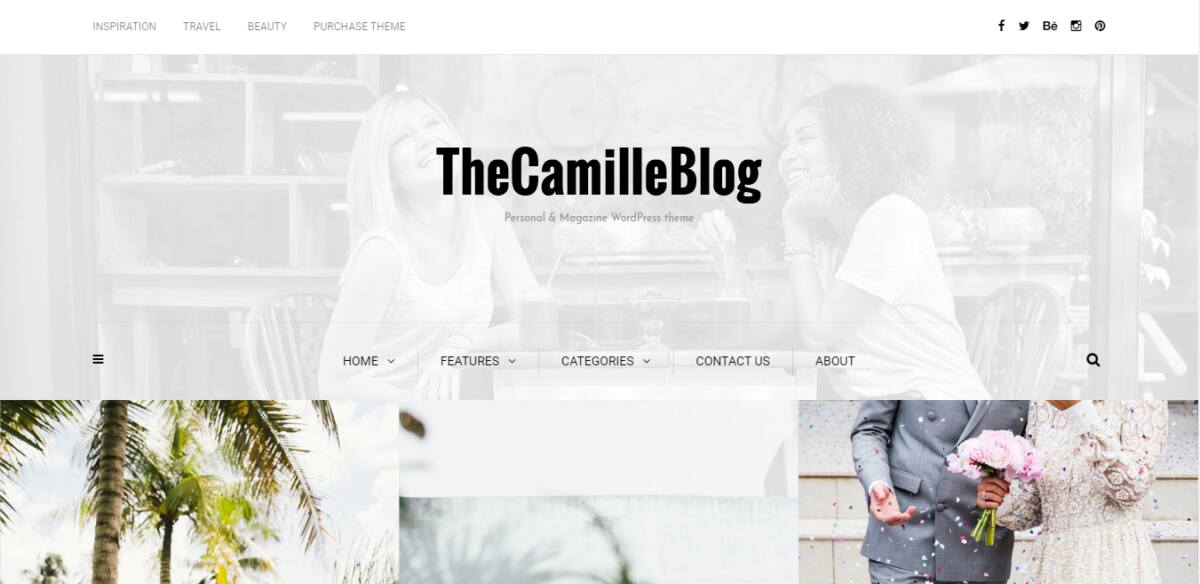 Camille is one of the best WordPress blog themes known for its distinct and appealing design with 38+ pre-build templates. It lets you construct a visually appealing website by providing a plethora of font and color adjustment possibilities.
Camille, in particular, contains a stunning slider and a creative promo box, allowing you to exhibit your material in a variety of ways. The responsive layout of the theme enables excellent presentation across all devices, ensuring an outstanding user experience for your audience.
Camille gives you the ability to offer your material in a variety of entertaining forms, making it an excellent solution for individuals looking for a dynamic and aesthetically appealing online presence.
Laurel | Best Elegant WordPress Theme for Blogs and Stores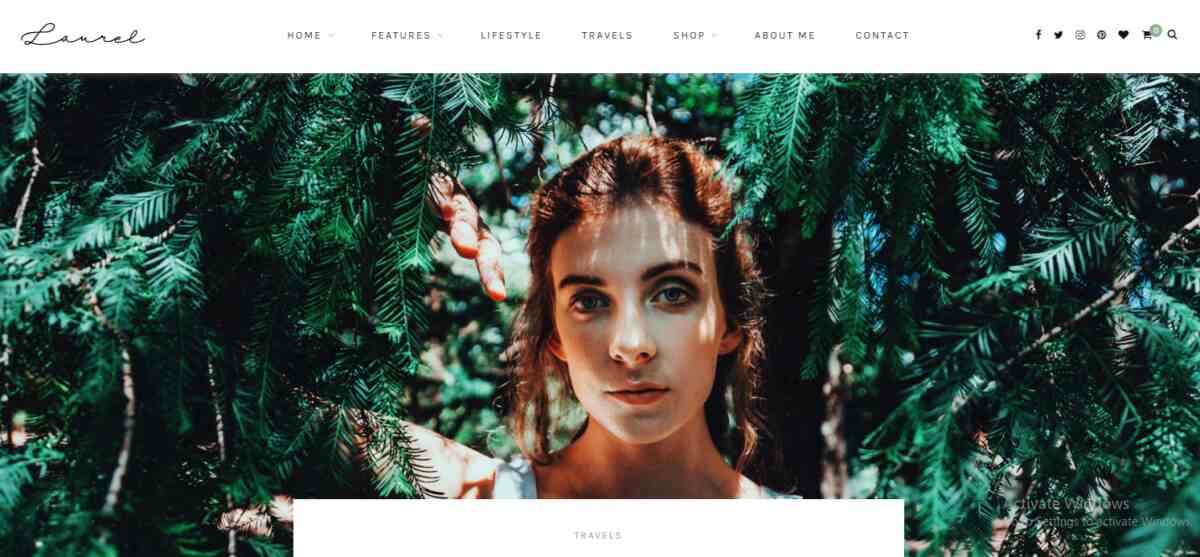 Laurel has a plethora of customization possibilities, as well as WooCommerce integration and eye-catching pictures. WPML is supported by the Laurel WP theme. With a WPML-compatible WordPress theme, you may translate your page into any language you desire.
Laurel is a very adaptable WordPress theme with a plethora of customization possibilities. It provides exceptional assistance for online enterprises due to its smooth integration of WooCommerce. Laurel also has wonderful artwork that captivates and makes an impression.
Whether you want to build an e-commerce platform or exhibit your graphic content, Laurel gives you the tools you need to make your website truly stand out. Its adaptability and focus on detail make it an excellent alternative for anybody looking for a dynamic and aesthetically attractive online presence.
Other notable features include:
Grid and list layout
Customizable promotional box
Various blog and post layouts
Flexible translation feature
And so on
Conclusion: Best WordPress Blog Themes
In conclusion, finding the best WordPress blog theme might be difficult owing to the large number of options accessible. We, on the other hand, have taken up the duty for you. We hope you find a theme that speaks to you and propels your business to new heights.
Read More: 10+ Worthiest Hotel WordPress Themes
---
Contact us, ThimPress:
Website: https://thimpress.com/
Fanpage: https://www.facebook.com/ThimPress
Youtube: https://www.youtube.com/c/ThimPressDesign
Twitter: https://twitter.com/thimpress