In the modern-day, Health, Gym, and Fitness have risen to be some of the most fundamental needs of society. The need of learning how to exercise the right way, because of that, has also risen upward. There are many friendly and effective ways to approach a customer, but the most effective way is undoubtedly having a website.
A great website with beautiful layouts, and powerful functions can be of great help to coaches, trainers, and professional gyms as they bring visitors and turn them into customers. This post is a collection of some of the most elegant, stunning, amazing Gym, Fitness, and Coach WordPress Theme that really convert and help increase your revenue.
Let's Start!
Best Coach WordPress Theme Collection
1. Health Coach 1 – Coach WordPress Theme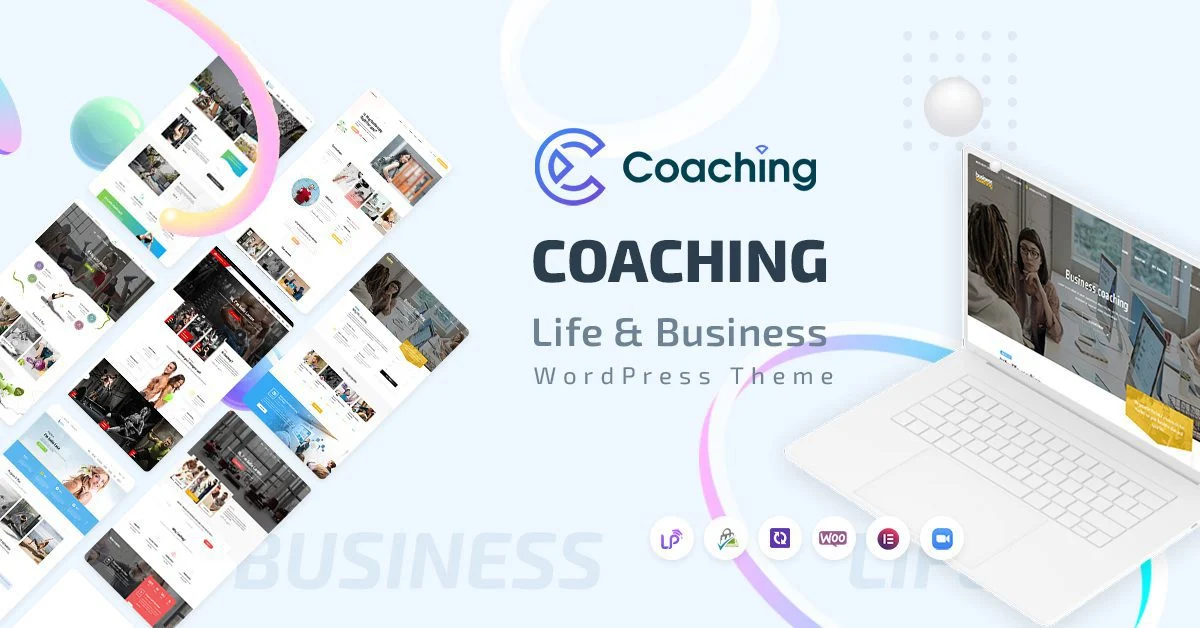 Coaching WordPress theme – Health Coach 1 is a demo of the beautiful and visually stunning WordPress theme "Speaker and Life Coach WordPress theme". The theme allows you to create sophisticated modern websites for professional gym trainers as well as health coaches, or for trainers of many other physical fitness subjects like Yoga, Pilates, etc.
Having been integrated with the intuitive Thim Core plugin, the theme is more powerful than ever with a wide range of functionalities of Coaching including:
A revolution slider with eye-catching designs, suitable for making your customer fall in love with you right the first second they enter the website.
Unique testimonial from your trainees – word of mouth is the best marketing method
Smart event management system
A powerful Learning Management System to help you sell your physical training courses online easier.
Last, but not least, It is continuously updated, supported, and managed by ThimPress, an Elite Author of the Envato Market.
Learn more about Coaching Health Coach 1 here:
More Info Preview
2. Health Coach 2 – Coach WordPress Theme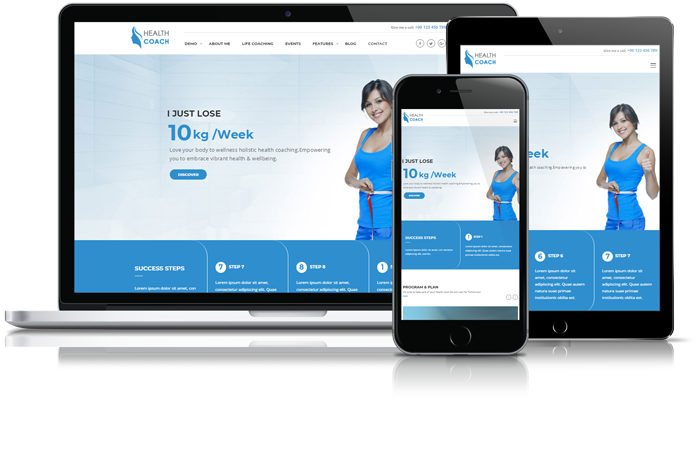 Speaker and Life Coach WordPress theme – Health Coach 2 is another amazing demo of health coaching WP. It inherits all the special animation and transition effects of the theme.
Besides, Coaching WordPress Health Coach 2 is spectacularly convenient and a time-saving tool for you as it is cleverly designed to empower you with some awesome features:
One-click install
Drag and Drop Page Builder (Required no Coding Knowledge)
Fully Optimized for Speed and SEO.
For these functionalities, no wonder why Coaching is currently a trending theme on ThemeForest. By purchasing the theme, you will get at least 2 awesome demos for the price of one.
Learn more about Coaching Health Coach 2 here:
More Info Preview
3. Gym Edge – Coach WordPress Theme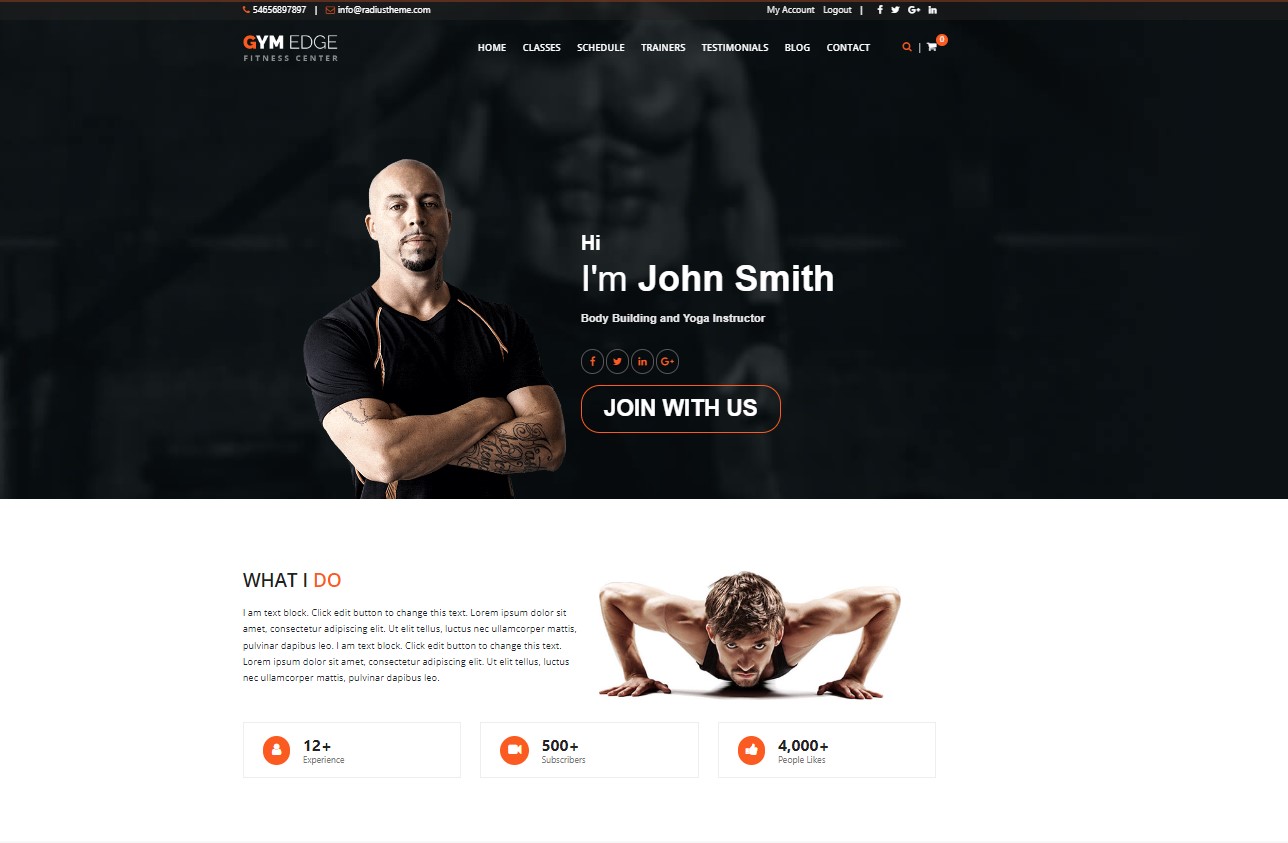 Gym Edge is a recently released responsive HTML5 Gym and Fitness Website template. The template is ideal for fitness centers. The theme uses the newest HTML5 and CSS technology with a graphically polished and seamless design for gym centers.
What is more, It has almost all the elements of a gym and fitness theme both in terms of technology and functionalities. To illustrate, Nivo Slider and Carousel Slider are integrated into this theme. Its dev team made it with the mobile-first philosophy in mind, meaning it's 100% responsive and mobile-friendly.
It is our recommendation that you take this style into consideration. Especially if you have a new fitness club, a health center, or any other health coaching and trainer-related business. After purchasing this theme, you will only need to hire an IT specialist to turn this template into WordPress. Then, in only a few days, you will have your best wordpress themes ever! What a convenient and time-saving way for a new business.
Buy Now
4. Fitness Zone – Coach WordPress Theme
Fitness Zone is an incredibly lightweight, resourceful, and feature-rich 2-year-old Gym and Fitness WordPress theme. Besides, functional abilities to create modules, mega menu, sticky navigation, blog, comments, etc. Fitness Zone is capable of doing more with less.
With the drag-and-drop page builder and the many predesigned layouts for the homepage and header, footer, you can easily personalize your website and adjust any element according to your needs.
As a supplement, the one-click installation process makes it suitable for people with no coding background and a beginner level of website administration.
Buy Now
5. WP MMA – Coach WordPress Theme
WP MMA is a beautiful and elegant WordPress theme for Gym and Fitness facilities.
Having been released on 17th June 2016, the theme adapts to the latest technologies like HTML5, CSS3, and Bootstrap 3 Grid system for the best animation experience. The theme's author does have in mind the duty of making MMA a fast-loading and easy-to-customize theme.
The dark design and the name (MMA Fight School) suggest a very intensive characteristic, just like in fight schools. If you are about to open a martial art or weight lifting gym training, this is your perfect match.
Buy Now
6. GymBase – Coach WordPress Theme
GymBase was first released in July 2012. Even though being quite an old and outdated responsive WordPress theme for Gym and fitness, GymBase can still meet your requirements for a modern-day website theme for fitness.
The theme has many special functions:
Drag and drop page builder with more than 50 components
One-click demo importer
A theme options panel for you to easily customize the website according to your need
Or a built-in responsive timetable plugin.
Surely the theme will adapt itself to any needs or requirement from even the most strict webmaster.
Buy Now
7. LoveFit – Coaching WordPress Theme
LoveFit is an HTML Template for Fitness and Video Training. It is optimized for video display and has capable of displaying training courses, and lessons in a colorful and creative way. LoveFit offers you a great way to start your training career with its great design.
Its prebuilt demos, graphics, and content are already awesome and you only need to hire a tech specialist to convert the template into a Fitness WordPress theme and start selling.
Thanks to the clean code of this Gym website template even if you can't find a Professional WordPress Theme developer, you can still turn this template into a WordPress theme. Additionally, without WordPress, LoveFit still supports Subscribe Plan, Contact Form, and Newsletter subscription. You can even just use it with basic PHP without the need of using any CMS platform.
Buy Now
8. Symetrio – Coach WordPress Theme
Symetrio is a colorful and vibrant gym, fitness, and coach wordpress theme for the fitness industry, made by the sports enthusiasts of Wonster theme. It's a theme with many purposes – being the place for any kind of sports activity: Dance club, boxing classes, kick fitness, MMA, yoga training, and health coaching.
For any of the purposes, Symetrio has one respective demo, which makes it powerful and multipurpose. The combination of Visual Composer, Revolution Slider, and WooCommerce in this theme really empowers its website owner since it can efficiently exhibit anything the admin wanted to.
The theme options panel is another advantage of Symetrio compared to many other themes. It eases the design and development process of the website and brings it to the next level, saving a lot of time and effort for all of its users: Gym trainers, Health coaches, Kungfu masters, etc.
9. Forty – Coaching WordPress Theme
Forty is a product of GT3themes, a Coach WordPress Theme, Yoga or Boxing sports trainers.
The Fitness WordPress theme is a product from the love and passion of the developers and designers behind the theme. Forty comes with many special features.
Multiple components
Replaceable blocks are an important part just like any other WordPress theme.
Amazing sharp design
Being highly attractive and appealing in design, Forty is capable of telling your success stories and encouraging people to follow, train, and buy your service.
---
Contact us, ThimPress:
Website: https://thimpress.com/
Fanpage: https://www.facebook.com/ThimPress
Youtube: https://www.youtube.com/c/ThimPressDesign
Twitter: https://twitter.com/thimpress