Online course websites can be created with the help of the WordPress platform. For creators who want to share their knowledge and expertise online through user-friendly interfaces and extensive customization options, WordPress provides powerful solutions.
Choosing the correct topic is crucial when starting an online course website. The online course theme is particularly suitable for displaying courses and other training content because it is specially designed for this purpose, While you can choose hundreds of WordPress themes, the online course theme is specifically tailored to meet the needs of online course creators.
The top online course topics are covered in this article. We'll examine eight of the top choices, each possessing distinctive features and design styles, enabling you to discover the ideal theme for your course website.
What Is A Suitable Platform For Online Courses?
There are many reasons why WordPress is an excellent platform for online courses. First of all, authors who use WordPress have complete control over their own content and the way it is presented and shared. This is important for independent curriculum creators who want to make their curriculum reflect their brand and educational style.
The significant advantage of WordPress lies in its ability to provide a high degree of customization for online courses. A series of plug-ins and themes that are provided by WordPress allows course authors to design online learning websites completely according to their preferences, including adding other pages, such as online stores. The suitability of this product extends to various course creators, such as freelance educators, virtual instructors, and academic establishments.
To create an online course in WordPress, you need an LMS plug-in, which contains all the necessary functions. Automatic Corporation created the popular course generator plug-in. There is a Jetpack.
It is important to choose online course topics carefully for a good learning experience on WordPress. Learner-friendly templates, usually designed for specific LMS plug-ins, should be included. An online learning platform is an alternative to selling with WordPress. Platforms like Udemy have a built-in market for selling courses, but course creators don't fully own their content. Udemy has the ability to control the rendering and sharing methods of courses, and course creators have to comply with Udemy's strategies and instructions. Additionally, Udemy accounts for a certain percentage of sales.
You can easily create online stores with the help of the online store creation tool. It is possible for course creators to sell their courses on the WordPress website without using a separate platform. For example, using Sensei Pro and WooCommerce, you can set the course as a marketable product, add it to the shopping cart, and purchase it like other products. Economically, this option is attractive because the course author keeps all revenue from sales, except for transaction fees.
What Are The Criteria For Selecting An Online Course Topic?
It will take a while to set up a WordPress website, but it is relatively simple. This is what the online course theme is all about. The online course theme includes the basic functions required by the course creators, such as integration with popular learning management system plug-ins. Through these functions, course creators can quickly build professional course websites.
You need to find some key functions when selecting the topic of the online course. This includes multilingual support through WPML or other platforms, as well as custom components. A good online course theme should be user-friendly and support plug-ins, such as pre-designed contact forms.
You can use these functions to create a professional online course website for students. Find the theme, provide various customization options, and modify the appearance and feel of the website according to the brand and educational style.
We discussed the advantages of using WordPress to create online courses, and will learn about the top online course topics in the years to come.
8 Best Options For Online Course Websites
Eduma
Learn More
Eduma is a powerful online course theme that can be used with the LearnPress LMS plug-in. Eduma's main advantage is that it contains advanced LearnPress plug-in components that are useful for course creators who want to extend the online course function. Eduma wants to cooperate with popular page generators such as WPBakery, which is useful for authors who want to personalize website design. Eduma's incompatibility with Gutenberg can trouble course creators who favor it as a course-building tool.
Eduma is a feature-rich and dynamic online course theme that offers a wealth of tools and features for course creators looking to build robust and engaging e-learning experiences. One of the main advantages of Eduma is its seamless integration with the LearnPress LMS plug-in, which allows users to take full advantage of the powerful features and functionality that LearnPress has to offer.
In particular, Eduma comes with a suite of advanced LearnPress components that can help course creators extend and customize the online course functionality to meet their specific needs. These components include features such as dynamic quizzes, surveys, assignments, discussions, course progress tracking, and more, which can help create a highly interactive and engaging learning environment for students.
Furthermore, Eduma's intuitive and user-friendly interface makes it easy for course creators to set up and manage their courses, even if they have little or no coding experience. The theme comes with a variety of pre-built templates and layouts, as well as customization options that allow users to personalize their courses to match their branding and style.
Overall, Eduma is a powerful and versatile online course theme that offers a range of advanced LearnPress components to help course creators build engaging and effective e-learning experiences. Its seamless integration with LearnPress, combined with its user-friendly interface and customization options, make it a top choice for anyone looking to create high-quality online courses.
You can see a review of Eduma here: Review Eduma – Top 1 Education WordPress Theme
Course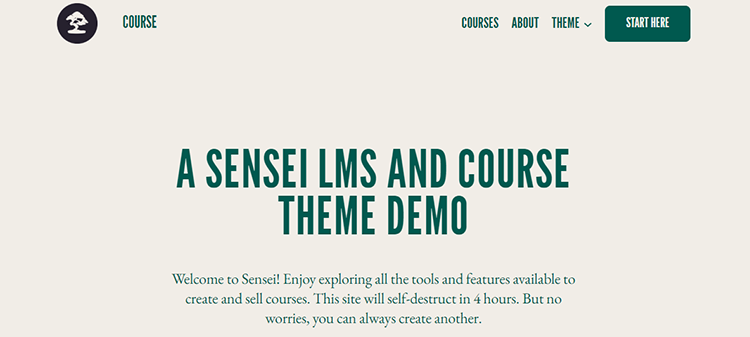 Learn More
Course is a WordPress theme for use with the popular Sensei LMS plug-in. The combination is very suitable for course creators because it allows them to easily create and sell courses on the platform.
The course is cost-effective, which means you can invest in advanced projects like Sensei Pro that are essential for the sales course. The course offers a built-in module mode, enabling prompt setup of the course and display of Sensei's multimedia features, which can be positioned at any location on the website.
Images and flash cards are examples of Sensei blocks. There are seven types of questions that can be included in the course. Students can know how many course materials have been completed with the course schedule.
The Gutenberg editor can be used with the block theme of the course. Sensei uses the Gutenberg interface, which is useful for Sensei users. You can have a seamless experience when building course websites and creating course content without having to change interface.
Designed to work seamlessly with Sensei's learning mode, the course was created with the goal of providing students with an uninterrupted learning experience. You can create a course website that focuses on providing high-quality content without being interfered with.
The minimal design of the course is one of its major advantages. The important course generation function is provided by Sensei and the theme does not hide it. Creating and selling courses are what you can concentrate on. By heavily customizing the minimum design of the course, one can construct a visually stunning website that embodies their brand and educational style.
The minimum design of the course also means to follow the fault-free guidelines. The course creator must ensure website accessibility for all students, regardless of any potential faults. Overall, Course serve as a great subject for course creators seeking to use a learning management system in WordPress for course creation and sales.
BuddyBoss
Learn More
BuddyBoss is an advanced online course theme that creates a virtual classroom experience for students, and it is an excellent choice for creating professional appearance course websites. BuddyBoss can be used to create member profiles and member types. It helps to create a personal learning experience and provides personalized support for students in different groups.
BuddyBoss has functions that can be used for real-time classroom or meeting with students, as well as integrations with popular tools. Forums help build student community. They offer a great platform for student interaction, allowing them to ask questions and provide feedback on course content. This makes learning more engaging and interactive.
BuddyBoss offers integration with LearnDash LMS as one of its key features, enabling the creation and administration of online courses using LearnDash LMS. It is important to note that both themes above are paid products, which makes the theme relatively expensive. If you are looking for feature-rich themes for advanced online education platforms, BuddyBoss is a top choice.
WPLMS
Learn More
WPLMS is an all-in-one LMS theme that can be used to create online courses. Progressive web apps enable fast loading, smooth browsing, and offline course access, which is especially handy for those with spotty networks.
The course implementation options of WPLMS may be limited. WPLMS only provides three types of tests, which may not be suitable for some course authors who need more flexibility in their evaluation. Overall, WPLMS is a solid option for course creators who want a simple and straightforward way to create online courses on WordPress.
Educavo
Learn More
Educavo is an online course theme that is designed to be used with a range of popular LMS plugins, including LearnDash, LearnPress, and Tutor LMS. This can be a useful feature for course creators who want the flexibility to choose from a range of LMS options, depending on their specific needs. However, it's worth noting that Educavo is not compatible with other LMS plugins, such as Sensei, which may be an issue for some course creators.
You can import the presentations from Educavo to start. For course creators who wish to design a polished course website without starting from scratch, this feature can prove highly beneficial. For creators seeking to tweak website design, Educavo proves helpful as it is compatible with the widely-used Elementor drag-and-drop page builder.
This may not be the best choice for course creators who like to use Gutenberg to build courses because of the compatibility of Educavo and Elementor. Educavo is a powerful online course theme that provides some useful functions, such as compatibility with pre-built presentations and popular page builders.
It is not suitable for authors of all courses to have limited compatibility with Sensei and interest in Elementor.
Skillfully
Learn More
Skillfully online course theme is designed to integrate with the Sensei LMS plug-in. The latest version of Sensei is not compatible with Skillfully. If you want to build a theme around the latest version of Sensei, you should choose another theme, such as courses.
Despite the limitations, Skillfully still provides some interesting functions. Skillfully allows you to generate professional online marketplaces for courses, which can aid in course sales or the recruitment of skilled teams to build institutions. Additionally, an event calendar can be employed to manage and advertise live classes or seminars. One of the most sought-after WordPress themes is the online course template for course creators.
Astra
Learn More
Astra is a highly capable and versatile product. It is primarily designed for general website design and development, with a focus on providing flexible and customizable templates, layouts, and widgets that can help users create a wide range of websites. However, because of this broad focus, it may not be the ideal solution for users who are specifically looking for a comprehensive set of tools and features to create online courses.
In particular, Astra's functionality for creating online courses may be somewhat limited, especially when compared to specialized e-learning platforms or plugins. This may mean that users who require more advanced features for course creation, such as quizzes, assessments, progress tracking, or multimedia integration, may need to look elsewhere.
Moreover, because Astra's team is primarily focused on website design and development, updates and improvements related to online course creation may not be as frequent or robust as those for other features. This means that users who rely heavily on Astra for their online course creation may need to be patient and flexible, and may need to supplement Astra with other tools and resources to achieve their goals.
Overall, while Astra is a powerful and versatile product that can be a great fit for many users, it's important to consider its limitations and strengths when deciding whether it's the right solution for your specific needs.
Geeks
Learn More
The Geeks Elementor plug-in can be used to create pages and add elements to the website according to the page template of the theme. This may be a useful function for creators who want to easily and quickly modify their website design.
Geeks is an online course theme that provides useful functions for course creators who want to use a course management system. The course theme can be used to create an online course website.
Final thoughts
If you're thinking about starting a course website, there are many options to choose from. Above are 8 options that you can consider to start your course website.
Each of these options has its own unique features and benefits, so it's important to consider your specific needs and goals before choosing the one that's right for your course.
Read More: 5 Reasons To Choose WordPress As Your LMS
---
Contact us, ThimPress:
Website: https://thimpress.com/
Fanpage: https://www.facebook.com/ThimPress
Youtube: https://www.youtube.com/c/ThimPressDesign
Twitter: https://twitter.com/thimpress