Online course websites can be created with the help of the CMS platform. For creators who want to share their knowledge and expertise online through user-friendly interfaces and extensive customization options, WordPress provides powerful solutions.
When launching a website for an online course, selecting the right topic is essential. While there are hundreds of WordPress themes available, the online course theme is expressly made to satisfy the demands of those who create online courses, making it particularly appropriate for displaying courses and other training content.
This page covers the most popular subjects for online courses. We'll look at eight of the top options, each with unique characteristics and design aesthetics, so you can choose the best theme for your course website.
What Is A Suitable Platform For Online Courses?
WordPress is a great platform for online courses for a variety of reasons. First of all, WordPress users who create material have total choice over how it is presented and distributed. For freelance curriculum writers who want their course materials to reflect their brand and pedagogical approach, this is crucial.
WordPress's ability to offer a high level of customization for online courses is a key advantage. WordPress offers a variety of plug-ins and themes that enable course creators to totally customize their online learning platforms, including the addition of other pages like online businesses. This product can be used by a variety of course developers, including academic institutions, independent educators, and virtual teachers.
An LMS plug-in, which has all the required features, is required in order to develop an online course on WordPress. The well-known course generation plug-in was made by Automatic Corporation. A jetpack is available.
For a positive WordPress learning experience, it's critical to carefully select the topics for online courses. There should be learner-friendly templates, which are typically created for particular LMS plug-ins. An option to use WordPress for online sales is an online learning platform. Although there is a built-in market for selling courses on platforms like Udemy, content providers do not wholly own their courses. Course makers must adhere to Udemy's policies and guidelines since it has the power to regulate how courses are rendered and shared. Additionally, a certain proportion of sales are attributable to Udemy.
With the aid of the online store creation tool, you can effortlessly construct online stores. Without utilizing a different platform, course developers can offer their courses on the WordPress website. For instance, you may configure the course as a marketable product, put it in the shopping cart, and buy it like other items using Sensei Pro and WooCommerce. Economically speaking, this choice is appealing because the course author keeps all sales proceeds minus processing costs.
The Criteria For Selection
Although it is rather easy, setting up a WordPress website will take some time. The focus of the online course is on this. The fundamental features needed by the course designers, like connectivity with well-known learning management system plug-ins, are included in the online course theme. These features enable course designers to quickly create attractive course websites.
When choosing the subject for the online course, you need to look for a few essential features. This covers both specialized components and multilingual support via WPML or other platforms. A excellent online course theme should enable plug-ins like pre-made contact forms and be user-friendly.
These features can be used to build a polished online course website for students. Choose a theme, offer a variety of customization choices, and alter the website's look and feel in accordance with the brand and instructional philosophy.
We talked about the benefits of utilizing WordPress to build online courses, and we'll discover the hottest topics for online courses in the years to come.
8 Best Options For Online Course Websites
Eduma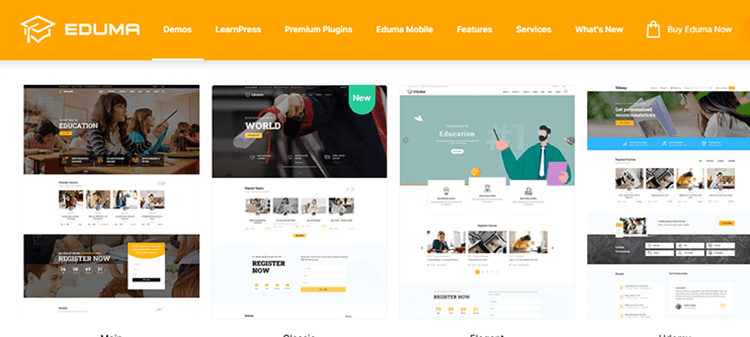 Learn More
The LearnPress LMS plug-in can be used with the robust online course theme Eduma. The main benefit of Eduma is that it includes sophisticated LearnPress plug-in elements that are helpful for course designers who wish to increase the functionality of online courses. Eduma desires to work with well-known page builders like WPBakery, which is helpful for authors who want to customize website design. It can be problematic for course designers who prefer Eduma as a course-building tool because of its incompatibility with Gutenberg.
In order to create strong and interesting e-learning experiences, course designers can use Eduma, a feature-rich and dynamic online course theme. One of Eduma's key benefits is its seamless integration with the LearnPress LMS plug-in, which enables customers to fully utilize LearnPress's robust features and capability.
The extensive LearnPress components that Eduma offers in particular enable course designers to enhance and adapt the functionality of online courses to fit their particular requirements. These elements comprise functions like dynamic quizzes, surveys, tasks, discussions, tracking of course progress, and more that can assist in developing a highly interactive and interesting learning environment for students.
Additionally, even those with little to no coding knowledge can easily set up and administer their courses using Eduma's intuitive and user-friendly interface. The theme includes a selection of pre-built layouts and templates, as well as customization tools that let users tailor their courses to fit their branding and sense of style.
Overall, Eduma is a strong and flexible online course theme that provides a selection of sophisticated LearnPress components to assist course designers in creating effective and interesting e-learning experiences. Its seamless LearnPress integration, user-friendly design, and customization options place it among the best solutions for anyone wishing to develop top-notch online courses.
You can see a review of Eduma to learn more: Review Eduma – Top 1 Education WordPress Theme
Course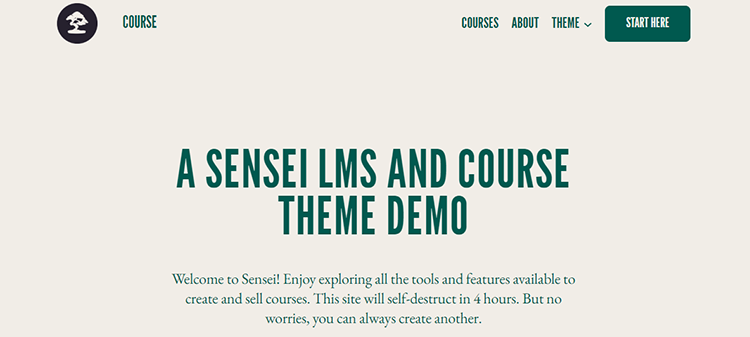 Learn More
WordPress theme Course is designed to work with the well-liked Sensei LMS plug-in. Because it makes it simple for them to build and market courses on the platform, the combination is ideal for course creators.
Because the course is affordable, you may spend money on cutting-edge initiatives like Sensei Pro, which are crucial for the course of sales. The course has an integrated module mode that enables quick course construction and displays Sensei's multimedia capabilities, which can be placed anywhere on the website.
Sensei blocks include things like pictures and flash cards. Seven different sorts of questions are available for the course. With the aid of the course schedule, students can determine how many course materials have been finished.
The course's block theme can be utilized with the Gutenberg editor. Users of Sensei can benefit from the Gutenberg interface because it is used by Sensei. Building course websites and producing course content doesn't need to involve switching between interfaces.
The course was developed with the intention of giving students a continuous learning experience and was designed to operate perfectly with Sensei's learning mode. You can design a website for your course that concentrates on delivering top-notch material without being disturbed.
One of the course's main benefits is the simple layout. Sensei provides the crucial course-generating feature, and the theme does not conceal it. What you can focus on is creating and selling courses. One can create a visually attractive website that embodies their brand and teaching style by substantially altering the course's minimal design.
Following criteria that are error-free is also part of the course's minimal design. Regardless of any potential issues, the course creator must make sure that the website is accessible to all students. In general, Course is an excellent resource for course developers looking to leverage WordPress as a learning management system for course design and sales.
BuddyBoss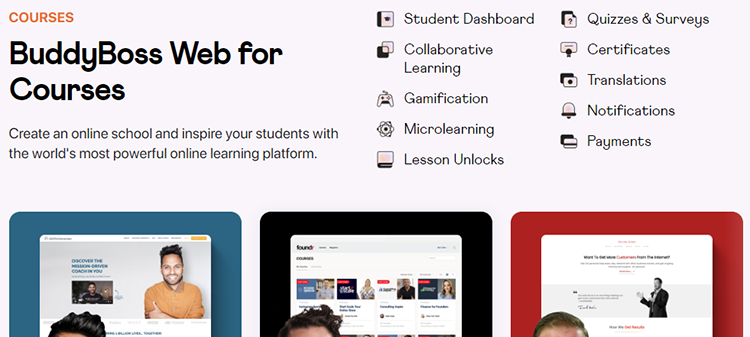 Learn More
BuddyBoss is a cutting-edge online course theme that gives students a sense of being in a virtual classroom. It is a great option for making course websites with a polished design. Create member profiles and member types with BuddyBoss. It contributes to the development of a personalized learning environment and offers tailored support to students in various groups.
BuddyBoss features interfaces with well-known products, real-time classroom functionality, and meetings with students. Student communities are strengthened by forums. They give a fantastic forum for student interaction, enabling them to ask questions and offer comments on the course material. Learning becomes more participatory and engaging as a result.
One of BuddyBoss's important features is integration with LearnDash LMS, which enables the development and management of online courses using LearnDash LMS. It is significant to note that each of the aforementioned themes is purchased items, making the theme quite pricey. BuddyBoss is a top option if you're seeking themes with a lot of features for cutting-edge online education systems.
WPLMS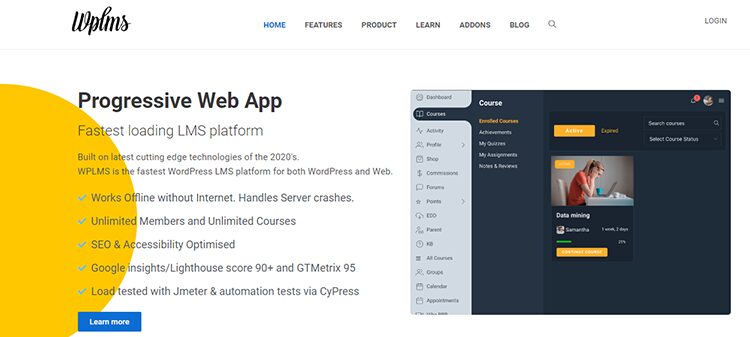 Learn More
An all-in-one LMS theme called WPLMS can be used to build online courses. For users with patchy networks, progressive web apps' quick loading, slick browsing, and offline course access are extremely useful.
WPLMS may have few alternatives for implementing courses. Only three different exam kinds are offered by WPLMS, which may not be adequate for all course creators that require greater latitude in their evaluation. WPLMS is a good alternative overall for course designers looking for a basic and easy approach to constructing online courses on WordPress.
Educavo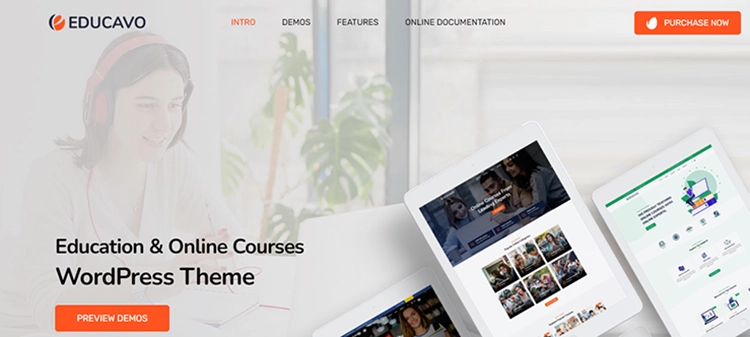 Learn More
A number of well-liked LMS plugins, such as LearnDash, LearnPress, and Tutor LMS, are compatible with the online course theme called Educavo. For course designers who desire the freedom to select from a variety of LMS alternatives based on their particular needs, this feature can be helpful. Educavo is not interoperable with other LMS plugins, such as Sensei, which may provide a problem for some course developers.
To get started, you can import the presentations from Educavo. This feature might be quite helpful for course designers who want to construct a quality course website without beginning from scratch. Educavo is advantageous for designers looking to make changes to a website's design because it works with the popular Elementor drag-and-drop page builder.
Due to the compatibility between Educavo and Elementor, this may not be the greatest option for course designers who prefer to utilize Gutenberg to construct courses. The robust online course theme Educavo offers some helpful features, including compatibility with pre-built presentations and well-liked page builders.
Skillfully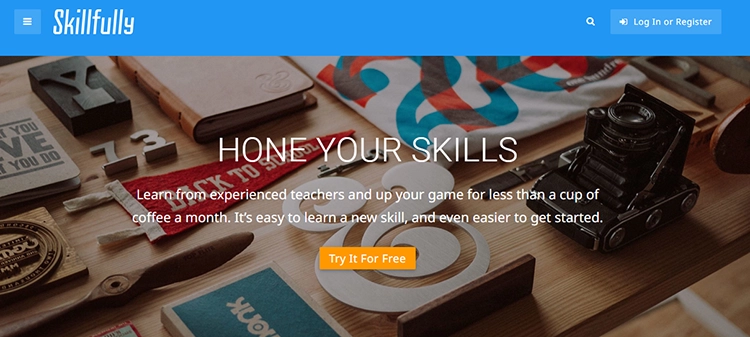 Learn More
The Sensei LMS plug-in is meant to work with the Skillfully online course theme. Sensei's most recent iteration is incompatible with Skillfully. You should pick a different theme, like courses if you want to create a theme around the most recent version of Sensei.
Despite its drawbacks, Skillfully still offers a number of useful features. You may create expert online markets for courses with talent, which can help with course sales or the hiring of qualified staff to establish institutions. An event calendar can also be used to organize and promote live workshops or seminars. The online course template is one of the most popular WordPress themes for course developers.
Astra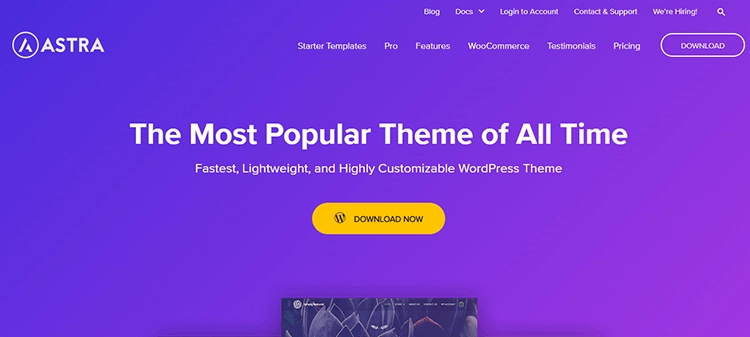 Learn More
Astra is a very strong and adaptable substance. With a focus on offering adaptable and changeable templates, layouts, and widgets that can help users create a variety of websites, it is primarily intended for general website design and development. It might not be the best option for those who are explicitly searching for a complete set of tools and features to develop online courses, though, due to this broad focus.
For example, compared to dedicated e-learning platforms or plugins, Astra's functionality for developing online courses may be considerably constrained. Users that need more sophisticated course development options, such as tests, evaluations, progress monitoring, or multimedia integration, may need to search elsewhere.
Furthermore, because Astra's staff focuses largely on website design and development, updates and enhancements pertaining to the construction of online courses might not be as frequent or substantial as those pertaining to other features. As a result, users who largely rely on Astra for the design of their online courses may need to exercise patience and flexibility as well as augment Astra with other tools and resources to succeed.
Geeks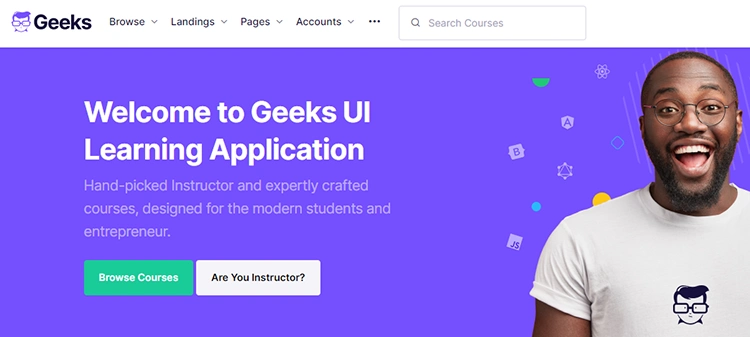 Learn More
According to the theme's page template, the Geeks Elementor plug-in may be used to build pages and add elements to a website. For developers who wish to fast and easily change their website design, this feature might be helpful.
The Geeks theme for online courses offers helpful features for course designers who want to use a course management system. An online course website can be made using the course theme.
Final Thoughts
If you're thinking about starting a course website, there are many options to choose from. Above are 8 options that you can consider to start your course website. Each of these options has its own unique features and benefits, so it's important to consider your specific needs and goals before choosing the one that's right for your course.
Read More: 5 Reasons To Choose WordPress As Your LMS
---
Contact us, ThimPress:
Website: https://thimpress.com/
Fanpage: https://www.facebook.com/ThimPress
Youtube: https://www.youtube.com/c/ThimPressDesign
Twitter: https://twitter.com/thimpress