Want more Add-ons at lower price? Check LearnPress PRO Bundle or the Theme Bundle.
Two bundles are almost the same, except that LearnPress PRO Bundle has Assignments&Announcement add-on, let you use for up to 03 sites and use the add-ons with any themes.
Visit LearnPress PRO Bundle Compare PRO Bundle vs Theme Bundle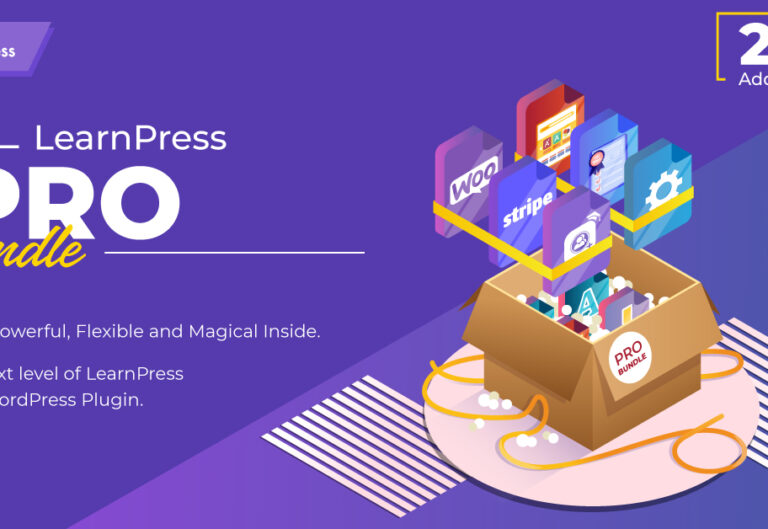 How Paid Membership Pro Add-on for LearnPress works
1. Manage subscription levels and their courses
With Paid Membership Pro integration with LearnPress, you can create membership plans for your students. Following that, you can let them buy Membership and paying monthly for groups of course instead paying for every course.
2. Allow to buy courses individually or only via subscriptions
Paid Membership Pro makes your pricing methods a lot more flexible. You can let your students pay per course, or pay by month (or a given period of time of your choice) or both, with a different recurring fees.
How to Create a Membership Website for LearnPress with this Add-on
1. Download and Installation
Download and Install
Required Paid Membership Pro plugin. Download it for free on wordpress.org
To download Paid Membership Pro integration, visit 'My Account' on thimpress.com
Click 'Orders' and 'View' your order
Under 'Order Details', download the latest version of the plugin
 Install and activate both Paid Membership Pro plugin and Paid Membership Pro integration as following:
Visit 'WordPress Dashboard > Plugins > Add New'
Click 'Upload Plugin' and choose the plugin zip files that you just downloaded. Click 'Install Now' to start the installation process
After plugin installed successfully, click 'Activate Plugin' and you will be notified that the plugin is activated
The plugin is shown as activated and ready to use


2. Setup Membership
Setup membership pages
Before creating levels, you can Click the Pages Tab. (From the dashboard, go to Memberships > Settings and select Page Settings). Without setting these pages, the work flow and the function will not work properly.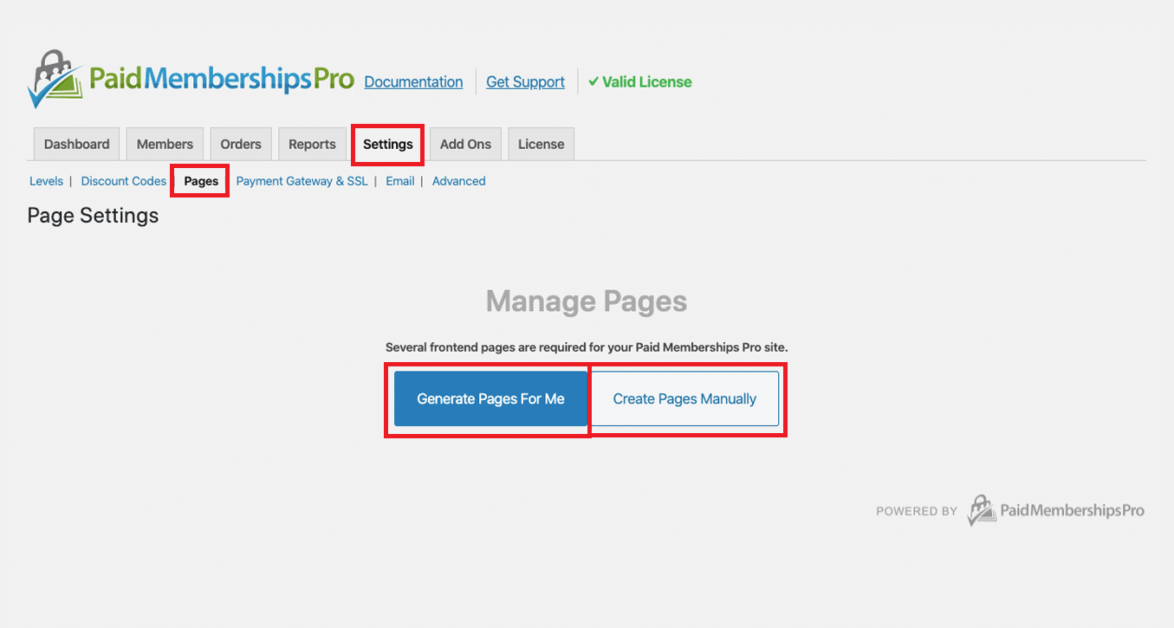 Normally, you will have to create pages and assign them to the correct title. However, luckily Paid Memberships Pro can Generate these pages for you: Click button "let us Generate Pages For Me". It will generate all needed pages for membership plans.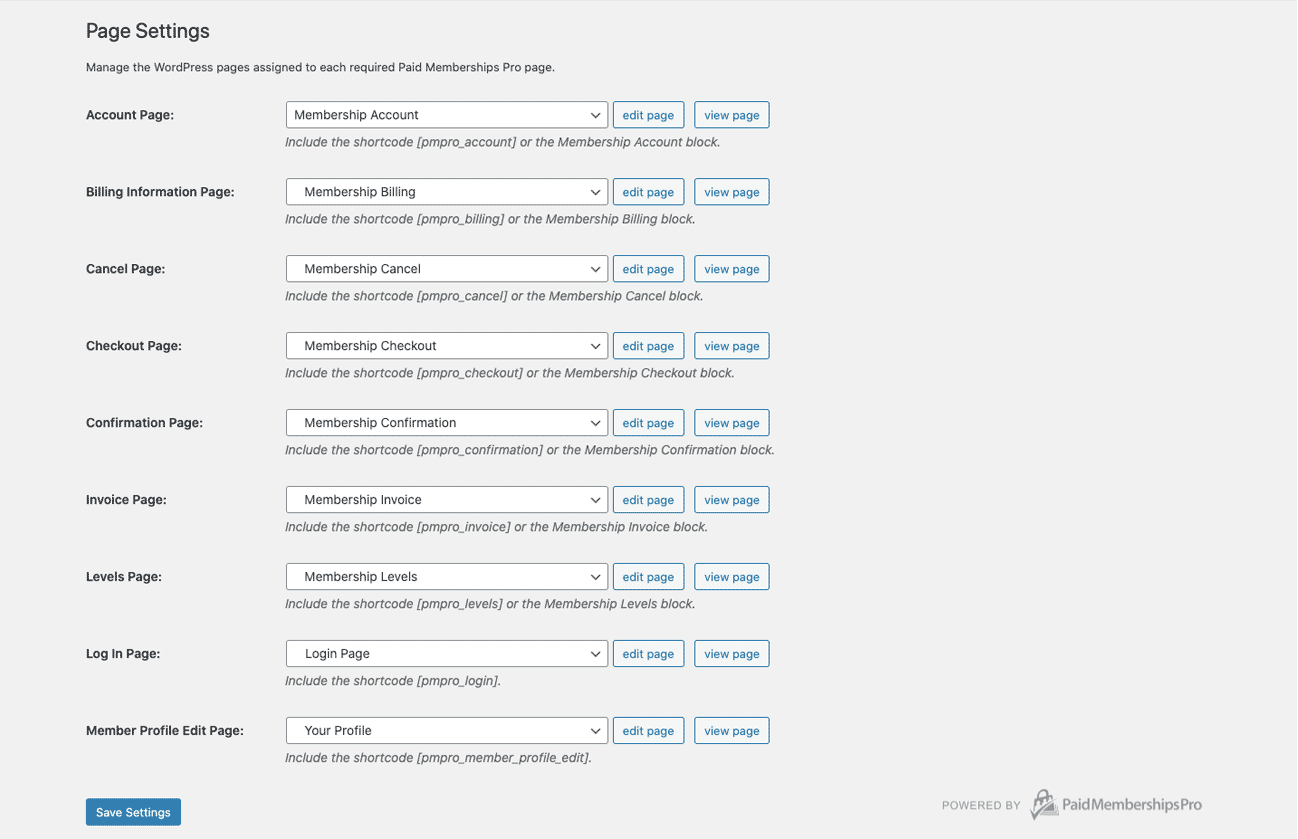 If you are charging for membership, you will need a Payment Gateway Click here to see payments settings
3. Create Membership Plans
'Memberships' feature is added to Dashboard after add-on activation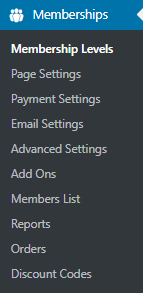 Visit 'Memberships > Membership Levels'. With first used customer, there is a notice to guide setup steps.
Click 'Add New Level'/'Add a membership level to get started' notice to create new level or choose any existed level that you want to modify.


Fill in the Name (For example, "Free"), Description or Confirmation message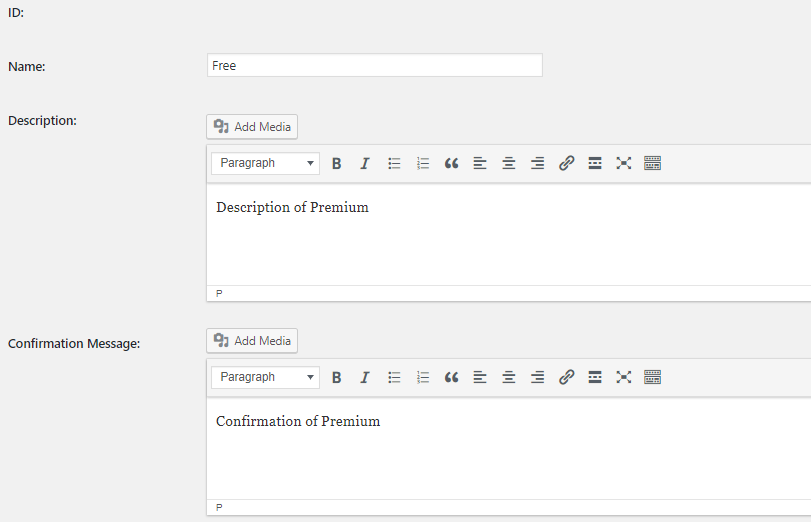 Scroll down to 'Courses Settings'
Assign the courses to be available for that membership level. A course can be assigned to different membership levels.

Also, in Billing Details, Initial Payment is the initial amount of money that user has to pay at registration. For Free plan, you can set the initial payment of $0
There's a Recurring subscription option that if you check this option, you will open up many more complex pricing options like pay every month, day, etc, or even Trial payment with trial billing amount

In other settings, you can also disable new sign ups, or set an expiration date for the membership setting.
It's pretty flexible.
Since we are setting membership plans for courses, there's no need to check the categories option. Just Save Level and add another level.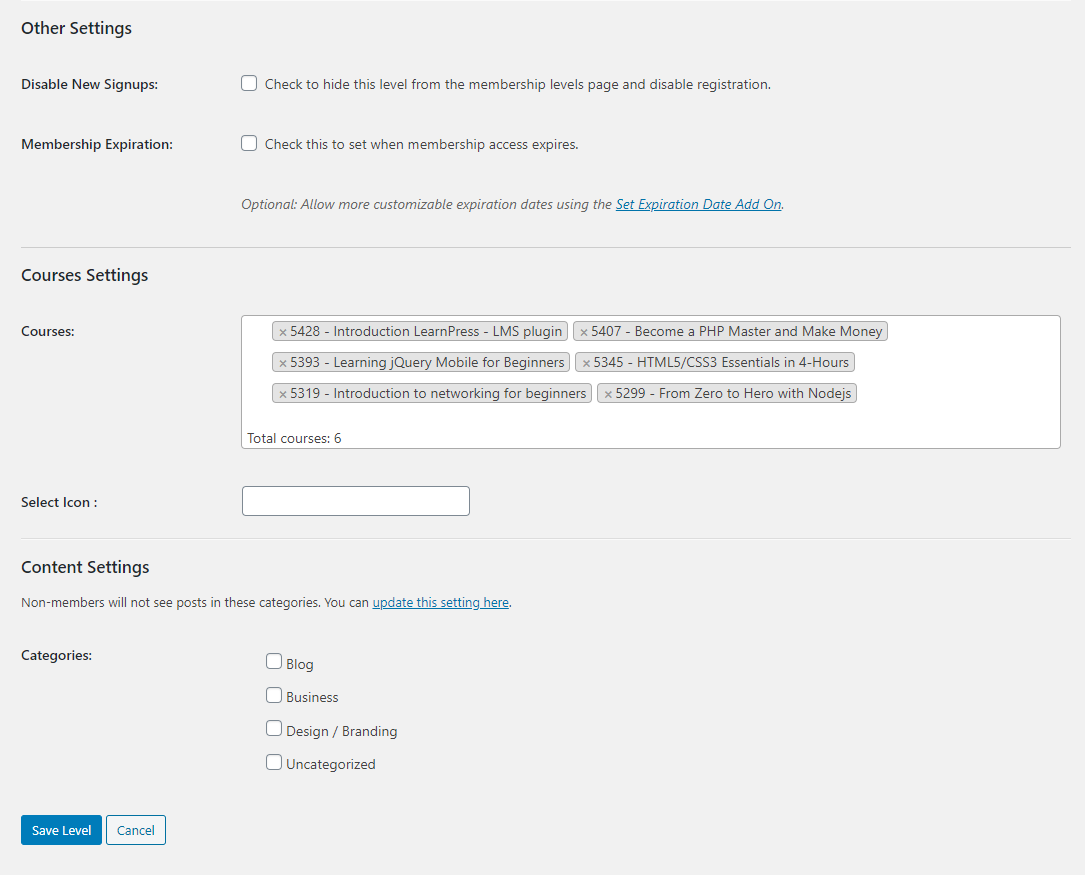 4. Seting LearnPress Paid Membership Pro add-on.
Setting LearnPress Paid Membership Pro add-on.
Normally, if you use our theme, the add-on is already included and setup. If not, you will need to go here to download and install LearnPress Paid Membership Pro. It also goes with the bundle add-on so you can buy our theme and get it from the bundle add-on.
Go to LearnPress > Settings > Membership.

Always buy the course through Membership: when enable will disable 'Button buy course', if untick will show both type button
Update access courses: when enable will update list courses on LP Order lastest has status 'Complete' of each user when save level PMS on Memberships \ Settings \ Levels
Run mode: have 3 mode to run when user buy level of membership
+ Auto: system will detect total courses on level, if > 10 will run Background mode else run Normal mode
+ Normal: run sequentially ( best for small data < 20 courses in level ), can error timeout if have big courses in level ( about > 50 ). Depending configuration on the server
+ Background: run cron job ( best for big data ), you should add code below to enable cron-job on file wp-config.php:

define('DISABLE_WP_CRON', false);
define('ALTERNATE_WP_CRON', true);
ini_set( 'max_execution_time', 300 );
define( 'WP_MEMORY_LIMIT', '512M' );define('ALTERNATE_WP_CRON', true); => will auto add 'param doing_wp_cron' to url, if you don't want to show that you can set value is "false", but some server can't run cron-job
Finally, we will need to assign courses to membership plans: When you go to a Memberships setting -> Level and select the corresponding membership levels -> add a course for level -> Save.

5.Note when installing
1.  Setup page login when using the theme of Thimpress
If you use our theme (Eduma theme, Coaching theme …), please not setup login page of Paid Memberships Pro to avoid undesirable conflicts during login or register

Here's how your student will see on your website
1. Buy level via Paid Membership Pro
1. Visiting course – Buy Membership Button

2. Clicking on Buy Membership – Membership plan pages

3. Purchase, confirm


4. Come back to the course – Course is registered and student can access to course's content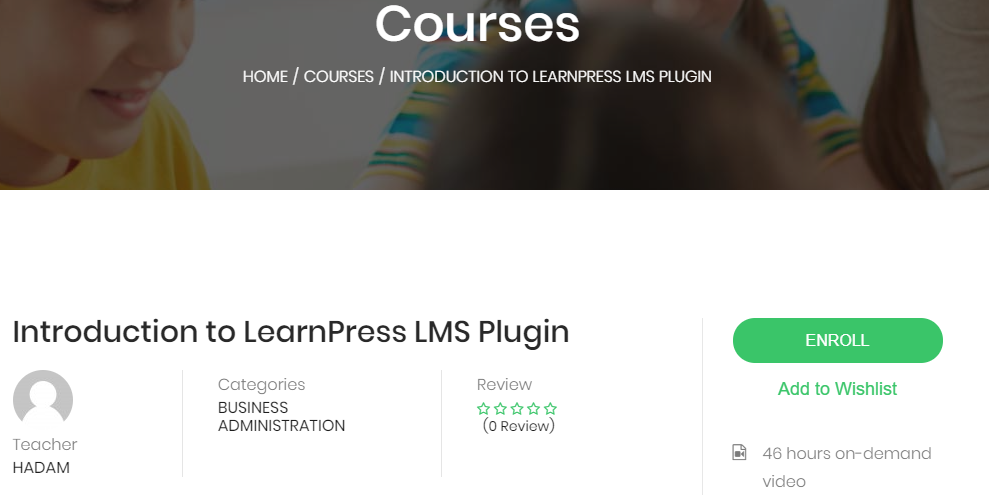 For more information about using Paid Membership Pro, please visit paidmembershippro.com
2. Buy level via WooCommerce
Integrates Paid Memberships Pro with WooCommerce to sell Memberships as a product
2.1. Installation
Dowload Paid Memberships Pro – WooCommerce Add On, you can dowload at here
Upload the 'pmpro-woocommerce' directory to the '/wp-content/plugins/' directory of your site.
Activate the plugin through the 'Plugins' menu in WordPress.
2.2. Membership Products and Per-Level Pricing
This plugin adds a new "Membership" tab to the Product Data meta box on a single product edit page. In this section you can set a product to give customers a membership level or add custom pricing to the product by membership level.

If a user adds a Membership Product to their cart, any Member Discounts or Pricing will be applied as if the user already had that membership level.
Note: The membership will not be applied until the WooCommerce order status is "completed".
3. Changelog
== Changelog ==
= 3.1.15 =
~ Add: check wp cron-job enable
~ Add feature: Woocomerce order completed has a product in level will create Lp Order store courses on level and cancel level old
~ Fix style Courses Setting on level PMS, show total courses choice
~ Add feature: Update access courses of users when level PMS change list courses
~ Add feature: Admin add new PMS order or change status PMS order to 'completed' or 'success' will create LP order status completed
~ Add feature: Admin change status from 'success' or 'completed' to another will cancel LP order
~ Add feature: Admin change level of User on Users

= 3.1.14 =
~ Fixed miss cron-job task if set time current (reason can by server process slow, so when save task to database and run, time current > time run task)
~ Add option 'Mode run'

= 3.1.13 =
~ Fixed: prefix table postmeta
~ Replace: use Cron-job instead of Curl to add courses to LP Order

= 3.1.12 =
~ Fixed: user subscription with level free can't learn the course

= 3.1.11 =
- Add feature: when user cancel membership will cancel lp order
- Add feature: when user change membership to another level will cancel lp order old

= 3.1.10 =
~ Improve flow data, speed load
~ Add class handle database
~ Add class handle curl
~ Add class handle ajax

= 3.1.9 =
~ Fixed bug: "Add to cart" button show not show after cancell membership.

= 3.1.8 =
~ Fixed bug: "Buy Membership" button show not show.

= 3.1.7 =
~ Fixed bug: Take this course button not show.

= 3.1.6 =
~ Fixed bug: "Buy Membership" button show when user purchased course.

= 3.1.5 =
~ Fixed bug: "Enroll course" button still show in free course when "Buy course via membership" is enabled.

= 3.1.4 =
~ Fixed bug: Order created via Paid Memberships Pro not display Payment method
~ Fixed nimor bugs


= 3.1.3 =
~ Fixed bug: Buy Memberships button display on none membership course
~ Fixed bug: User cannot access course in their memberships level
~ Fixed bug: Remove some notice error message in single course page, course archive page, learnpress profile page

= 3.1.2 =
~ Fixed bug: Free price of course is not display.
~ Fixed bug: redirect to home page instead confirmpage.
~ Fixed bug: Loop redirect.


= 3.1.1 =
~ Fixed bug: some page of paid memberships pro have not content.
+ allow member can retake course after finished course.
+ hide free price of course.


= 3.1 =
~ Fixed bug: the buy course button still appear when the buy course via membership option is enabled
~ Fixed bug: user still can access course when level is expired.
~ Fixed bug: not auto enroll course.
~ Fixed bug: user enroll course when not have required memberships level.
~ Fixed bug: cannot overwrite template file.
~ Fixed bug: button buy membership still show after enrolled/purchased course.
~ Fixed bug: icon is not show in the levels page not show when user not yet login.

= 3.0.2 =
+ Show the Buy Membership button in course archive page.
~ Fixed some minor bugs

= 3.0.1 =
~ Fixed bug can change memberships level of course in edit course page

= 3.0.0 =
+ Compatible with Learnpress 3.0.0

= 2.3.7 =
~ Fixed bug: loop redirects with logged in user

= 2.3.6 =
~ Fixed bug: empty order is created when user enroll course at first time
~ Fixed bug: warning message with parameters does not match when calling a hook

= 2.3.5 =
~ Fixed bug: save courses in memberships level not correct.

= 2.3.4 =
~ Fixed some minor bugs

= 2.3.3 =
+ Hide Free price of course in memberships level
~ Fixed some minor bugs

= 2.3.2 =
~ Fixed bug: notice message at top

= 2.3.1 =
~ Fixed auto update learn press order
+ Prevent access course after memberships level is expired

= 2.3 =
+ Add feature add coures into a Memberships Level in the edit Memberships Level page
~ Fixed bug: user cannot access course in their membership level in case memberships level is not purchase ( in other word is set memberships level manual)

= 2.2.4 =
+ Fixed bug: user cannot access course added to membership level after user join membership level

= 2.2.3 =
+ Fixed bug: user cannot access course of membership level

= 2.2.2 =
+ Changed text domain to learnpress
4. Issues payment
If you have any issues about Payment, payment gateway, order Woo can't auto-completed, you should contact the developer of that payment plugin. LP – PMS only add-hook when order WC completed to create LP – Order
Get LearnPress add-ons Bundle

FOR FREE
As we want to encourage Education movements around the world, we will provide LearnPress add-ons Bundle ($300) for Free to any of our customers who purchased one of our Education themes below.
So, quick, go ahead and buy one of these themes for only $59+ and get ~$300 bonus LearnPress premium add-ons. (After you've bought our theme, click here to learn how to download LearnPress Add-ons Bundle)




Already bought our themes?
Request LearnPress Add-ons Bundle Here
Payment and Support
One-time payment
Life-time access to this add-on's latest update
Quality checked by ThimPress
6 months support from us
Please go to our Premium LearnPress Add-on Support Forum for technical support for this add-on.
If you purchased our theme and need help with this add-on, please go to our Theme's Support Forum.