Podcasts are the most convenient and intimate entertainment sources that people around the world are using to know the latest trends, music, news, and so on. That's why podcasts keep growing in popularity. So if you're a podcaster or have any related-business, you should find the best Podcast WordPress Theme to create a website. This way can help you promote your brand, attract your audiences, and even entertain your listeners.
In fact, there are many podcast themes available on the market to choose from. But don't worry, we've listed the top 20 themes that are surely suitable for your needs with powerful features.
To clarify, these stunning theme designs can promote episodes, seasons, and others up quickly from your podcast website. It does not matter if you use podcast streaming services or host audio files by own while displaying your content. Besides, the themes are compatible with the podcast hosting services to automatically add new episodes to your site, thanks to RSS feeds.
Other core features are excellent support for not only video podcasts but also for audio-only recordings, various pre-made blogging templates, podcast host profile, sponsorship information, flexible customization options, etc.
So let's explore our best collection now!
The Best Free Themes – Podcast WordPress Theme
Podcast – WordPress Podcast Theme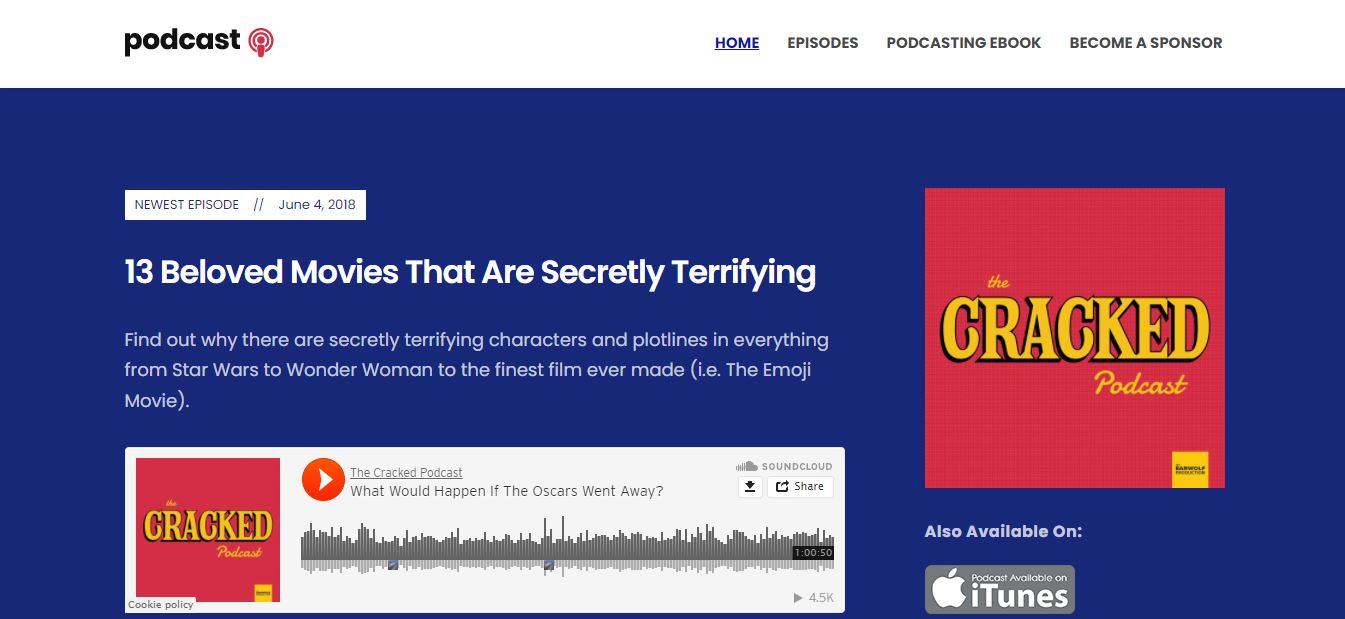 Download
Demo
As its name implies, Podcast is exactly a WordPress theme for creating a podcast website. However, you can also use it for bloggers, comedians, streamers, youtubers, and so on.
There are totally 8 different built-in color palettes for you to choose from. So that your website will look amazing like the way you want. Even if you can not find the suitable scheme, adding custom CSS code to the theme is an option to make it fit your brand.
Plus, you can place the sidebar on the right/ left of your site as well. This Podcast theme comes with various elements so you can use it to customize your page. You will find separate sections, unlimited theme usage, and widgetized areas too.
What's more? It's compatible with PowerPress and Seriously Simple Podcasting, promising the best functionality for a podcast website. Your episodes can be embedded to Spotify, Youtube, SoundCloud, and other famous platforms.
Lastly, you can download this theme on WordPress.org for free. If you want to have full font customization, extensive theme updates, priority support, and so on, you can purchase the Podcast Plus plan. It depends on your purpose. Try it now!
Euphony – Podcast WordPress Theme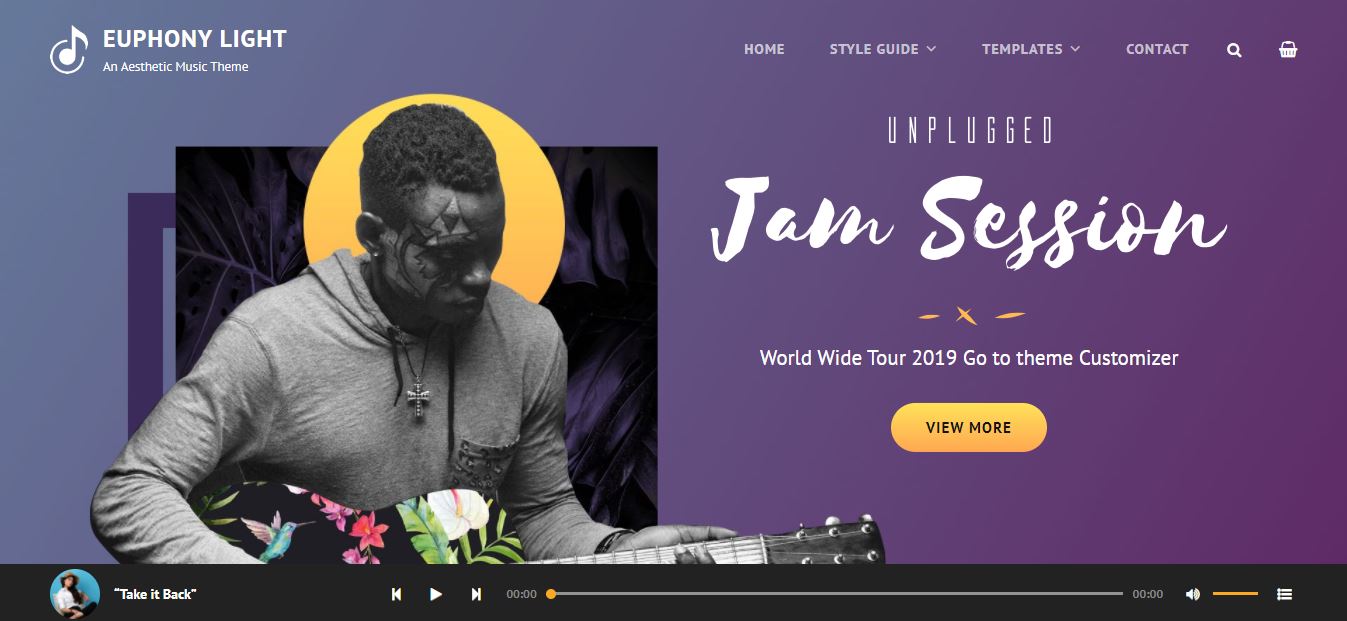 Download
Demo
Euphony is a free, minimal, and elegant Podcast WordPress Theme designed especially for musicians and bands. It has a fully responsive design to adjust on any screen size like smartphones, desktops, tablets, and laptops. This is the most important feature because we usually listen to podcasts on mobile devices. Plus, installation is done within a click.
Sticky playlist is available right on your homepage so everyone can find your podcast episodes easily when they access your website. Moreover, Euphony comes with a featured content to highlight the most newest episodes. It's possible to put it on the entire website or only on the homepage.
In addition, you can add social media icons on the footer to promote your brand. Header media, primary menu, excerpt options, featured slider, hero content, testimonials, services, and portfolio are some key points included in this free version.
If you need intensive features such as color schemes, header social menu, events, comment options, you should go with Euphony's pro version. Worth considering? Get Euphony and make it to the next level now!
Audioman – Podcast Theme WordPress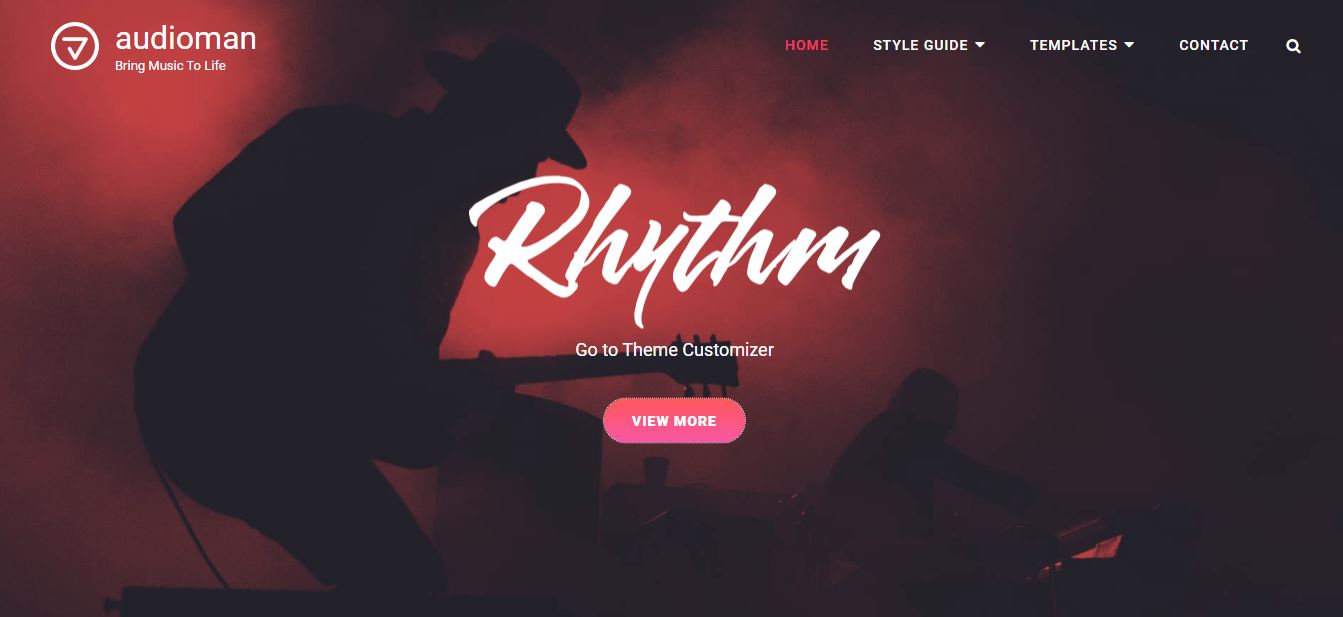 Download
Demo
If you are a musician or have a band, definitely you need a music Podcast Theme WordPress to promote your project and Audioman is ready for you. The theme promises to look great on all devices like iPhone or iPad with responsive design.
Audioman is easy to set up even if you have never tried it before. Plus, it offers the breadcrumb feature, allowing users to navigate around your site. Together with that, Audioman packs tons of theme options for you to change theme aspects.
To let visitors pay attention to your content, you can use hero content on your entire website or on your homepage. If you enable the testimonial section, it can help you to build trust for customers and new visitors can know what makes you different from others.
Overall, the free version offers the most basic features to make a simple podcast site. If you plan to open an online store or translate your site to many languages, you should try the premium one. It has tons of intensive features for you. Try it now!
Musicsong – Podcast WordPress Theme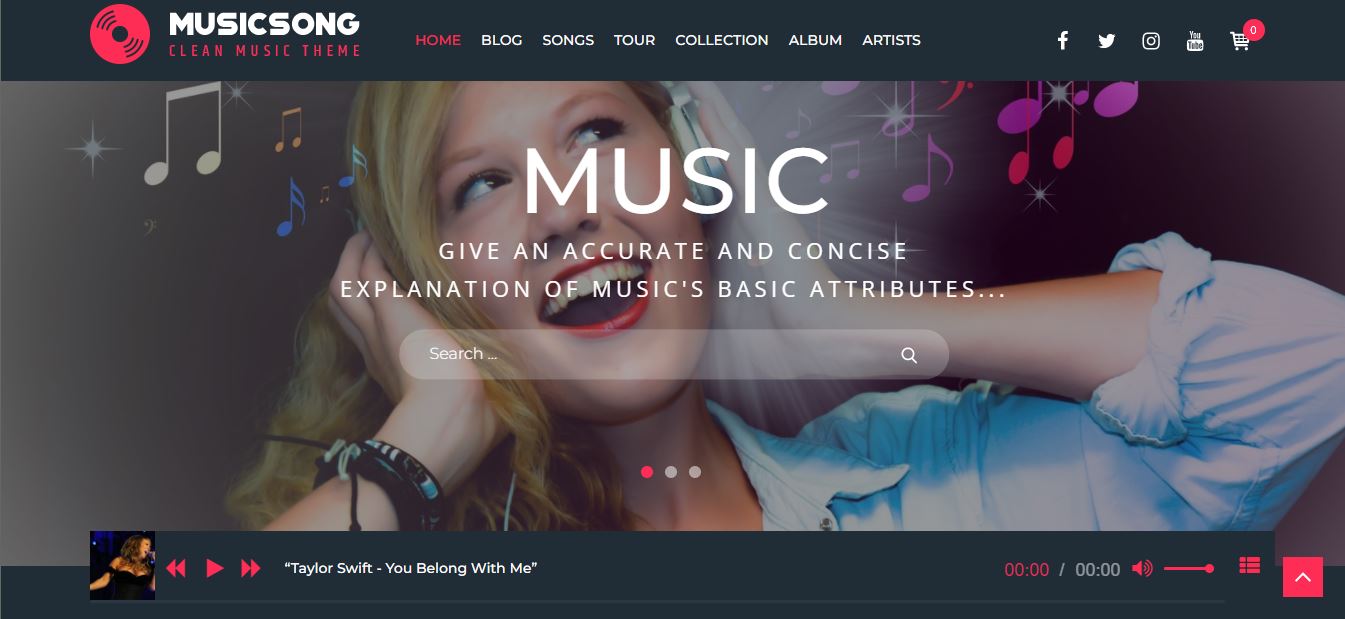 Download
Demo
Musicsong is a simple but powerful Podcast WordPress Theme. With multiple pre-designed layouts, you can easily pick one of them and customize its appearance via beautiful elements, thanks to the custom CSS option.
In addition, Musicsong's free version comes with several limited sections like about us, services, call-to-action, testimonials, blog, main slider, and footer. You can use them to make your business up.
For example, you can get the positive comments from listeners to display them on your podcast site via testimonials or write a blog post to express your episodes' information.
Musicsong also supports WooCommerce for you to create and sell on your online store with ease. It's responsive and very customizable. But if you need a playlist or subscription section, you have to go with the pro version. Let's check out Musicsong and get it with a 1-click import only!
Tracks – WordPress Theme for Podcast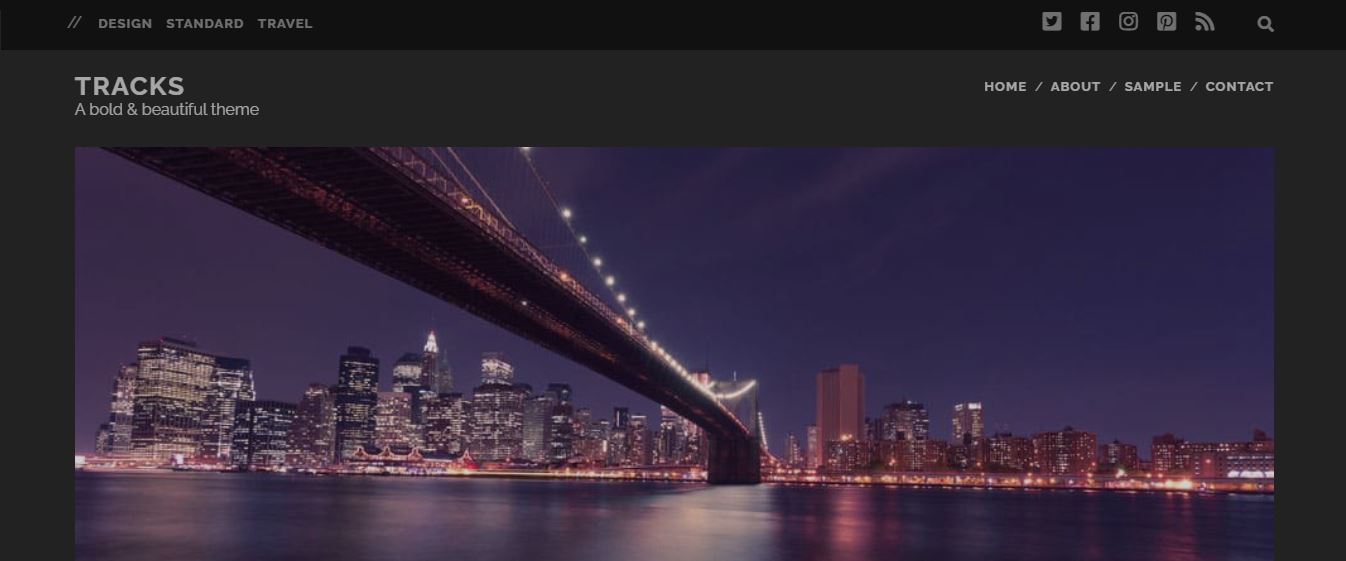 Download
Demo
Tracks is a stunning and responsive WordPress Theme for Podcast you should go with. It comes with a simple design with top-notch typography, promising to hold audience' attention.
In addition, Tracks is highly responsive so visitors can visit your site on any device they're using. The theme even provides over 50 social media icons. Thanks to Elementor and Gutenberg integration, it will help you customize your site with ease to match your brand and niche.
WooCommerce is available to sell your online products directly on the podcast website. Tracks also comes with regular updates so your site will always look modern and fresh. You'll find the search bar that allows your visitors to look for the content they need quickly. Get this free theme now!
My Music Band – WordPress Theme for Podcast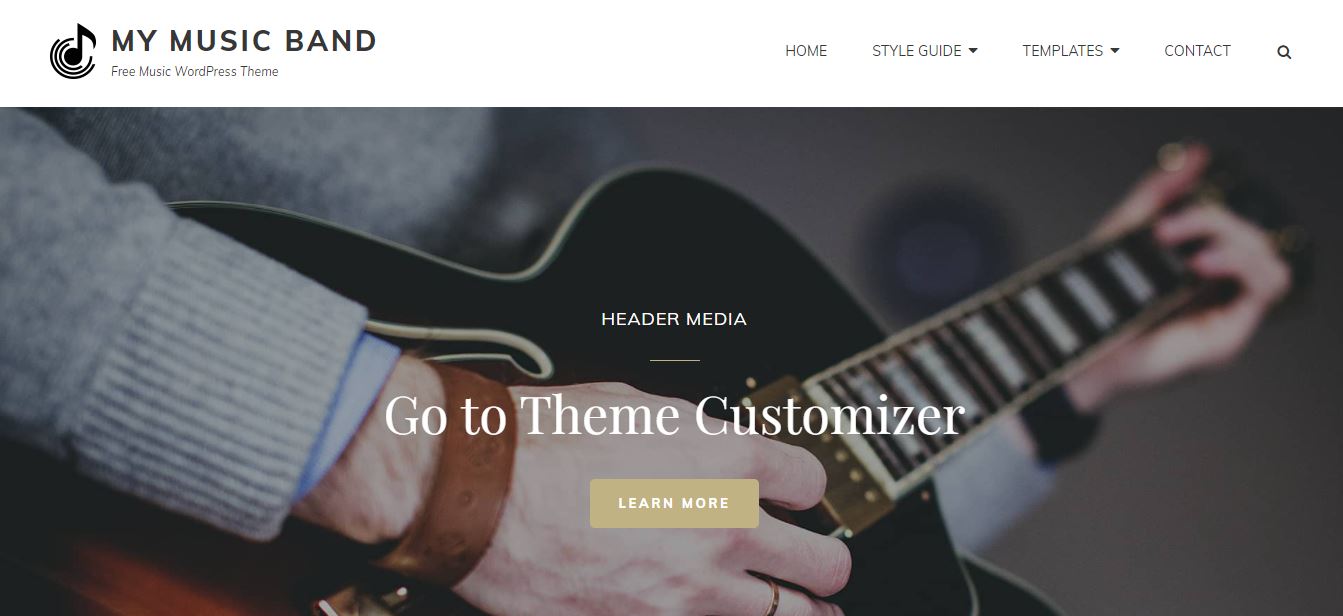 Download
Demo
My Music Band will be the right Podcast WordPress Theme for musicians as well as music bands to create a podcast music website. It's used for promoting your business since the theme is very clean, minimalistic, and easy-to-use with amazing features.
Plus, My Music Band is 100% responsive, promising a great user experience from any screen size they are using, like laptop or smartphone.
There are 2 default layouts in this free theme version you can choose from. Hence, you can set up current posts or categories on the right sidebar or hide it with no sidebar.
Grab visitors' attention with the featured slider page, allowing to control the time and effect as well as add images on the slider.
Apart from that, My Music Band supports breadcrumb, featured content options for custom post type, hero content for page, playlist for page, and so on.
If you need more features such as WooCommerce, WPML, color scheme, footer social menu, and so on, you can try the pro theme version. Have fun and start your podcast website with My Music Brand!
The Best Paid Podcast WordPress Theme
Tusant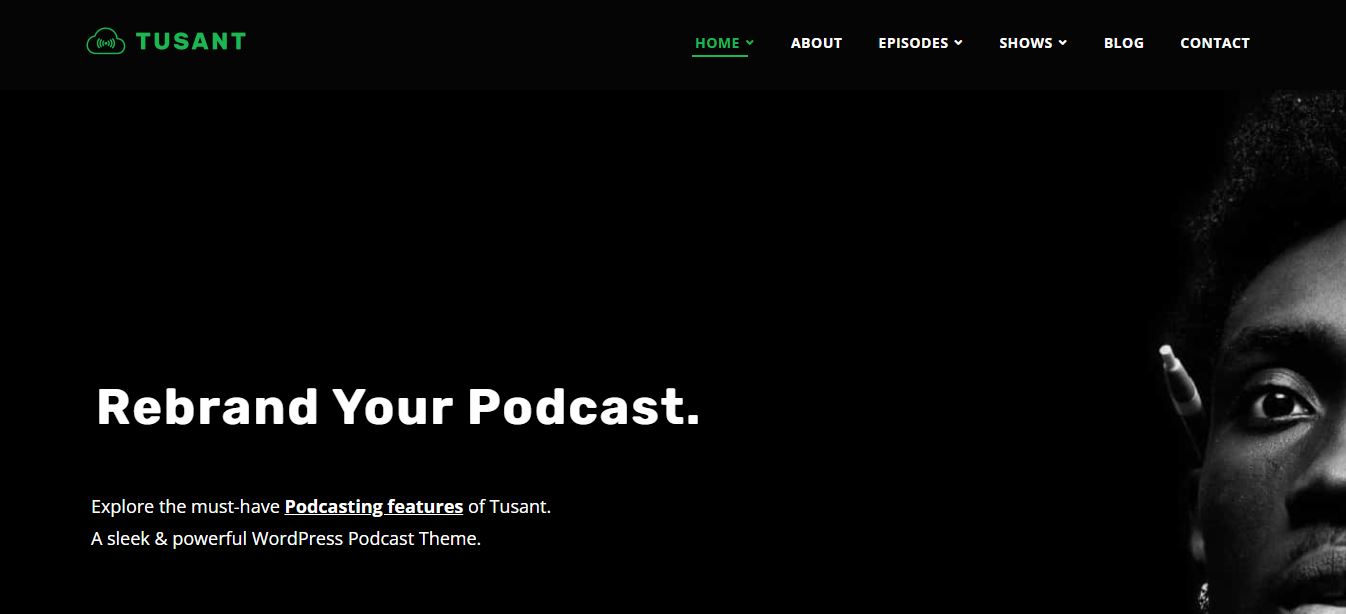 Download
Demo
Tusant is our first choice when it comes to the best premium WordPress Podcast Theme. You can even use this theme for music streaming and video websites too. Plus, Tusant's installation is done in a click.
With unlimited possibilities, Tusant makes sure to look great on any device, especially smartphones. You'll have full control to display your podcast's audio or video player anywhere within your site. Creating unlimited episodes are available as well.
Additionally, it's simple and easy-to-use, promising to fit any kind of level. Color schemes are endless and highly customizable to match your brand. What's more? Tusant supports drag-n-drop builder, allowing you to design any aspect of your theme with simple clicks.
Moreover, this theme works with major podcasting tools and platforms like Podcast Subscribe Buttons, Smart Podcast Player, PodLove, etc. So you can upload your episodes to your site directly or embed your audio files hosted in another place. Lastly, Tusant is WPML & RTL-ready, SEO-optimized, fast loading speed, and detailed documentation.
Viseo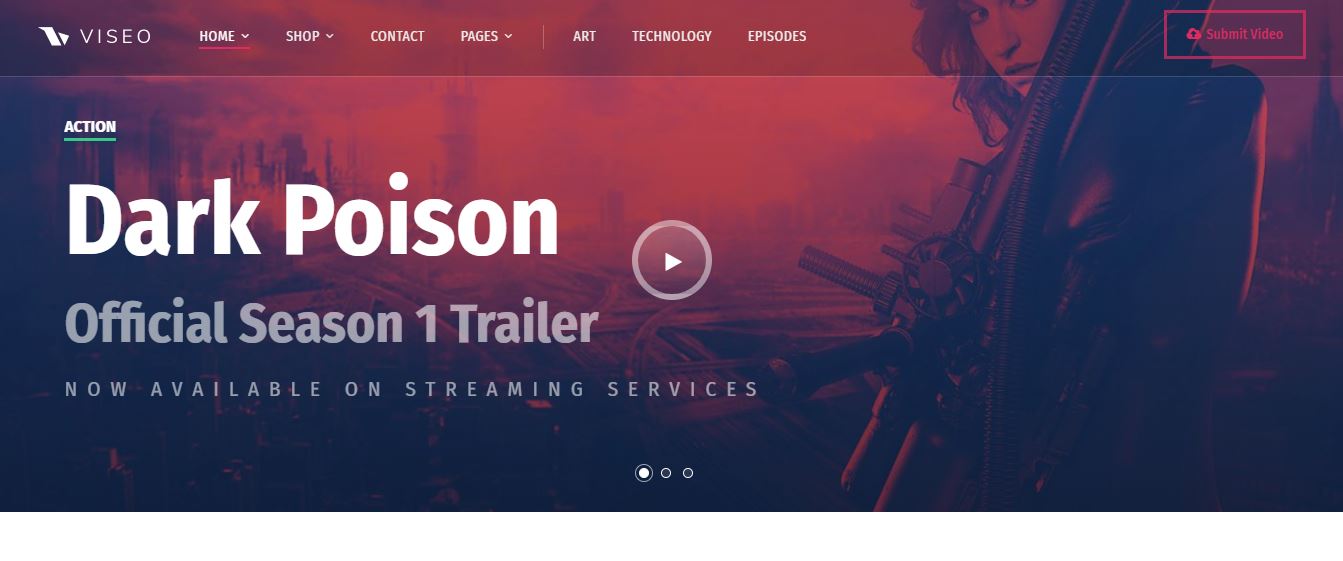 Download
Demo
Viseo is a beautiful and easy-to-customize WordPress theme designed for podcast, news, and video websites. To set up a theme, Viseo offers different demos with stunning design for you to install with a few clicks. You'll find all necessary pages to get ready.
The core features of Viseo are the powerful boosted elements addon and audio/ video premium player support.Thanks to the drag-n-drop builder, start your website by customizing the prebuilt demo content. With unlimited colors and fonts, your site will look like the way you want by using your front-end theme customizer.
In addition, eCommerce support is available to sell online items. You can even translate your entire site for international audiences with translation-ready.
Also, Viseo is highly optimized for SEO & speed to make sure your podcast site ranks well on search engines. Get Viseo today!
Megaphone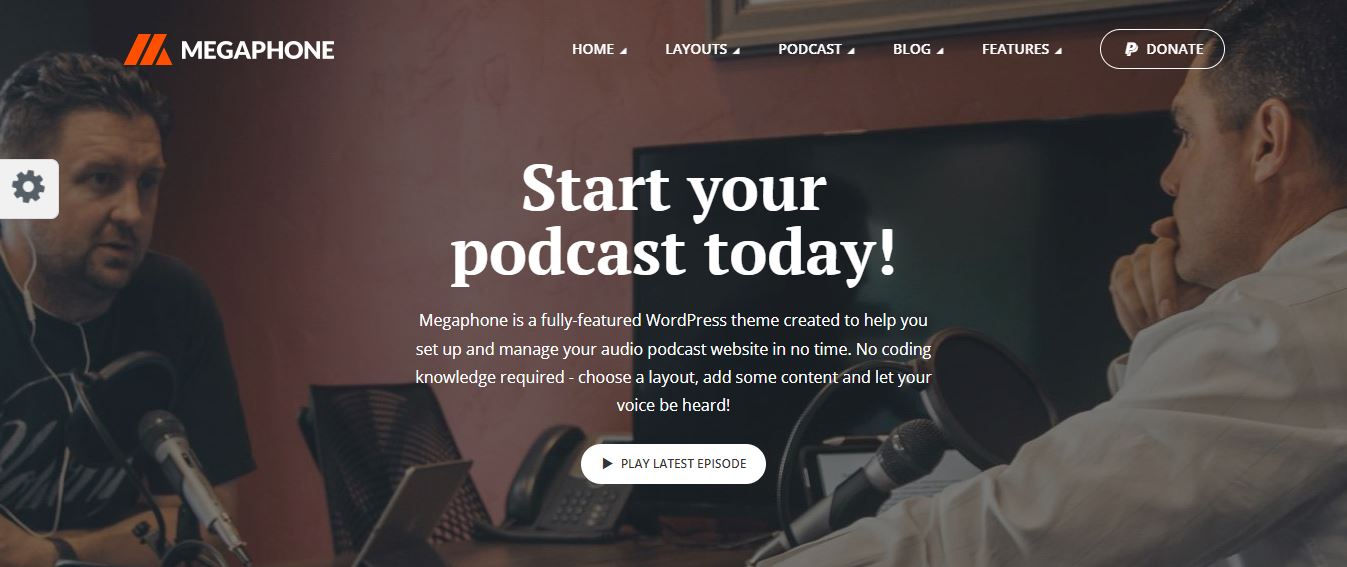 Download
Demo
Megaphone is a stunning, flexible, and powerful Theme WordPress for creating an audio podcast website in no time.
The theme is ready for your podcasting project with eight different demos to choose from. Megaphone allows 1-click data import. After installing the theme, you can modify the color scheme to fit your podcast. Even if you want to design your own color scheme, you can do it using the control panel.
Apart from WooCommerce integration, the theme allows you to monetize via placing banner ads. Another amazing feature of Megaphone is the sticky audio player, meaning your audio can always be visible while visitors scroll through your site content.
With Megaphone, you can host your episodes on your own site or embed them from famous platforms like Spotify or SoundCloud. Other compatible plugins include Seriously Simple Podcasting, Libsyn Publisher Hub, and PowerPress Podcasting to manage and publish your episodes. Enjoy Megaphone!
Podcaster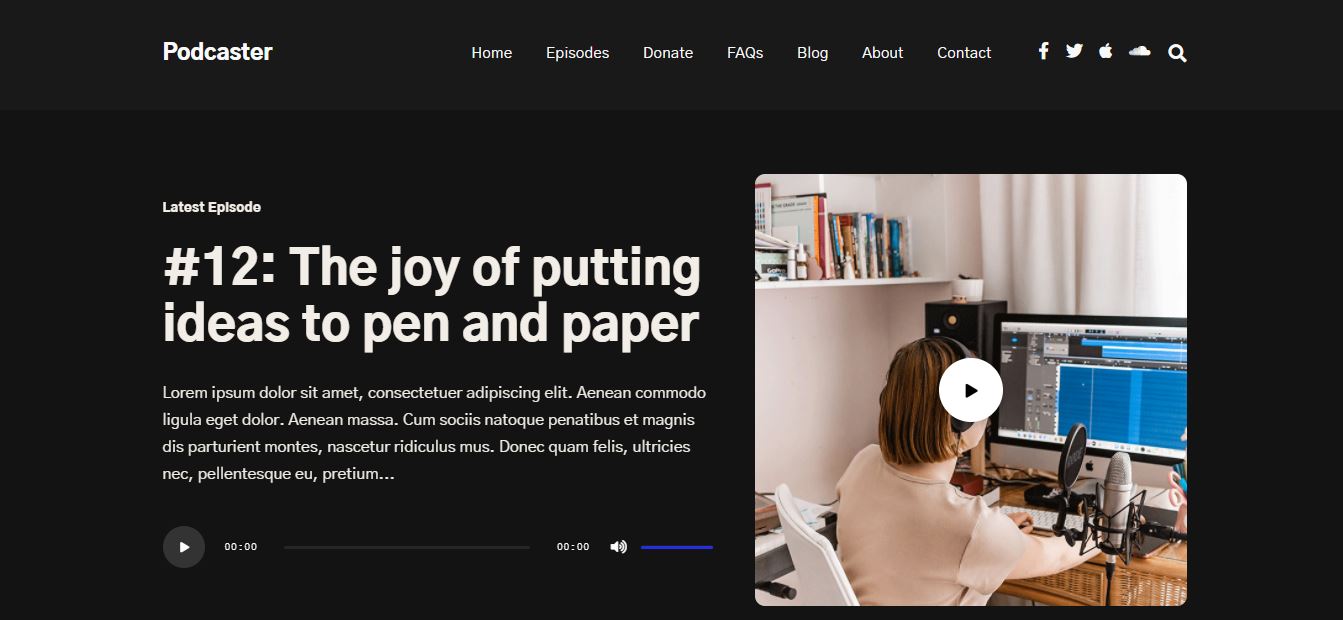 Download
Demo
Podcaster comes with clean design and tons of features for you to create a Podcast WordPress Theme website. It offers more than 30 demos to test and import with a click. Each of them has a different design and style to choose from, promising to fit your requirements.
Moreover, you can place a feed of your newest episodes in your podcast homepage site and select between dark and light templates.
What's more? You can write your episode's description, add a featured image and make note when you add a new one to your podcast site. Podcaster includes theme options for easily tailoring any aspect of the theme like colors, fonts, list or grid episode, logo, header, etc. It supports stunning and smooth parallax scrolling for its custom header images.
Podcaster uses BluBrry PowerPress and Seriously Simple Podcasting plugin to control your podcast with ease. Well-documented, dedicated support, and regular updates are other great features to make your theme modern. Try it now!
Dixie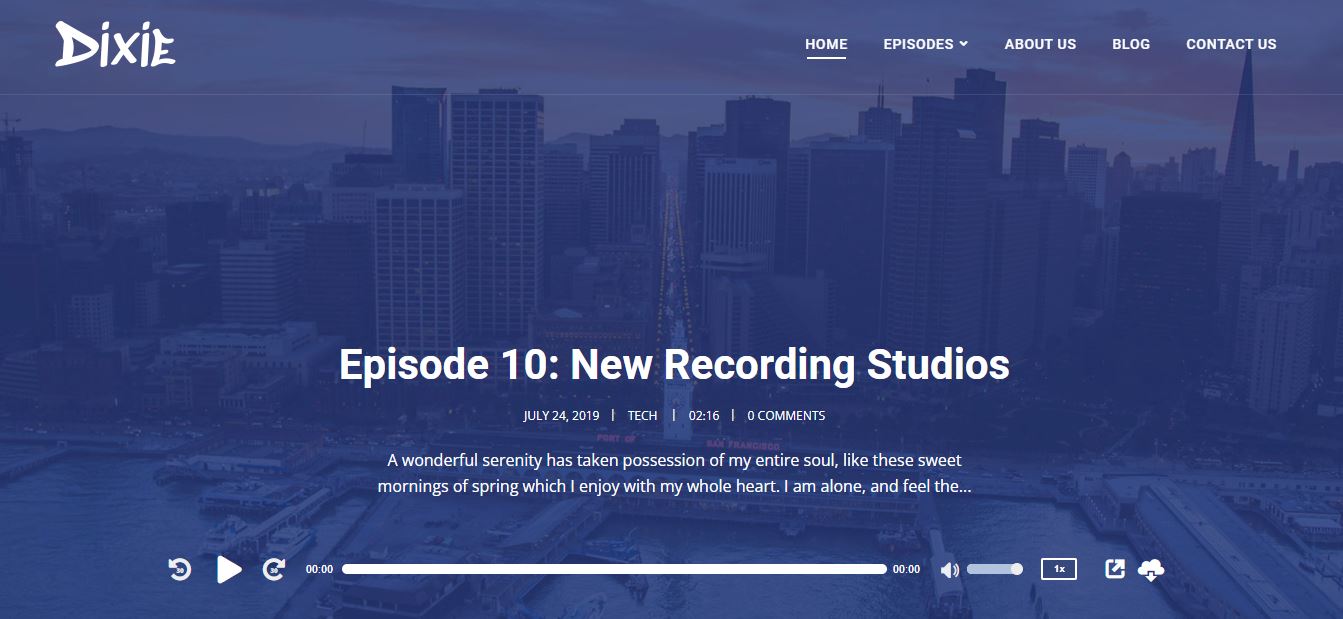 Download
Demo
Dixie is a stunning theme with multiple layouts to choose from. You can select any one of them to display your episodes in a way you want, like 1 column podcast list display or podcast audio & video players within the grid of header.
To help you design your site easily, Dixie is compatible with the most famous builder on the market, Elementor. So that you just need to get any pre-built page template of Dixie and design using simple drag-n-drop skills. This way is definitely quick and helpful for non-technical people.
There are countless personalization options in the theme customizer.
Additionally, listeners might be curious about the face behind the microphones, hence, Dixie offer About Us or Show Hosts page. You can add bio, image, social sharing links to provide more information for them.
PowerPress and SeriouslySimplePodcasting are included in the Best WordPress Theme for Podcast package to support your podcast site. Embedding your audio files from Youtube, SoundCloud, and others are possible as well. WooCommerce, translation-ready, RTL, SEO-ready, speed-optimized, Dixie has it all.
Roogan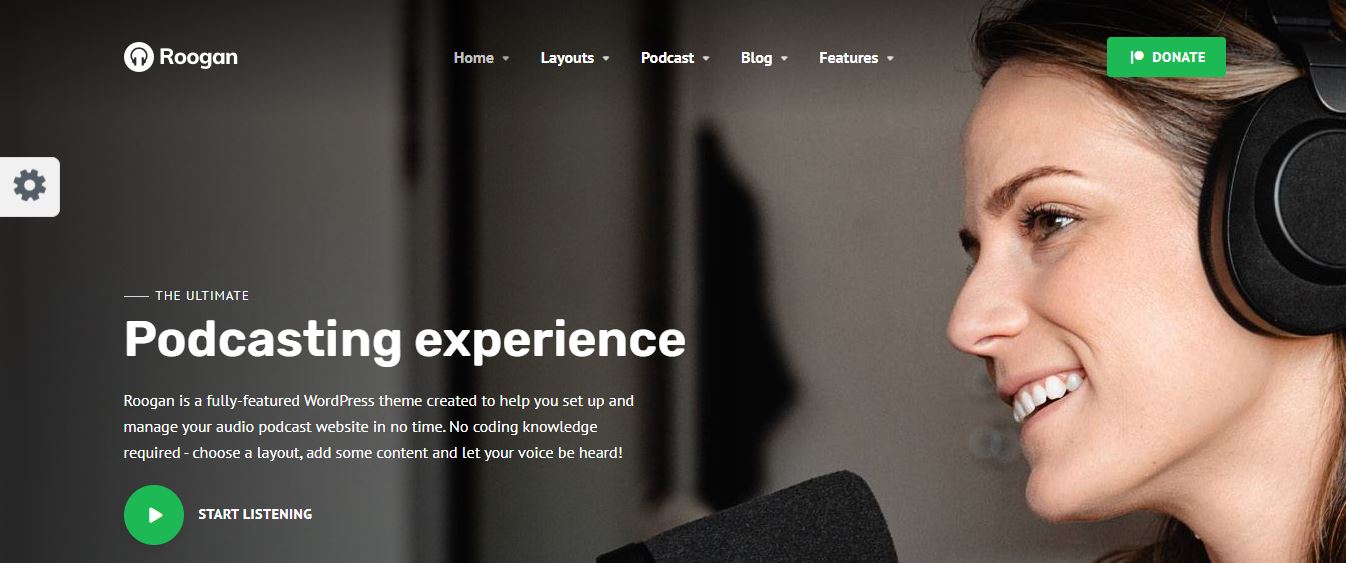 Download
Demo
Roogan is a flexible and modern Podcast WordPress Theme that is suitable for vloggers and podcasters. The theme offers 8 responsive demos available with a one-click import action. Installation is quick and easy, promising your podcast site works well on any screen size.
With multiple layouts, you can display the individual podcast episodes with ease. If you plan to create a podcast network, Roogan comes with a full collection of blogging templates to help you present your written content.
Roogan lets you place a banner ad on the homepage or other area to monetize your income. Of course, WooCommerce is ready to sell your premium subscriptions or physical items. Roogan is a practical solution that will help you spread your podcast website to audiences. Make it yours right now!
Resonator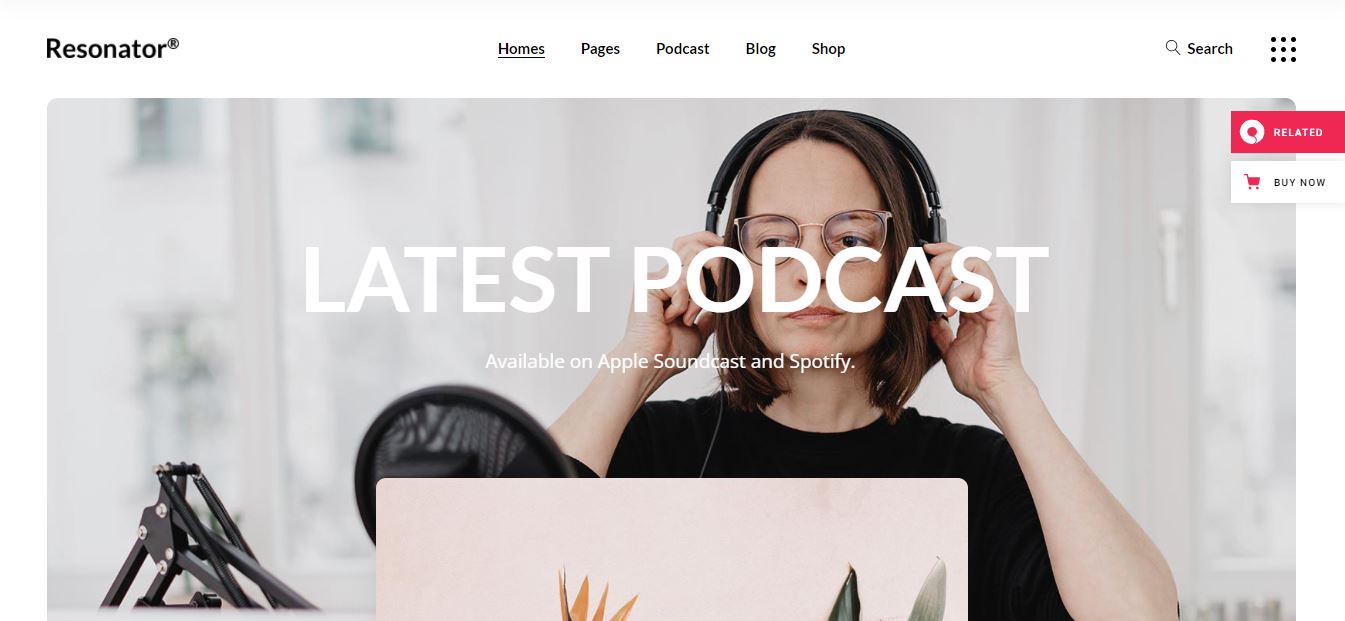 Download
Demo
Resonator is a minimal audio WordPress Podcast Theme you can try in our collection today. It is packed with several podcast-specific layouts and templates so that you can test and install within a click.
Plus, you can use practical elements to make the most convenient ways while listeners are using your site. To spread out your podcast, you can embed your episodes in Spotify and others.
Apart from podcasting, you'll find options to set up a blog and create an online store. Getting extra income is in your hand by selling your services and items. Social network sharing is included to build your traffic and increase your site awareness.
You also get Elementor, Slider Revolution, regular updates, quick support, child theme, and more. What are you waiting for? Get Resonator now!
Castilo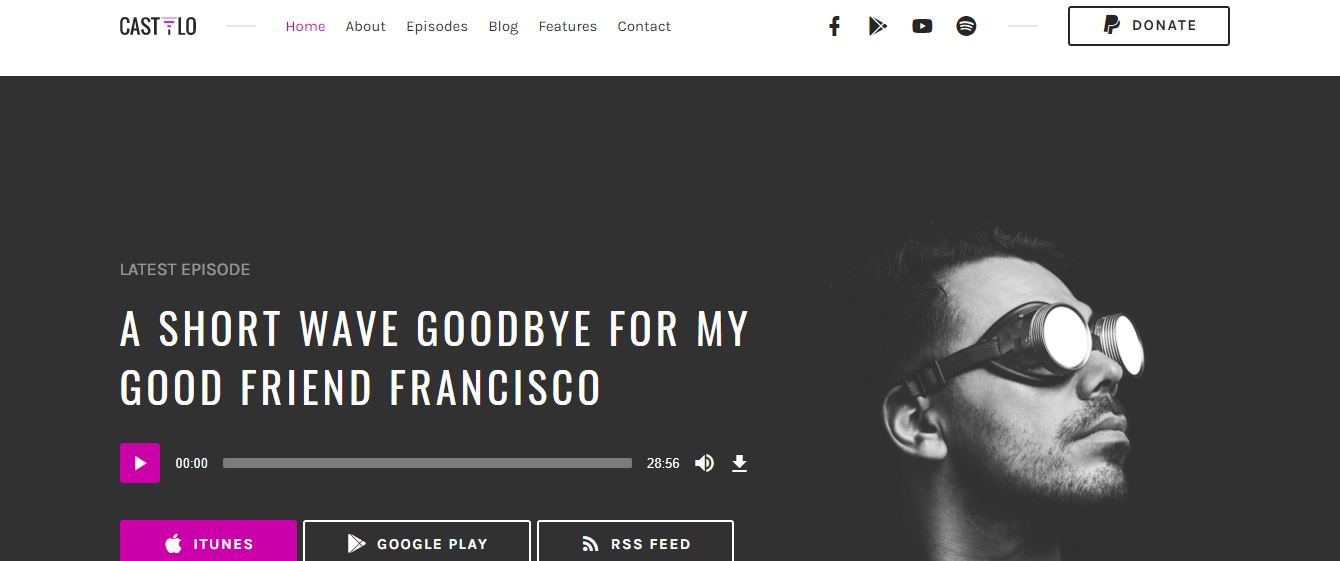 Download
Demo
Castilo is a professional WordPress theme for creating audio podcast websites. The theme is perfect for you to be the host or publisher of your own site. Unlike others, Castilo supports the RSS feed to help you spread your episode to audiences with ease. You can connect to iTunes and Google Play Music quickly with Castilo too.
Importing episodes from other publishers is a core feature we have to mention in this theme.It means you'll extract your episodes from an external RSS feed into your brand new website. Moreover, Castilo comes with a simple and easy-to-use interface. With responsive and stunning design, the theme will absolutely attract visitors to your podcast site.
Additionally, Castilo has podcast statistics on the backend panel so that you can understand your audience and their activities on your podcast website. Also, Castilo pages' response is very quick since it's highly speed optimization.
Give it a try now with comprehensive documentation and outstanding support! Try Castilo!
Podcast Master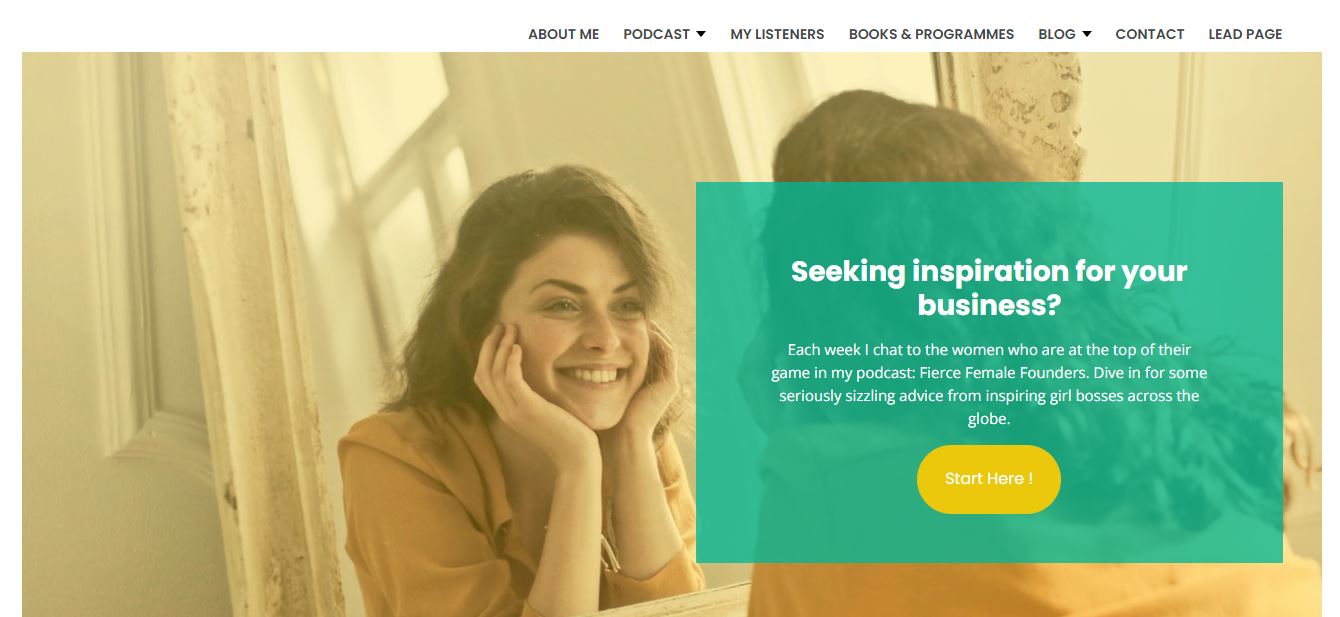 Download
Demo
Podcast Master is a powerful and modern Podcast Theme WordPress that you can use to build for all kinds of podcasts. It provides the option for you to publish an unlimited episodes without any issue.
The theme also includes custom post types to show your podcast episode information. There are podcast categories and tags as well so it helps to organize your episodes in the way you want. Other podcast essentials included in the theme package are 3 customisable podcast styles, custom guest name design, post types, archive pages, and upload your transcript.
Besides, Podcast Master allows you to upload or download the audio files and customize the podcast player. The theme is compatible with many famous podcast plugins like BuzzSprout or Spreaker.
Furthermore, there are 8 different pre-built blocks for you to choose from and listeners can check out their latest podcast episodes. Podcasting blog is available to write more about your products and other related-thing. You can build trust with testimonials as well.
Selling merchandise on your site is another way to get extra income, thanks to WooCommerce integration.
Podcast Master offers a simple front-end customizer without asking coding skills. It has over +600 fonts, unlimited color, and allows you to upload your brand logo. Several designs for header, shop, blog, podcast, and layout styles are included for you to customize quickly. Try Podcast Master now!
Rare Radio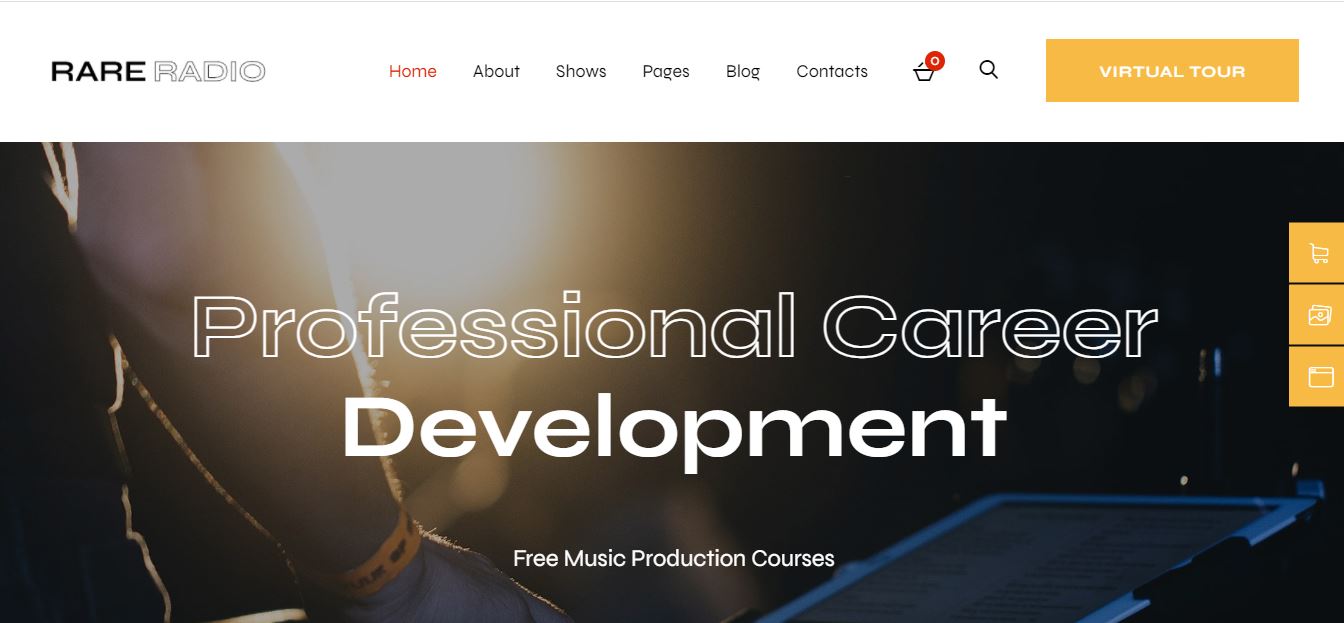 Download
Demo
As its name indicates, Rare Radio is a WordPress theme that's suitable for online music radio stations and podcast websites. With 4 stunning demos, you can check and import the one you like with 1-click data install. Rare Radio comes with responsive design so that it can automatically adapt to fit your screen size.
Also, the theme supports everything you need such as displaying a video or audio galleries, the collection of your newest episodes, categories, archive pages, and so on. Even if you plan to stream your podcast, it's possible as well. WooCommerce plugin is ready for you to monetize from your podcasts.
Apart from Elementor, WPML, and some other famous plugin integration, Rare Radio is also compatible with the Give Donation plugin. Hence, you can use it if you plan to run crowdfunding campaigns on your site. To connect audiences quickly, the theme offers social media platforms too. Is it perfect to consider? Try Rare Radio now!
Wpcast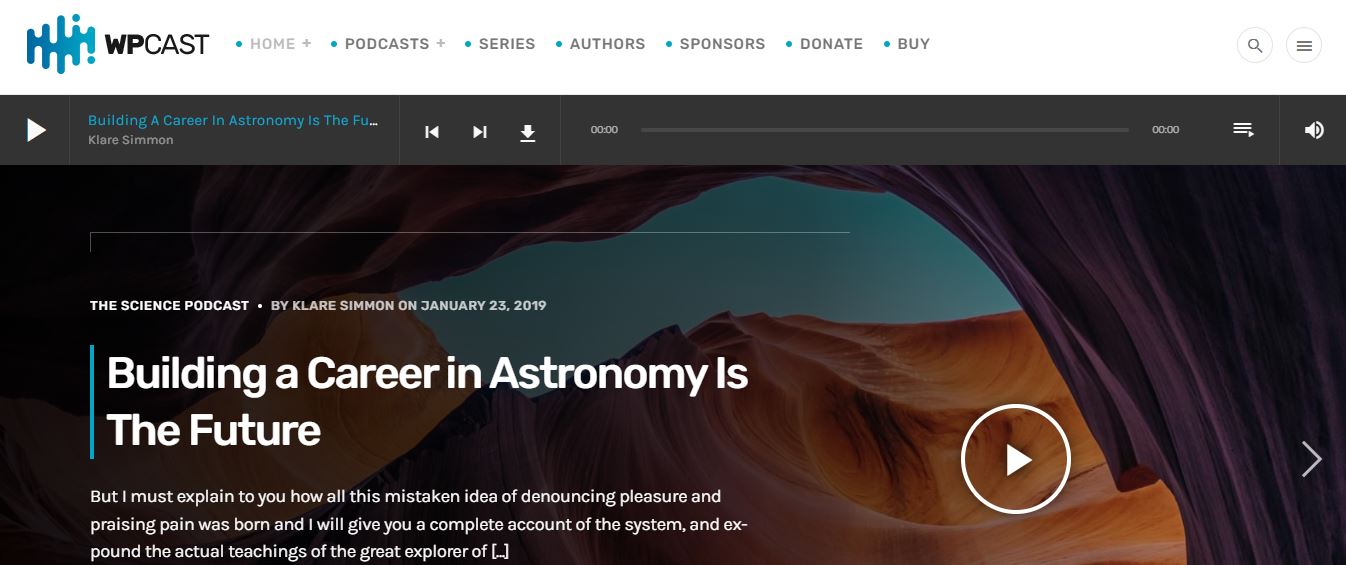 Download
Demo
If you are looking for the Best WordPress Theme for Podcast with simple design, look no further. Wpcast is a stylish, ultra-fast, and professional theme you can try. It works well with Apple Podcast, Google Podcast, and other networks. Hence, your audience can listen to your episodes without any problems, thanks to SSP and PowerPress integration.
Wpcast offers 2 stunning homepage layouts that allow you to import with 1-click. By using a simple interface, you can publish your new episode and notify other podcast platforms with ease.
To organize your podcast site, you should make series, categories, and authors so your audience can quickly find more information that they're interested in.
The interactive slider is packed in the theme package to promote your best episodes. Definitely, your visitors will then listen to those episodes that catch their attention.
WPBakery is also integrated into the theme, ensuring many customization options to design without asking for any code. Additional features of Wpcast are series cards, 17+ shortcodes, 4 archive templates, Give donations plugin, MailChimp, and so on. Get Wpcast today!
Vlog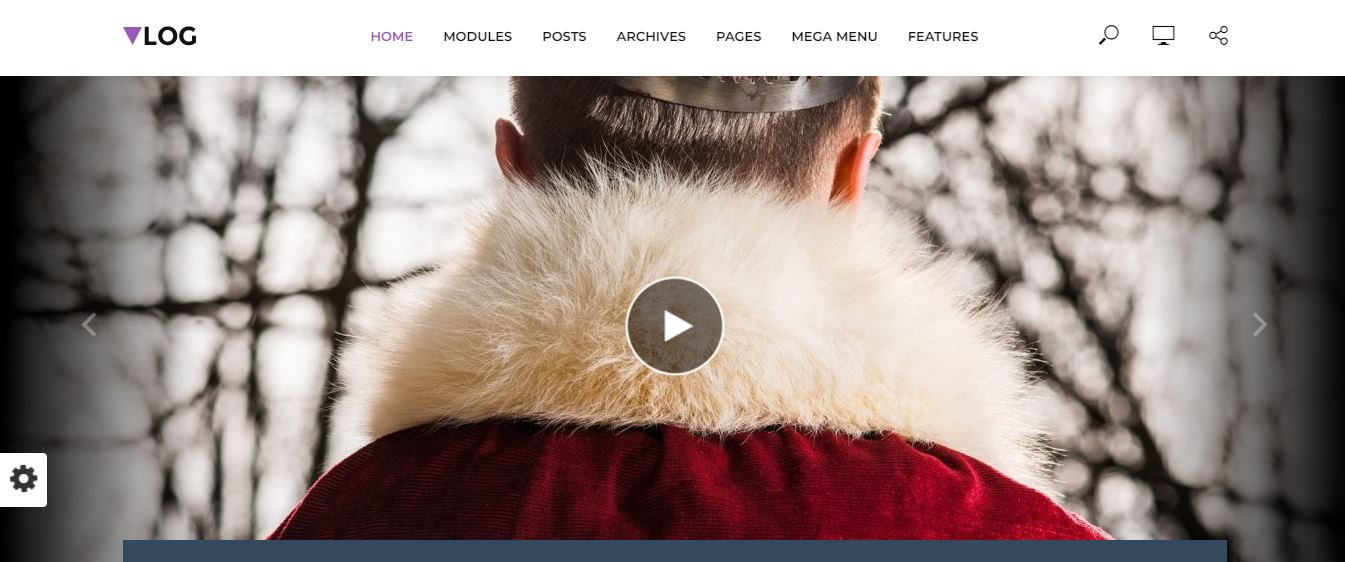 Download
Demo
With over five thousands of sales and 5-star ratings, no wonder Vlog is the famous video blog and Podcast WordPress Theme on ThemeForest market. It's integrated with the most famous video content sites like Youtube, Vimeo, or Dailymotion, promising to make your site outstanding in an unique way.
Plus, Vlog comes with full options to add video or audio episodes to your site like multiple playlists, live video streaming, and so on. Hundreds of post layout combinations for you to choose from when publishing your new article. Making your video visible when visitors scroll down by using sticky video.
The performance of your podcast site will be first-priority at all times. You also get extra income by placing a banner ad on the homepage, on the archive page, or on the single post. Last but not least, Vlog lets you translate your site in many languages. Check out Vlog now!
Megabyte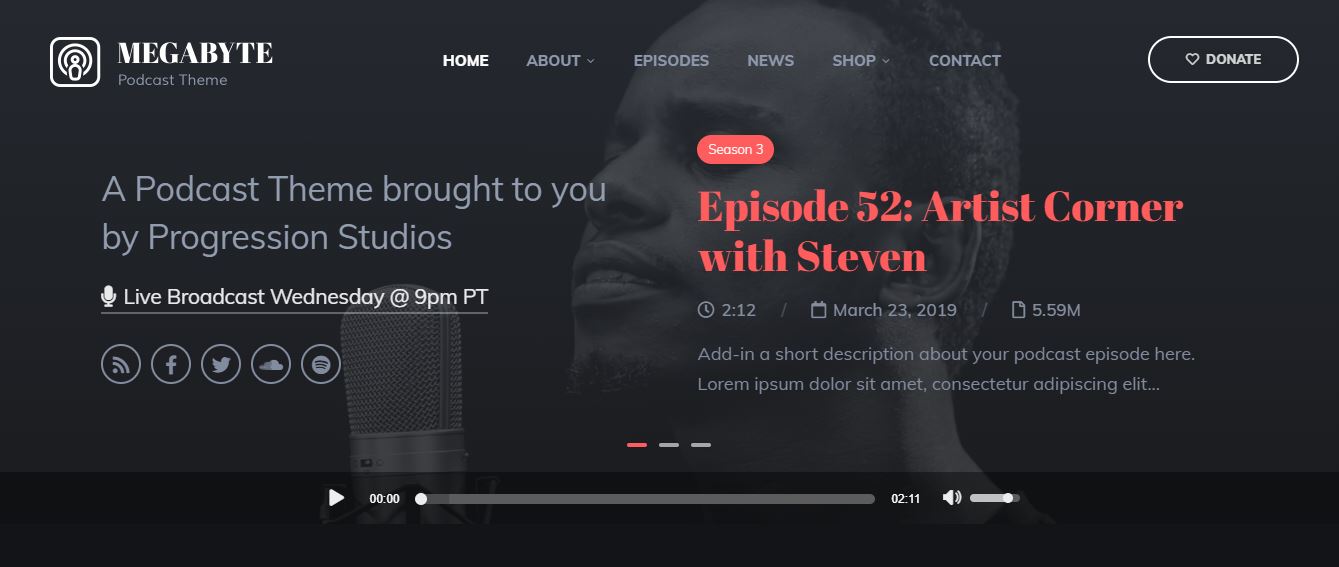 Download
Demo
Megabyte is a WordPress Podcast Theme with tons of amazing features and easy to customize options.To clarify, Megabyte is compatible with Elementor to help you customize your podcast site without touching a code. You also get a premium slider, unlimited colors, and a responsive layout. It supports RSS Feed so you can get more listeners for each published episode. To support local visitors, Megabyte is fully translation-ready. Enjoy Megabyte now!
Audioatro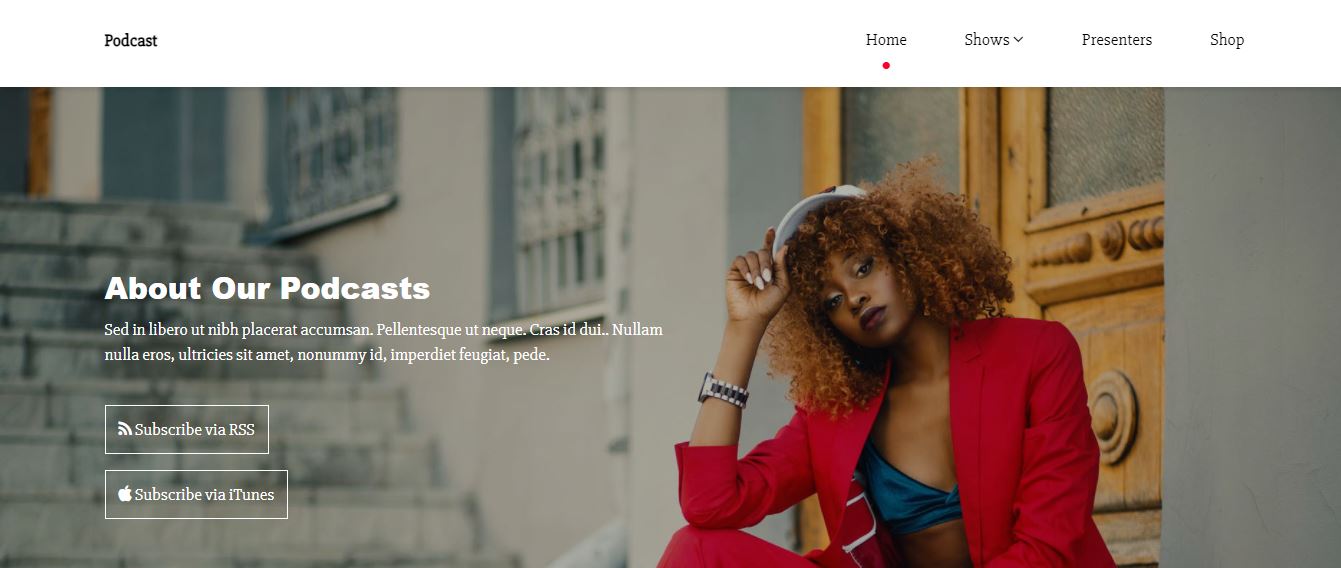 Download
Demo
Another theme designed for podcasting, music, radio streaming, and other related-audio websites you should go with is Audioatro. You can install one of their pre-designed demos and customize it by using WPBakery builder. With Audioatro, you can make money easily such as creating an online store to sell physical items or digital downloads or setting up subscription payments, thanks to WooCommerce integration. Social sharing is available to gain more visitors. Get Audioatro now!
Castpod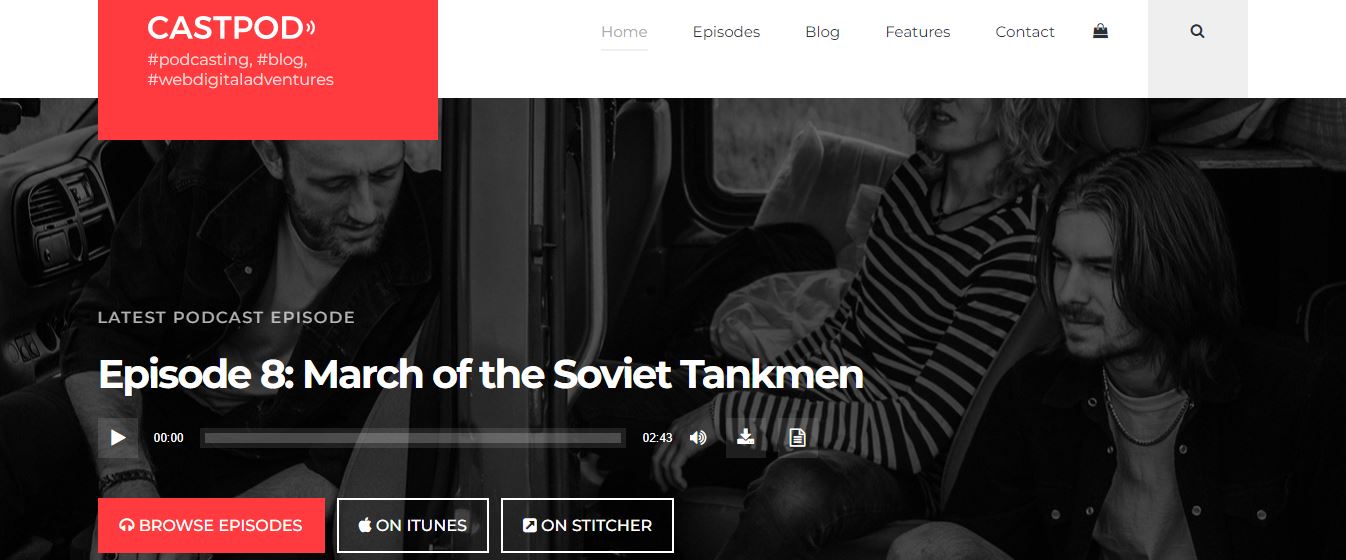 Download
Demo
Castpod is a retina-ready and mobile-friendly Podcast Theme WordPress with high-quality design. Together with that, it has nifty features to help you set up a site with ease. The RSS feed is available to import your episodes from external platforms into your podcast. Of course, your audiences can use iTunes or Google Play to access your content. Castpod is translation-ready and WPML & RTL-support to bring your podcast global. Quick installation and free update are other bonus points. Try Castpod now!
Final Thoughts
Overall, we have gone through 20 best themes for creating your podcast site. All of them come with various options to fit any purpose you need. You can use a free Podcast WordPress Theme like Podcast or Musicsong if you have a small budget. However, if you need dozens of intensive features, let's go with the premium ones like Vlog, Tusant, or Viseo.
Read More: 8 Best WordPress Video Themes for 2021